Salesforce Economy Growth in Australia and New Zealand
IDC's new global report states that the Salesforce economy will generate USD 1.6 trillion ($2.19 trillion AUD/2.29 trillion NZD) in new business revenues from now up to 2026.
The latest study also boasts of the awe-inspiring growth of Salesforce in Australia and New Zealand. Australia's total growth is around AUD 48.6 billion, and New Zealand at NZD 9.71 billion.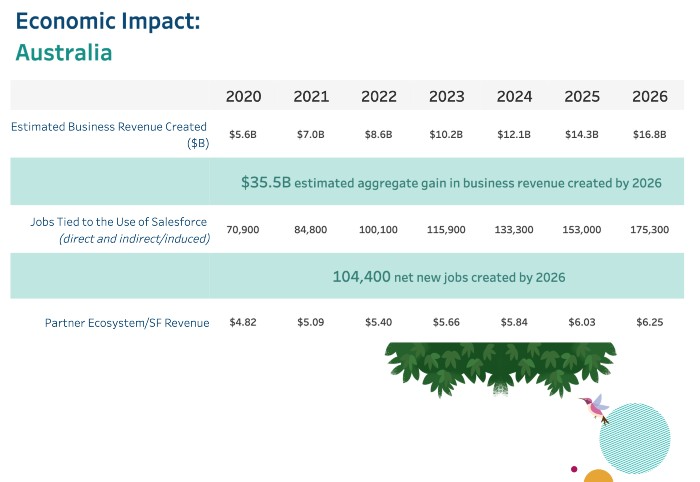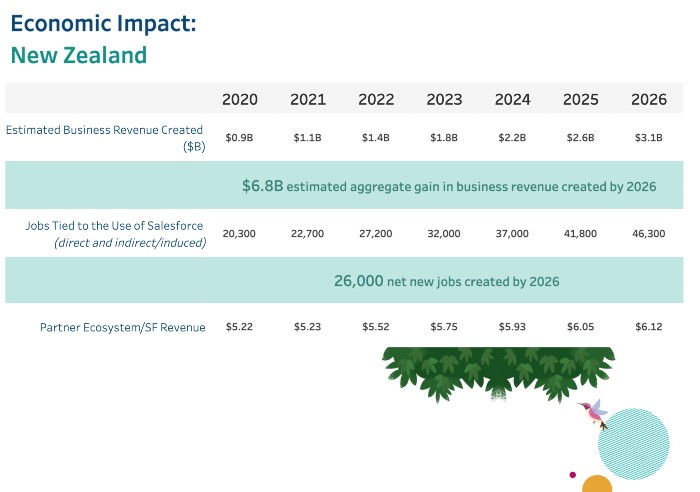 The new normal allows us to embrace digital-first transformations seen in the hybrid work setup we face. With that, the Salesforce partner ecosystem is also expected to grow six times faster than Salesforce by 2024.
IDC also reported that cloud-related technologies will cover up to 27% of digital transformation spendings in 2021 and will increase to 37% by 2026. 51% of companies also rate cloud ecosystems as "very important" to their success.
Impact of Salesforce on Job Opportunities
As the demand for Salesforce increases, so makes the demand for talent. IDC reports that more than nine million new job opportunities worldwide are set to arise from the Salesforce economy. Australians and New Zealanders can expect to have 104,400 and 26,000 new jobs, respectively; that's why Salesforce empowers everyone to learn skills needed to meet the demands. Did you know that over 3.6 million people use Trailhead? That is an 89% jump from the 1.9 million users in 2019.
Benefits of using Salesforce Cloud Services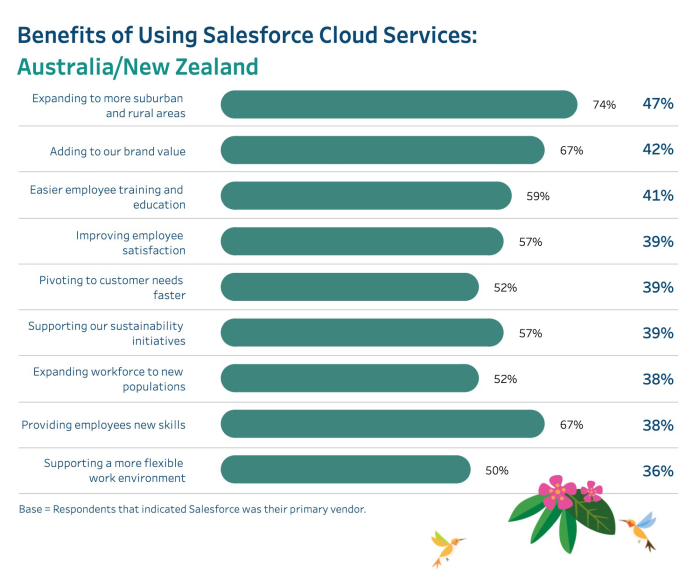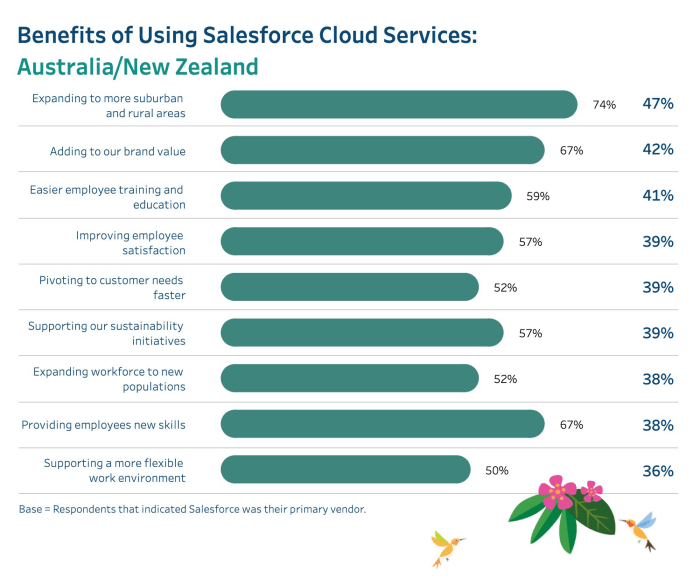 Salesforce users use the cloud-based platform to facilitate the new normal flexibility and a more sustainable future. The environment can benefit from the rapid adoption of the "work-from-anywhere" setup as it lessens the carbon footprint of companies. It is also reported that up to one billion metric tonnes of C02 will be reduced because of cloud computing technologies.
Salesforce's commitment to helping the environment makes it easier to understand why 28% of surveyed customers have transitioned to Salesforce for sustainability strategies.
Top Reasons why Australian companies prefer Salesforce over other CRMs
1. Salesforce has placed a billion-dollar investment in the Australian market
Salesforce has a massive presence in Sydney and Melbourne. The CRM company has invested a $50 million Trailblazer Fund for local innovations.
2. Salesforce focuses on Australia for business growth
Sydney and Melbourne are the two cities in which Salesforce focuses its business development. Australian software technology has grown so much and is leading the way in tech. In 2017, Australia's rate at 12.2% even outranked the global growth rate of 7.5% in the software technology industry.
3. Salesforce and Australia share the same entrepreneurial and tech innovation culture
13% of the Australian population are in business startups related to financial technology. For the majority, Salesforce has become an excellent investment regardless of size.
Success Stories of Salesforce Implementation in Australia and New Zealand
RSPCA South Australia
It's the state's oldest and most prominent animal welfare charity. It is also the leading advocate for animals funded by community donations as it provides shelter, love, and medical attention.
*Business Challenge
*The non-profit company's biggest administrative challenge was processing donations, and they were losing time trying to catch up by doing manual processes and received a 30% failure rate. This resulted in even more effort from their workforce.
*Salesforce Implementation Result
*RSPCA South Australia has been using Salesforce for two years. A total of 50% reduction in their failure rate was seen after the implementation of Salesforce. The implemented Salesforce Editions are the Sales Cloud, Pardot, Tableau CRM, and Experience Cloud. Salesforce helped them automate donation processes from end-to-end so donors can be automatically notified of failed payments so they can update the details.
Spark New Zealand
A market leader in offering digital and communication, Spark revolves on fixed phone lines, cloud, mobile, data, and digital services.
**Business Challenge
**Before implementation, Spark was not maximizing data usage. The challenge was how can they gain real-time insights from the data that they were getting. The company needed a way for them to merge their CRM and non-CRM data to empower their employees with actionable insights.
**Salesforce Implementation Result
**With the power of Tableau and Sales Cloud, Spark was able to garner a 30% increase in sales effectiveness. They are now leveraging real-time customer insights and trends, which enable them to compete and win against competitors.
Top High Rating Salesforce Partners in Australia and New Zealand
There are over 1,932 Salesforce Partners globally, and 118 of them are in Australia. We've listed down a list of Salesforce Partners with a high rating of 5 in Salesforce Appexchange that provides Salesforce Consulting Services in Sydney and Melbourne:
Top 5 Salesforce Consultants in New Zealand:
Conclusion
For 14 years, Salesforce demand has continuously grown in Australia and New Zealand. Australian companies have chosen Salesforce over other CRM platforms. From large enterprises to startups, companies can benefit from Salesforce with its scalable cloud solutions.
If you need help to find a Salesforce Consultant in Australia and New Zealand, feel free to use our Partner Search Tool. You can also learn more about Salesforce Implementation, Salesforce Pricing, and Salesforce Editions: Marketing Cloud, CPQ, Sales Cloud, Service Cloud, Commerce Cloud, and Salesforce Lightning.
Leave your contact information and project details, and we'll connect you with the most suitable based on your Salesforce implementation needs.