What is Salesforce Lightning?
Salesforce has taken CRM user experience to the next level with Salesforce Lightning, a more productive and modern way to work. It's a completely reimagined and improved ecosystem that you'll get to love even more. Move full speed ahead with your business and know why it's time to switch from Salesforce Classic to Salesforce Lightning.
What is Salesforce Lightning?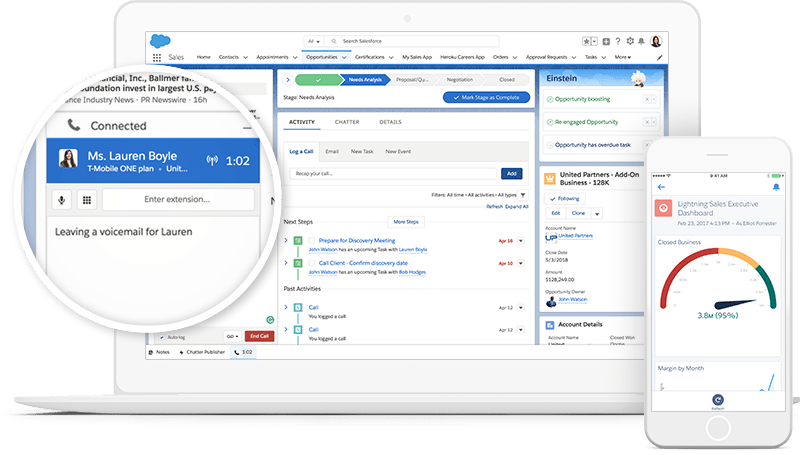 The Salesforce Lightning is the next generation of the Salesforce Classic. It results from everything Salesforce has learned from their users over the past years and releases. It's faster, more beautiful, and unique to every type of user. It provides a more direct user experience to help your business operate faster with customized alerts, interactive assistants, and more efficient support tools.
It also provides a more responsive user interface, automatically adjusting to the device you are using. Those who shifted to Salesforce Lightning have reportedly seen a 41% increase in productivity.
Who uses Salesforce Lightning?
Salesforce Lightning benefits business users, admins, and developers.
Business Users: Experience Next-Level Productivity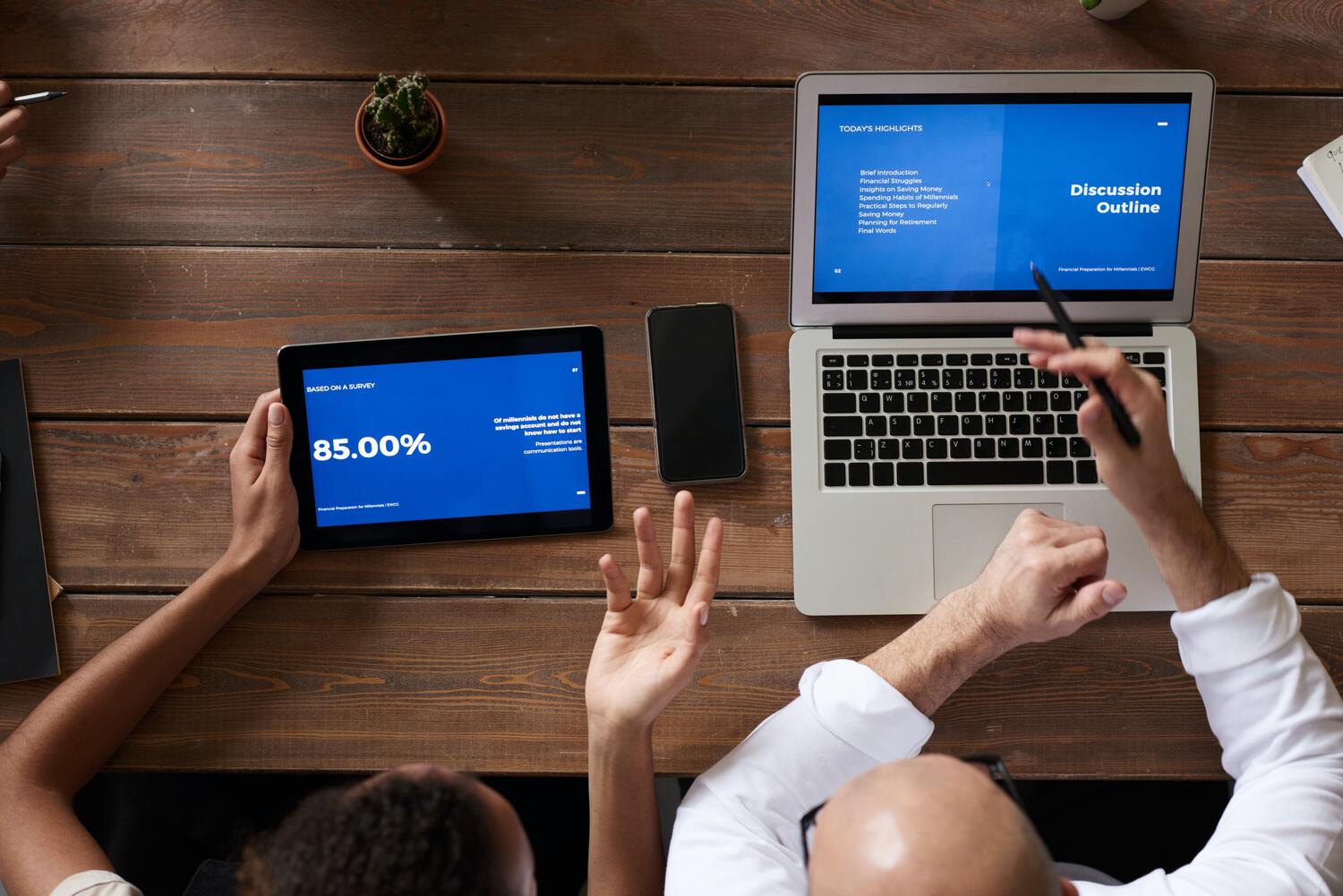 Salesforce Lightning offers advanced features to soar your productivity to the highest level. These include Kanban, Path and Guidance, Opportunity Workspace, Split View, Keyboard Shortcuts, Lightning Console Apps, and so much more!
Salesforce Admins: Easy Customization with Just a Click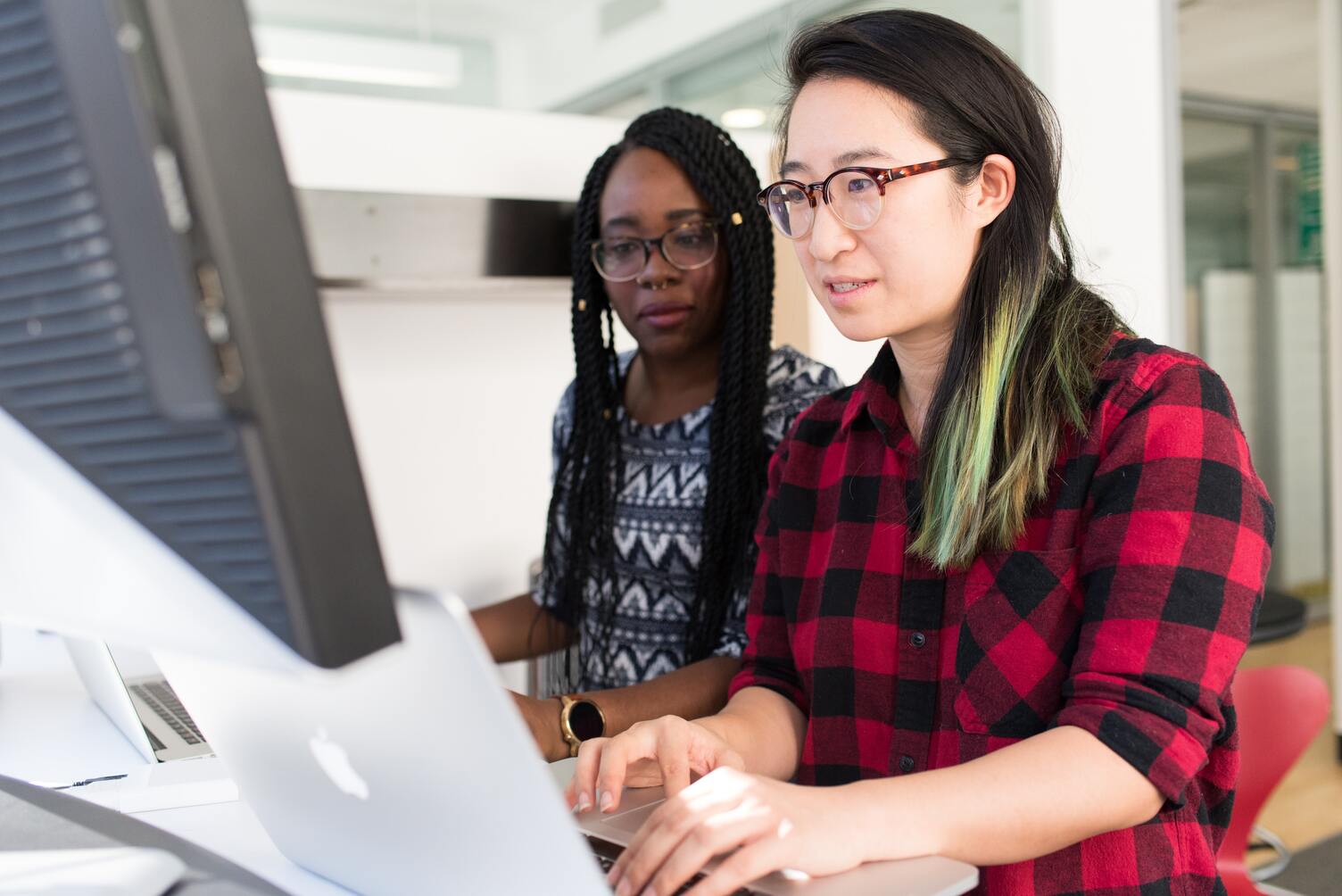 Since the primary role of Salesforce Admins is to customize the Salesforce Lightning Experience for their users, Salesforce has made it relatively more accessible for you to do so. Features like Dynamic Lightning Pages in Lightning App Builder and new out-of-the-box components will make customization so much easier and faster.
Salesforce Developers: Build Apps Faster and Easier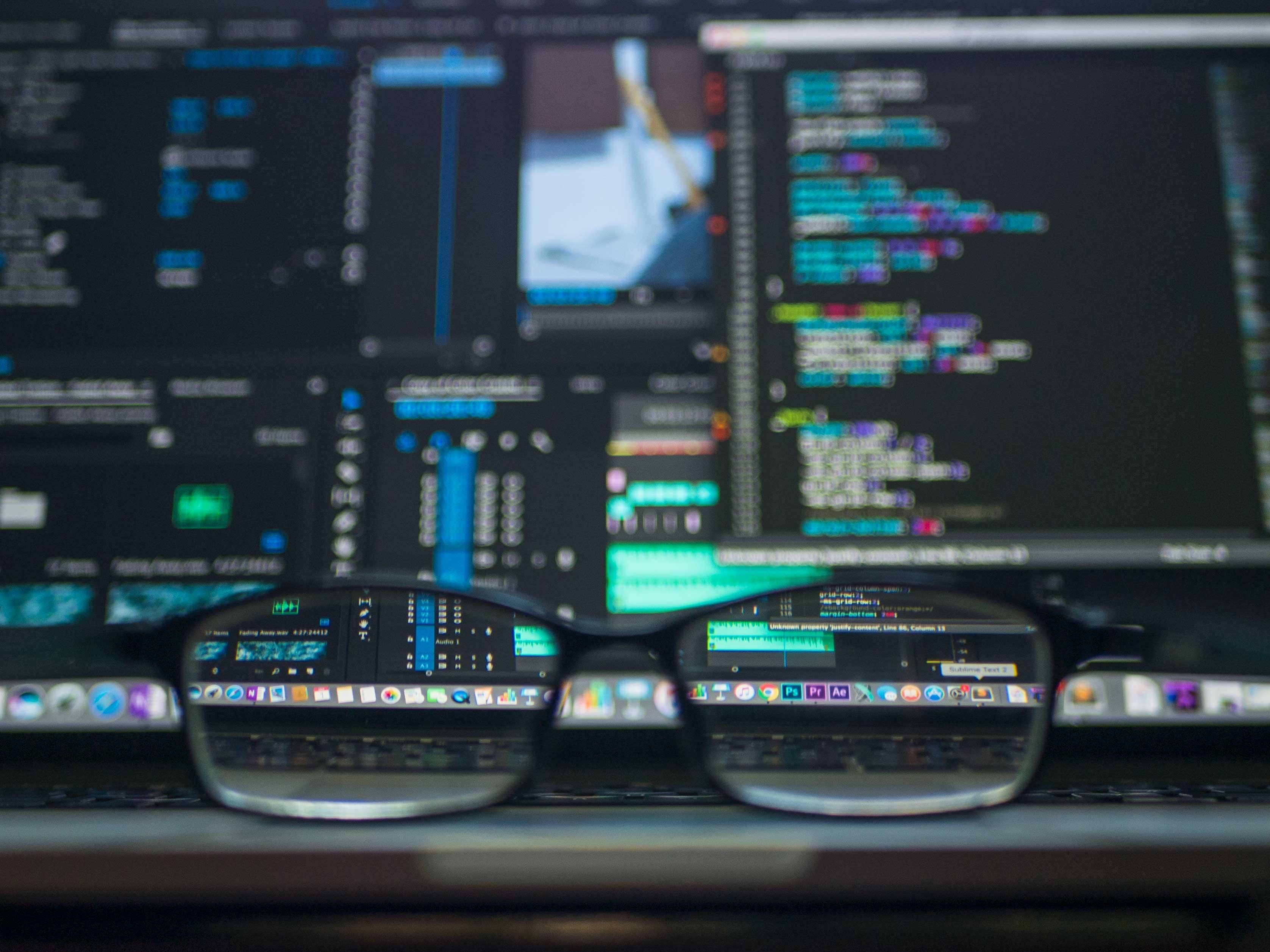 You can now quickly spin up apps and easily reuse code across components — without breaking your customizations. With the Lightning Component Framework, Lightning Design System, and powerful Developer tools, you can build modern and beautiful apps that revolutionize how you do business.
What are the Different Salesforce Lightning Features?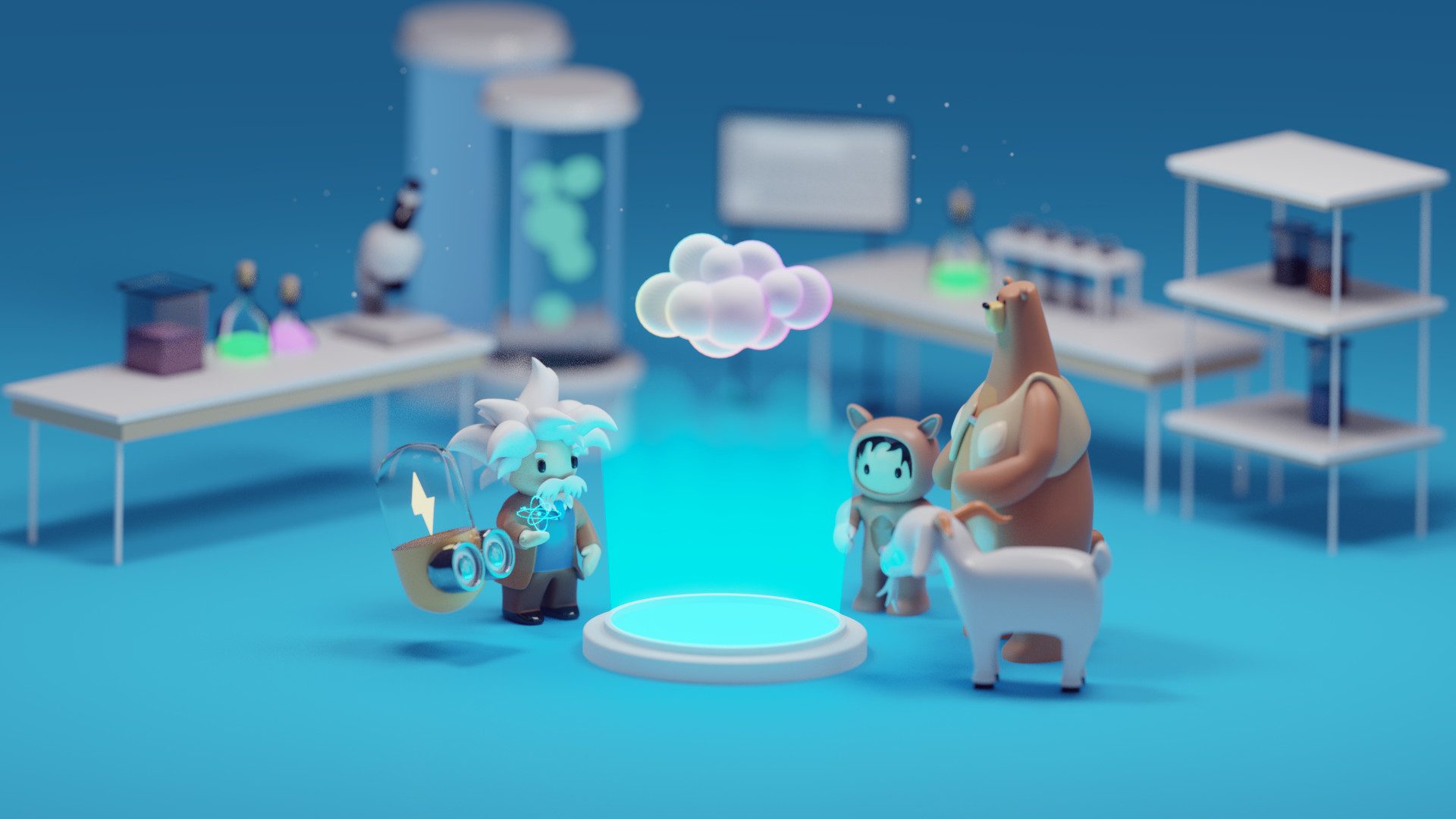 Image Source: https://bit.ly/3rrJPhl
Salesforce Lightning for Business Users
Opportunity Workspace
Path and Guidance
Kanban
Lightning Console Apps
Split View
Einstein Search
Lightning Dialer
Utility Bar
Global Quick Actions
Integrated Email
Favorites
Keyboard Shortcuts
Reports and Dashboards
Salesforce Einstein


Opportunity Workspace: Boost productivity with a workspace built just for your business. The Opportunity Workspace is a one-stop shop for the sales industry to close deals faster. You will have a view of all the essential details about a single opportunity in one place.
The highlights panel puts important contact details front and center. The path guides you through the optimal business workflow. Related information, such as contacts, products, and notes, is quickly accessible. And now you can work deals more efficiently using the handy composer to promptly log calls, create tasks and events, send emails, and more.
And guess what? You never have to think of what's left to be accomplished — your scheduled activities will appear under Next Steps. Logged calls, completed tasks, past events, and sent emails to appear under Past Activity.

Path and Guidance: Path in Lightning Experience lets you see the following steps to keep deals moving forward. Be guided along with the actions of specific processes. You can help your team become successful with step-specific Guidance and resources at each stage.

Kanban: The Kanban View displays records visually. So any pipeline or organization workflow works—drag documents from one column to another document. You can even edit or delete records directly from the Kanban view.

Lightning Console Apps: It boosts productivity by enabling you to edit and reference multiple records at once. When you choose a form from a related list, it opens as a tab in the console. When you open a related document, it begins as a sub-tab. Console Apps remember tabs, so when you navigate away from the page, you don't lose any time when you return.


Split View: It allows reps and agents to maintain context and visibility to a list while viewing a record. Your team can work faster with Split View, which provides a collapsible pane that keeps the List Views you need close at hand.

Einstein Search: Search in Lightning Experience just got better. Get top results and records faster. Now you can find content from external sources without closing Salesforce. Lightning users reportedly experience a 30% increase in performance with all the latest features such as Typeahead, Pre-scoping, Spell Correction, and more.
With Typeahead, Salesforce can predict what you are searching for, just like Google. You can even skip the search results page and arrive at the correct result, using only the first few typed words.

Lightning Dialer: Now, you can use phone features such as calls, notes, and more without leaving Salesforce. You can even save time and effort by pre-recording voicemail messages with the latest Voicemail Drop-in Lightning Dialer. With just a click, you can quickly leave one voicemail for a whole list of similar prospects. Record a statement that you can "drop" on the list and move on to the next call, saving time and effort.

Utility Bar: It brings a new level of app-level customization, especially if you frequently need to run a flow and create new records. You can pretty much do anything because it can pull up notes, open Chatter, launch a flow or Visualforce page, and open frequently used report charts.
The Utility Bar stays at the bottom of the page as a fixed footer and can be customized per app – so if you have an app for your Sales team and an app for Marketing, you can have both teams needing different tools to provide them.

Global Quick Actions: Sales and Service pros can achieve a whole new level of multi-tasking with Global Quick Actions and the Docked Composer. Create records, log calls, jot down notes, launch canvas, Visualforce, and Lightning component actions from anywhere in Lightning Experience — without switching away from other work in progress. It frees you from having to search for the correct record before knocking off a to-do item. And no more juggling several browser tabs to create multiple notes or activities simultaneously. Global Quick Actions open in a Docked Composer window on the current page.
You can add Global Actions to any page supporting actions, like the Home page, the Chatter tab, object pages, and custom Lightning app pages.


Integrated Email: With Lightning Experience, you can send emails to any activity-enabled objects anywhere. You can also relate emails to contacts, leads, and users to a single opportunity, campaign, case, account, or person account.
The power of Lightning is now in Gmail. You can experience the power of Salesforce Lightning CRM using Gmail. Lightning for Gmail is a new and native integration between Salesforce CRM and Gmail. It lets you see all of the contextual records related to each email, brings new apps into the Gmail side panel, and more. You can breeze through your daily correspondence, whether it's writing to prospects or customers or crafting emails with templates.

Favorites: Are you using a sales app or Working with the Lightning Service Console? Your Favorites don't care. They open in whichever app you're using—no more switching to the app where you created your Favorite. Favorites let you quickly access vital records, lists, groups, dashboards, and other frequently used pages in Salesforce.
If you are familiar with bookmarks in a web browser, Favorites act just like one, except it's better. Your favorites are available in every browser or computer you use to log into Lightning Experience.

Keyboard Shortcuts: Maximize efficiency and speed with Keyboard Shortcuts while working in Lightning Experience. You can search for, edit, save, and close a record — all without touching a mouse. We've even got Keyboard Shortcuts to help you go to the publisher and post to a feed.
Lightning Console Apps can also use Keyboard Shortcuts. With Keyboard Shortcuts, your sales reps, support agents, and other console users can manage their records faster and more efficiently. So you can now focus your time on planning!
You can press Ctrl+/ for Windows and Cmd+/ for macOS to view the available Keyboard Shortcuts.

Reports and Dashboards: Make informed decisions using Reports and Dashboards. Lightning Experience brings a heap of enhancements. Animated, interactive charts illustrate data. A full report run page is easier to read and filter. And the dashboard editor supports more than three columns and features components that span multiple columns and rows.
Transition easily from Salesforce Classic to Salesforce Lightning Experience with Reports and Dashboards automatically viewable in the new interface.

Salesforce Einstein: Get AI on your side. Focus on the best leads first with Einstein Lead Scoring. Focus sales reps on the right deals, every time, with Einstein Opportunity Scoring. Uncover the winning sales move with Einstein Opportunity Insights. Skip the data entry with Einstein Activity Capture. And prioritize your inbox with Einstein Email Insights.
Now you can supercharge the productivity of your Sales, Service, and Marketing teams with AI. With key predictions, intelligent recommendations, and timely automation, everyone can work smarter and faster.
Salesforce Lightning for Admins
Lightning App Builder
Lightning Page Templates
Lightning Components
Dynamic Lightning Pages
Lightning Community Builder
Lightning Service Setup
Lightning App Builder: The Lightning App Builder is a powerful point-and-click tool that makes it easy for Admins to create custom pages for Lightning Experience
and Salesforce1 without code. With the Lightning App Builder, you can easily combine standard components, custom components, and third-party components on AppExchange on a single page to give your users what they need.

Lightning Page Templates: Now, Admins have access to out-of-the-box Lightning Page Templates to tailor the page to suit their needs. These pages are responsive, too. And in these templatized Lightning Pages, Admins have dozens of different drag-and-drop Declarative Components to build a page or app.
Salesforce Developers can take it to the next level by creating Custom Lightning Page Templates, so Admins have greater customization with Lightning App Builder drop zones. Salesforce Developers will find it easier to make apps and access layouts suitable for all types of form factors with its customization features.


Lightning Components: These are the self-contained and reusable units of an app and can range from a single line of text to an entire app. Now Admins can combine standard components, custom components, and third-party components on AppExchange on a single page – all without needing to write a line of code.

Dynamic Lightning Pages: The Lightning App Builder lets you control when a component appears on a record page. For example, maybe you want to give your Sales team the option to escalate for deal support help only if an opportunity is more significant than $100K. Now you can.
Component visibility filters are accessible in standard, custom, and components from AppExchange. If you don't define a filter, the feature displays on the Lightning record page as usual.

Lightning and Community Builder: Lightning Community Builder is like the Lightning App Builder, except it is more used to design and build communities using Lightning components. Admins can use standard or custom components to create community pages with point-and-click customization like the Lightning App Builder. Choose a template to start your community quickly and style the pages to match your company's branding.
Easily create, brand, and publish a custom community that looks great on desktop or any mobile device! Choose a template to start your community quickly and style the pages to match your company's branding.

Lightning Service Setup: Service Cloud Lightning is a powerful tool with many incredible features. But setup can be daunting, especially if you're new to the product. Thanks to Lightning Service Setup, those days of doubt are over. Lightning Service Setup offers easy-to-follow setup flows, an intuitive setup tree displaying the virtual nodes, and a performance metrics dashboard.
Lightning Service Setup now offers setup flows for Lightning Knowledge and Lightning Communities. We've also added an easy way to customize your case statuses in the Recommended Setup window.
Salesforce Lightning for Developers
Lightning Design System
Base Lightning Component
Lightning Data Service
Custom Page Templates
Lightning Testing Service


Lightning Design System: Save development time and create modern, consistent apps with a collection of design patterns, components, and enterprise UX best practices.
The Lightning Design System is a CSS Framework that looks and feels consistent with Lightning Experience. The component classes enable you to build custom applications with a UI consistent with Salesforce without reverse engineering our styles. Easily create pixel-perfect apps that can seamlessly unify with the Salesforce user experience.

Base Lightning Components: The building blocks formulate the modern Lightning Experience, Salesforce1, and Lightning Communities user interfaces. They're self-contained and reusable units that you use to create new components or entire apps. They also have JavaScript and logic built right in. Many Base Lightning Components are directly integrated into Salesforce data and metadata to help kickstart your development efforts.
But that's not all. Base Lightning Components include Lightning Design System markup and classes to ensure that your components look like the Lightning Experience. The Base Lightning Component attributes are very clean and consistent, making it very easy to use and letting you focus on your ideal experience.

Lightning Data Service: Simplify Lightning development with Lightning Data Service. You can handle sharing rules and field-level security for your business. In addition to not needing Apex, Lightning Data Service improves performance and data consistency across your components.
Lightning Data Service is critical to performance benefits. Features accessing the same form see significant performance improvements because a document is loaded only once, no matter how many parts you are using. Shared records also improve user interface consistency. When one component updates a record, other features using it are notified and refreshed automatically.

Custom Page Templates: Now, you can create a Custom Page Template specific to the needs of your business. You are no longer limited to the standard templates available for the Lightning record, app, and Home pages.
Every Lightning page can include a template component in which you'll know the page's regions and the features it has. You can even create a custom Lightning page template component and make it accessible as a custom page template in the new page wizard inside the Lightning App Builder.
Lightning Testing Service: Lightning Testing Service allows you to perform component-level tests on your components as you build them. Test Lightning components with the JavaScript test framework of your choice — Jasmine and Mocha are supported right outside the box. Plus, Lightning Testing Service is ready to use with Continuous Integration through Salesforce DX.
So now you can be more confident that every declarative component you deliver will perform fast, as expected, and will not create downstream impacts or other unintended side effects.
Salesforce Lightning vs. Salesforce Classic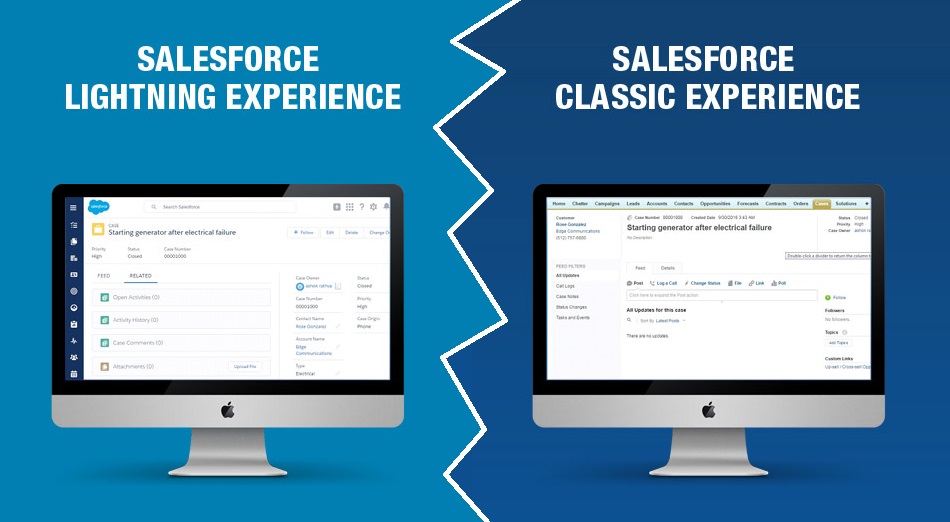 Image Source: https://bit.ly/2UzqVJl
Salesforce first introduced the Salesforce Lightning in 2015. Its debut features were not as complete as it currently offers in 2021, so many users continued to use the Classic version.
After years of development, Salesforce Lightning has come a long way due to the efforts of Salesforce to resolve issues, make system enhancements, as well as listen to early adopter customer feedback.
Here are some more reasons why you need to switch to Salesforce Lightning:
More efficient navigation
Ability to switch to custom-branded apps
New record layouts that focus on your next steps
Filter and visualize data with Turbocharged list views
Instant access to productivity tools
More user-friendly dashboards
Sleek report views
Create records and access recent ones for certain items directly from the navigation bar.
See open tasks, planned meetings, and accomplishments in the activity timeline on activity-enabled objects.
Find your jobs on a new page for functions, including the new master-detail view, which lets you see a single charge and your entire list of parts side by side.
Use phone features without ever leaving Salesforce
Send an email through Gmail or Office 365 accounts with your Salesforce email.
Enjoy a richer file preview experience
Find records faster with improved global search
Top Benefits of Using Salesforce Lightning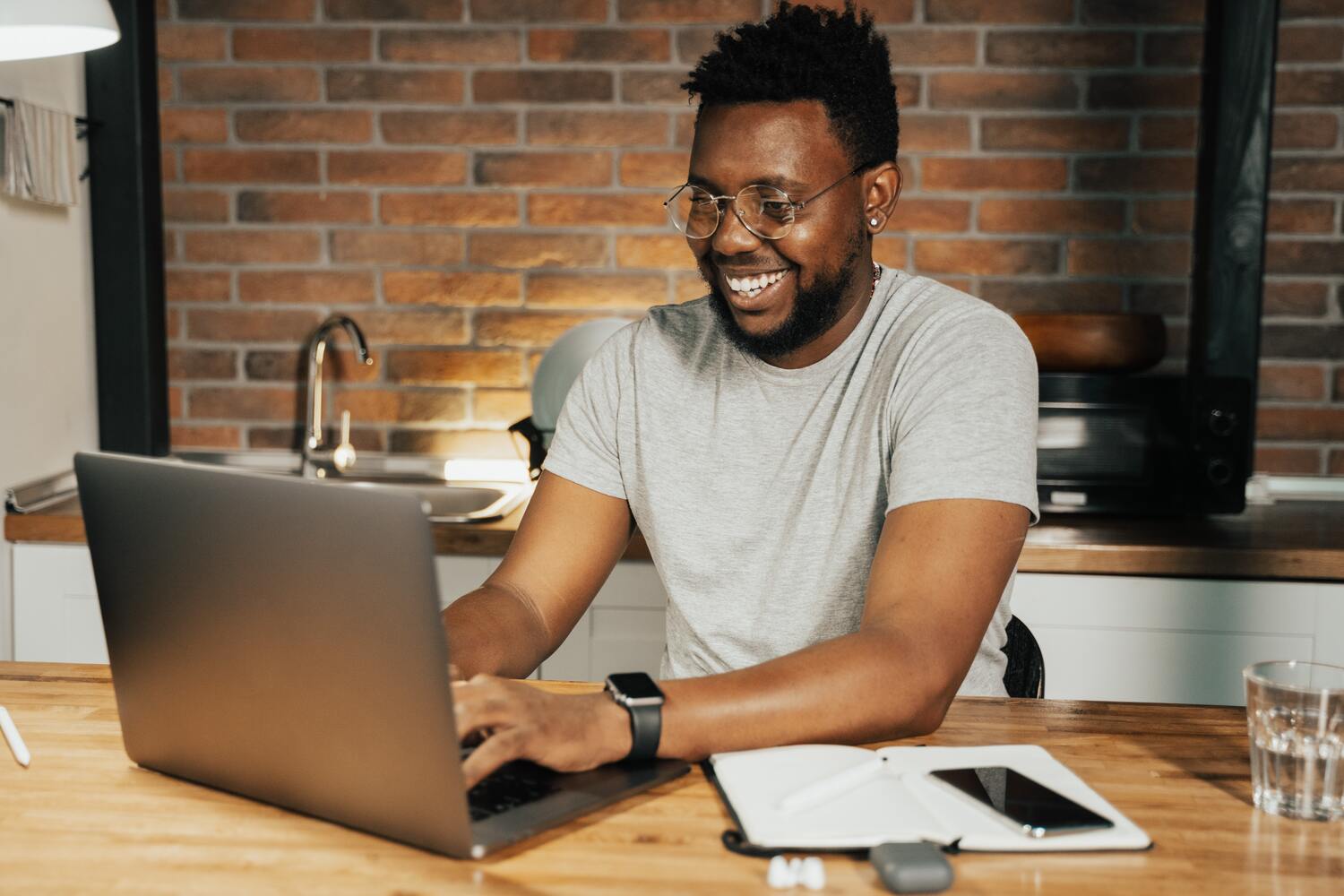 Mobile Responsiveness
Salesforce built salesforce Lightning for ease of use. You can use its modern and intelligent interface from any device, including desktop, mobile, laptop, and tablet.
Better Customization
It also allows better customization of your homepage to design the experience to display the essential information you need to make your operations more productive.
Smarter Analytics
Information is displayed dynamically and more visually, so it helps you focus on each type of user's most commonly accessed views.
More Dashboard Columns
Your dashboards now offer more than three columns. The number 1 most requested feature by over 150,000+ customers had more columns. It also provides animated dashboards which allow more data-driven decisions at a glance.
Drag-and-drop Status Changes
Lightning's "Pipeline Board" can be manually moved between stages by dragging and dropping, and the sales forecast will be automatically updated. Your team can now better understand where each opportunity is and your target metrics.
How to get started with Salesforce Lightning?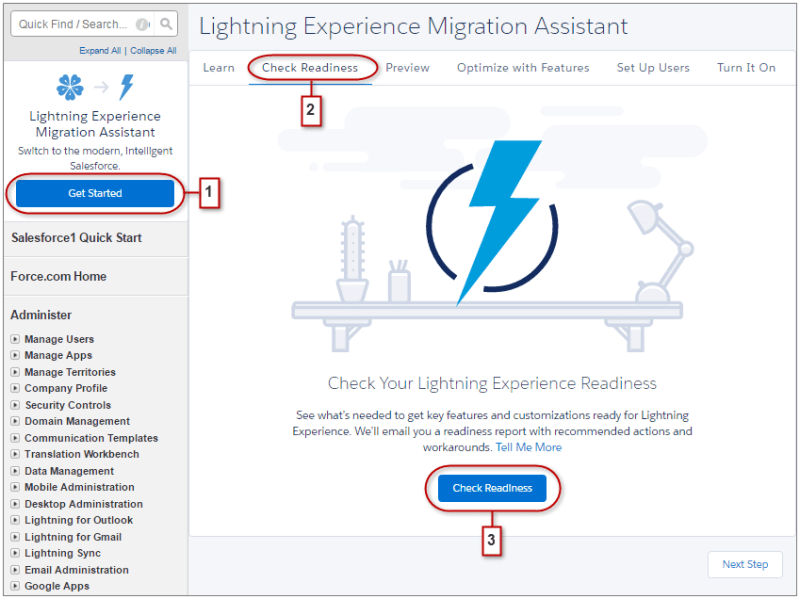 Image Source: https://bit.ly/3eJqm6J
The Lightning Experience Readiness Check starts with a one-click assessment tool that gives you a step-by-step guide for bringing Lightning online for your business. You can find this by using the Lightning Experience Transition Assistant in Setup.
The Lightning Experience Readiness Check identifies which users are ready for the shift as the process gets underway. That can be your pilot testing which can help you understand the value of rolling out Lightning to your whole team.
Salesforce offers you complete control at every step, enabling you to manage people's access to Lightning, the order of their access, whether they have the option to switch back to Classic, and more.
Featured Salesforce Partners for Salesforce Lightning
CloudMasonry
CloudMasonry is a leading provider of Salesforce consulting services for large and small organizations across the US. We leverage our experience with cloud-based systems to help companies discover more significant value in their digital investments. With experience that spans across all major industries, CloudMasonry combines deep enterprise consulting experience with a collaborative approach to project delivery.
iTechArt Group
iTechArt Group has more than ten years of experience in delivering customer-centric and next-gen Salesforce solutions. Their team comprises 80+ certified Salesforce Consultants, Architects, and Developers who have the necessary skills to dive into your Salesforce implementation needs. They provide a full range of Salesforce consulting services from consulting on implementation, migrating the existing solution to Salesforce or integration with third-party tools, configuration and customization, audit services, custom development, staff augmentation, full support, and managed services.
TechForce Services
TechForce Services is an Australian-based Salesforce consulting company with quality Salesforce services from migrations, integrations, analytics, and staff augmentation. They combine their cross-cloud consulting experience and industry-specific solutions and offer end-to-end digital transformation strategy, consulting, interactive, technology, and operations services across the core verticals of Education, Financial Services, and Government sectors.
Manras Technologies
Manras is a Summit (Platinum) partner, who has won the APAC Partner of the Year award for 2021. We have diverse experience in multiple industries like Real Estate, Hi-Tech, Manufacturing, Insurance, non-profits, logistics, travel, Healthcare, etc.
Stratiform
Stratiform is here to show you there's a better way. Personal, face-to-face long-term partners that speak your language. They align your business with Salesforce, allowing for growth and the change the future will bring.
CloudKettle
CloudKettle is a Salesforce Gold Partner, Google Premier Partner, and Marketo Silver Partner. We have a decade of experience improving clients' ROI from Salesforce and tools like Google Analytics, Marketo, Marketing Cloud, Eloqua, and LeanData. The brains behind BANT+C and CloudKettle SafeGuard.
Conclusion
The Salesforce Lightning is a game-changer. It's not just good for enhancing efficiency and productivity, but it also changes how you do your business better than Salesforce Classic.
Lightning goes beyond just a look and feel to the upgrade. It's more powerful and robust, packed with more innovative sales features to make sales teams' experience much more breezy. You can develop lightning-speed apps, access insights, and sell faster.
Find the best Salesforce consulting firm to help you implement your transition from Salesforce Classic to Salesforce Lightning. Feel free to search for the perfect one on CRM Consulting's worldwide directory of highly trusted consulting companies!