If you are part of the Salesforce ecosystem or Digital Marketing ecosystem, you must have come across the name Pardot more than once. Wondering what this tool is and what it does? If yes, you have landed at the right place.
Pardot started as a small lead generation and nurturing platform in 2006 and gradually grew to become one of the fastest-growing companies in the United States. In 2009, Pardot added the functionality of email marketing which made them a fully developed marketing automation platform, which ExactTarget finally acquired in 2012. Pardot came under the Salesforce brand post the acquisition of ExactTarget in 2013 by Salesforce. Now, Pardot and ExactTarget are the two products under the Marketing Cloud umbrella of Salesforce, and Pardot is competing with other marketing automation tools like Eloqua, Marketo, Hubspot, Sales Fusion, and others.
Pardot is a SaaS-based marketing automation tool offered by Salesforce that covers advanced capabilities like Email Campaigning, lead nurturing & management, website tracking, social media marketing, and others. Apart from email and campaigns management activities, Pardot offers excellent analytics capabilities like website analytics, campaign analytics, customer behavior tracking, lead tracking, marketing ROI tracking, etc. It also provides standard reports that can be configured to reflect analytics details and pre-built dashboards to reflect campaign performance and other information visually.
Features of Pardot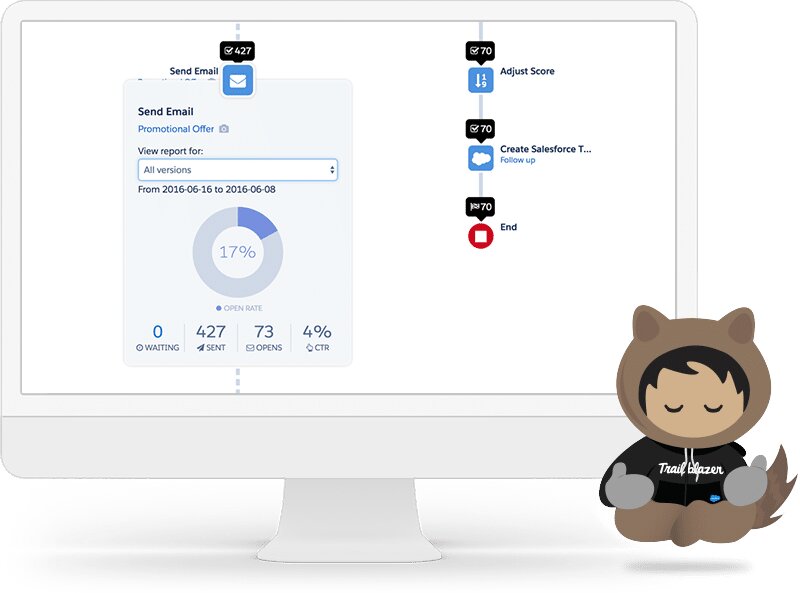 Pardot has various features to make your life easier by automating multiple marketing tasks. Some of the features include:
Lead Management: Pardot provides enhanced Lead management capabilities, including Lead Scoring & Grading, Lead Nurturing, Segmentation, and Tracking capabilities. Lead Scoring & Grading helps you filter out more interested prospects who can be better leads for the Sales team to work on, thereby improving the efficiency of the Sales team and marketing team. Pardot provides the capability to automate this lead scoring and grading process and hence makes you capable of increasing conversion rates of leads for your company. It even offers options to send your customers on different journeys/paths/experiences based on their lead scores which get updated on a real-time basis based on the activities/response of the customer. You can set up automation to define the journeys, lead scoring, define engagement paths, and advanced dynamic content to target customers via Pardot.
Lead Scoring: Lead Scoring is the process by which a numerical score is assigned to a customer based on his response/behavior towards the marketing activities. Pardot provides capabilities to define the rules for updating the Lead Score as the marketers need. For example, you can configure Pardot to increase the lead score by 10 points if he clicks on any emails sent to him via Pardot. In this manner, you can easily differentiate between customers based on their activeness or interest being shown.
Lead scoring helps you identify the potential leads from a list of prospects and further helps target different segments of customers with other marketing strategies. For example, you can configure Pardot to qualify all prospects with a score above 50 to be potential leads and send targeted campaigns to convert these leads to customers. On the other hand, you may consider sending them in the re-engagement journey or putting them on a suppression list for the remaining customers(with a score less than 50).
Grading: Grading is another feature of Pardot by which you can assign a grade to each customer based on the information provided by him. For example, you can choose to increase a prospect's grade if he has shown interest in multiple products or is a CEO of a company and reduce the grade if it's a small company or has never purchased and inquired many times.
Lead Nurturing: Lead Nurturing is another subprocess in Lead Management where you can target the customer with personalized content and engage him more to close the deal. Lead Nurturing usually occurs once you have identified the potential leads based on lead scoring and have a plan to convert them to customers gradually. Pardot provides excellent Lead Nurturing capabilities by allowing you to design different journeys, send them on these journeys based on their responses and track their engagement status to improve the experience.
Lead Generation: Pardot supports lead generation for you as well. As part of the lead generation, the first step is to capture the details of an exciting prospect, especially the address. Here's where Pardot comes into the picture. Pardot provides you with the capabilities to create Landing Pages and add forms to these pages with just a drag and drop functionality. That's true. You can create forms you need in Pardot and place them on the landing pages, which your potential customers will see as part of your emails and while surfing. With the help of these forms, you can capture the prospect's details and start targeting them with additional marketing content based on your marketing policies.
Email Marketing: Email Marketing is an essential part of your marketing strategy, and yes, Pardot covers that for you. Pardot provides you with all the capabilities of Email marketing, including branding, content designing, personalization, multiple device rendering, and bulk email sends as well. Pardot allows you to send emails to up to 10,000 contacts as part of the base package, further extending by purchasing additional blocks. Not only this, you can define templates reflecting your brand and can use those for all email communications. Pardot supports all kinds of emails, be it transactional or promotional, and you can send them via a journey or configure a One time Send if needed. Pardot also provides other email marketing features like Email A/B Testing, Email Rendering & Preview Analysis, Multivariate Landing Page Testing, and an Integrated Marketing Calendar.
Social Marketing: Pardot also supports you with marketing on various social media platforms like Facebook, Twitter, and LinkedIn. You need to set up the readily available connectors. Once that's done, you can directly post on these platforms from your Pardot instance and track your prospects' activities back in Pardot. You can even schedule your content to be posted on social media with the help of Pardot hence ensuring that you have content covered for a fortnight in advance. Apart from this, once the prospects start responding to your content, you get a better picture of their activities within the Pardot, enabling you to make informed decisions. For SMS campaigns, you can use a connector like Twilio to send those campaigns from Pardot. Pardot also provides Social Profiling and Lookups capabilities in advanced versions.
Seamless Salesforce Integration: It is said that Sales & Marketing go hand in hand. Yes, that's true, and so is that a CRM tool and Marketing Automation tool need to be in sync for better performance and to keep Sales & Marketing on the same page. This makes the integration of Pardot with Salesforce CRM a crucial feature as it gives both the teams valuable insights and updates on the status of a lead and helps them take actions accordingly. Setting up this integration is the standard Salesforce to Pardot connector. You will have to define the baseline for this integration with both Sales & Marketing team to ensure meeting their expectations and then follow the simple steps to make changes in your Salesforce and Pardot accounts to set this up. Once configured, data can flow seamlessly in real-time between the two systems.
Reporting & Analytics: Pardot provides some advanced reporting and analytics capabilities to you to track the performance of your campaigns. Pardot offers several reporting tools and pre-configured reports to track the ROI of your campaigns, right from Campaigns reports to landing page reports, email performance reports, point of conversion reports, and others. It also provides Advanced Email Analytics, ROI reporting, Competitor monitoring, SEO keyword monitoring, and multi-touch attribution models. Apart from this, with the advanced Einstein capabilities built-in, Pardot also provides Einstein Lead Scoring, Einstein Behaviour Scoring, and Einstein Campaign Insights with an Advanced Pardot license.
Salesforce Engage (Addon): At times, prospects take time to start engaging with your campaigns. For such scenarios, Sales reps often look for a tool to provide deep-dive analysis of customer engagement patterns. To solve this issue, all you need is an additional license of Salesforce Engage. Once you have Salesforce Engage up and running, you can leverage the other features like Engage Alerts, Engage Campaigns and Engage Reports. These features enable Sales Reps to understand how prospects want to engage and deliver campaigns accordingly.
Engage Alerts provides real-time updates to the Sales Reps on their mobile and desktop app and gives details of the activities that their prospects have performed in the last four days. Sales Reps can even push specific opportunities to nurture campaigns directly from the app.
Engage Campaigns feature enables Sales Reps to access all available templates, nurture tracks, send ad hoc messages, and launch campaigns directly.
Engage Reports to provide insights around the success of the email campaigns and a deep dive analysis of the performance of each movement with the help of dashboards. With this feature, Sales Reps can analyze the performance of their emails and campaigns directly from their phone itself and take corrective measures if needed.
Salesforce Engage's features can now be availed with just an additional license cost for Salesforce Engage, which can be used across different modules like Sales Cloud, Pardot, and others.
Use Cases for Pardot
With a plethora of tools available for marketing automation, the next question you may be asking is in what situations/use cases is Pardot an ideal fit. Well, as it has been mentioned a few times, Pardot is a marketing automation tool specialized for covering B2B scenarios. So, suppose you are a business selling to another company rather than end customers directly. In that case, Pardot will surely be a good fit as it supports everyday B2B marketing activities like Lead Generation, Lead Nurturing, Lead Scoring, Sales Enablement, and others.
A few generic use cases for a Pardot implementation can be when a company needs to acquire new prospects for their database. These can be people attending a conference or a summit, and we can send them registration emails which leads them to a landing page that includes the form to capture their details and then target them.
Another possible use case is an automobile company that informs all its dealers about the latest offers and deals and distributes its marketing material through Pardot emails. Apart from these, there are several other use cases of B2B scenarios across different industries.
Pardot vs. Salesforce Campaigns:
Now, you must wonder what Pardot offers extra on top of the Salesforce campaigns functionality. Salesforce provides basic Campaign Management capabilities where you can link campaigns to your leads and contacts at any time. But this association needs to be done via association rules. On the other hand, Pardot tracks a prospect's activities all the time. As soon as a person interacts with any of the assets of a campaign, the campaign automatically gets tagged to the candidates.
Pardot provides additional support throughout the campaign by tracking activities, etc. The best part is that if you are using both Salesforce and Pardot, you can leverage the same Campaign object in both the systems, thereby eliminating the need to create two different copies and syncing those. If you connect Pardot with Salesforce, you can review and make changes to your campaigns from any of the two systems and can track the campaign progress in your reports in both systems as well. Apart from that, this integration covers the limitation of Pardot to follow just the entry point campaign, as you can see the entry point campaign details for a lead in Pardot. In contrast, in Salesforce, you will check all the campaigns the lead is associated with. That's pretty cool. Isn't it?
| | |
| --- | --- |
| Pardot Campaigns | Salesforce Campaigns |
| Tracks first touch only | Tracks any touch in the customer lifecycle |
| Set when prospect first touches a Pardot-tracked link or a website with Pardot tracking code | Association with specific campaign is not automatic |
| Prospects are automatically associated with a campaign | Directly integrated into the Sales funnel (e.g. Campaign influence, roll up info on Lead/Contact records) |
| Houses all related marketing assets | Allows member status to be tracked |
| Can be tracked and measured | |
| Helps Sales and Marketing Understand ROI | |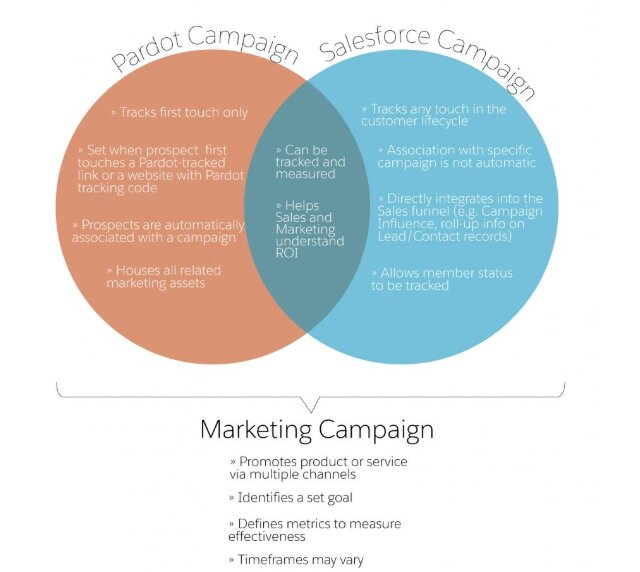 For more details on the Salesforce campaign vs. Pardot campaign, you may refer to: https://www.pardot.com/blog/pardot-campaigns-vs-salesforce-campaigns/
Marketing Cloud vs. Pardot
As you already know now that Salesforce Marketing Cloud Umbrella holds two products, one being Marketing Cloud(formerly known as ExactTarget marketing cloud) and the other one being Pardot. Now you must be wondering which tool to choose in what case. We have come up with a small comparison to help you out on this.
| | | |
| --- | --- | --- |
| Parameters | Pardot | Salesforce Marketing Cloud |
| Specialized in | B2B Marketing | B2C Marketing |
| Channels Supported | Email, Social | Email, Social, SMS, Mobile Push |
| Features | Lead generation, Lead Management, Advanced Prospect Analytics, Lead Nurturing | Email Campaign Management, SMS campaigns, Mobile Push, Advertising |
| Additional Features | Forms, Personalised Landing Pages, Lead Scoring | Cross channel marketing, Landing Pages |
| Integration with Salesforce | OOB Connector, also can leverage some objects of SFDC like Campaign | A Connector is available to integrate with SFDC, limited functionality as compared to Pardot connector |
| Differentiators | Pardot is known for Lead nurturing and management capabilities | SFMC is known for Email Campaign Management capabilities |
| Pricing | Simple pricing model can be found at: https://www.pardot.com/pricing/ | The Pricing model is a bit complex and not publically available. Get a quote from here - https://www.salesforce.com/in/products/marketing-cloud/pricing/ |
Pricing Comparison - Pardot vs Others
| | | | | |
| --- | --- | --- | --- | --- |
| Parameters | Pardot | HubSpot Marketing | Marketo | Mailchimp |
| Price Range (in USD) | For 10,000 contacts Monthly Pricing ranges from * $1,250 (Growth) to * $4,000 (Advanced) (billed annually) For more details refer to https://www.pardot.com/pricing/ | For 10,000 Contacts Monthly Pricing starts at * $322 (Starter version, billed monthly) to * $4480 per month (Enterprise version, billed annually). It has a free version too. | For 10,000 Records Monthly pricing starts at * $895 per month to * $3,195 per month (Elite) | For 10,000 contacts The price ranges * $75/month (Essential Plan) * $99/month (Standard Plan) * $299/month (Premium Plan) A basic Free version for entry level is available too. |
Limitations of Pardot:
While Pardot brings plenty of advantages to the table, they still face a few limitations and hopefully are working on in the backend. These limitations include:
Pardot does not provide SMS marketing capabilities. You still need to integrate with an SMS marketing tool like Twilio for support and suffer from additional costs and complexities.
Pardot is still lagging in social media marketing capabilities compared to advanced capabilities provided by other tools.
Pardot needs more administration and data cleansing tools to be implemented in the backend to cope with lousy quality data entering the system.
Pardot still does not support Event Management automation as it still cannot capture details like event attendance, attendee limits, RSVPs, and other functionalities. Being a B2B marketing automation tool, these additional features may become crucial in the coming times.
Featured Salesforce Partners for Pardot
CloudMasonry
CloudMasonry is a leading provider of Salesforce consulting services for large and small organizations across the US. We leverage our experience with cloud-based systems to help companies discover more significant value in their digital investments. With experience that spans across all major industries, CloudMasonry combines deep enterprise consulting experience with a collaborative approach to project delivery.
iTechArt Group
iTechArt Group has more than ten years of experience in delivering customer-centric and next-gen Salesforce solutions. Their team comprises 80+ certified Salesforce Consultants, Architects, and Developers who have the necessary skills to dive into your Salesforce implementation needs. They provide a full range of Salesforce consulting services from consulting on implementation, migrating the existing solution to Salesforce or integration with third-party tools, configuration and customization, audit services, custom development, staff augmentation, full support, and managed services.
TechForce Services
TechForce Services is an Australian-based Salesforce consulting company with quality Salesforce services from migrations, integrations, analytics, and staff augmentation. They combine their cross-cloud consulting experience and industry-specific solutions and offer end-to-end digital transformation strategy, consulting, interactive, technology, and operations services across the core verticals of Education, Financial Services, and Government sectors.
Manras Technologies
Manras is a Summit (Platinum) partner, who has won the APAC Partner of the Year award for 2021. We have diverse experience in multiple industries like Real Estate, Hi-Tech, Manufacturing, Insurance, non-profits, logistics, travel, Healthcare, etc.
Stratiform
Stratiform is here to show you there's a better way. Personal, face-to-face long-term partners that speak your language. They align your business with Salesforce, allowing for growth and the change the future will bring.
CloudKettle
CloudKettle is a Salesforce Gold Partner, Google Premier Partner, and Marketo Silver Partner. We have a decade of experience improving clients' ROI from Salesforce and tools like Google Analytics, Marketo, Marketing Cloud, Eloqua, and LeanData. The brains behind BANT+C and CloudKettle SafeGuard.