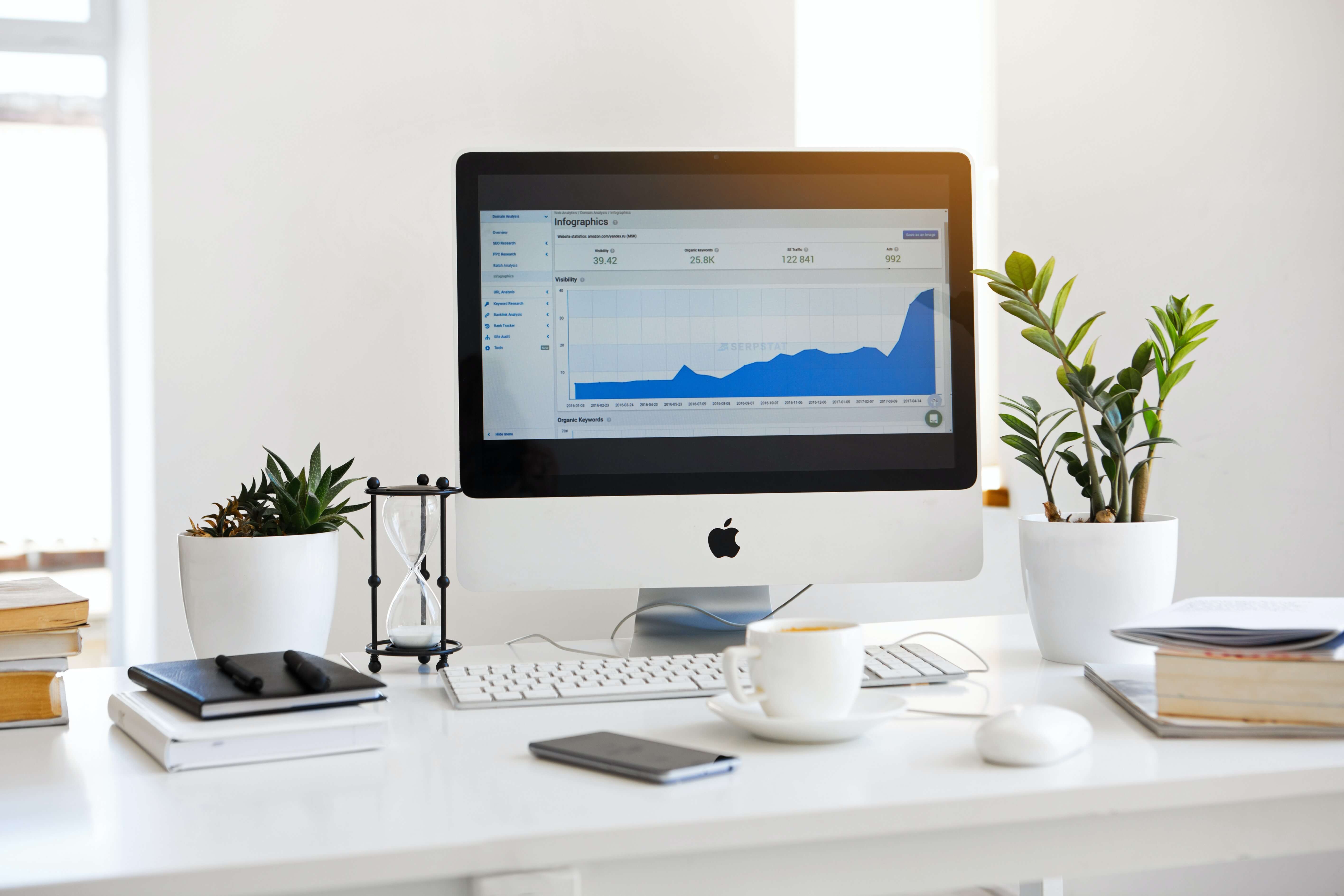 The advent of the pandemic has made it very challenging for businesses, especially those who rely on direct sales to generate revenue. Business as usual will be far from reality for some countries. That's why you probably need to shift your focus from temporary fixes to a fresh strategic approach. Consumers are changing because of the impact of Covid-19, so it's time to give your sales team the tools to help your business emerge from the competition. This is where the Salesforce Sales Cloud comes in.
What is Salesforce Sales Cloud?
The Salesforce Sales Cloud is a CRM platform designed to help your sales, marketing, and customer support teams. It's a platform that incorporates customer information, leads, marketing efforts, sales information, and performance analytics in one place. It also provides thousands of applications in the Salesforce Appexchange so you can customize your experience whether you are a Business-to-Business (B2B) or Business-to-Consumer (B2C) type of company.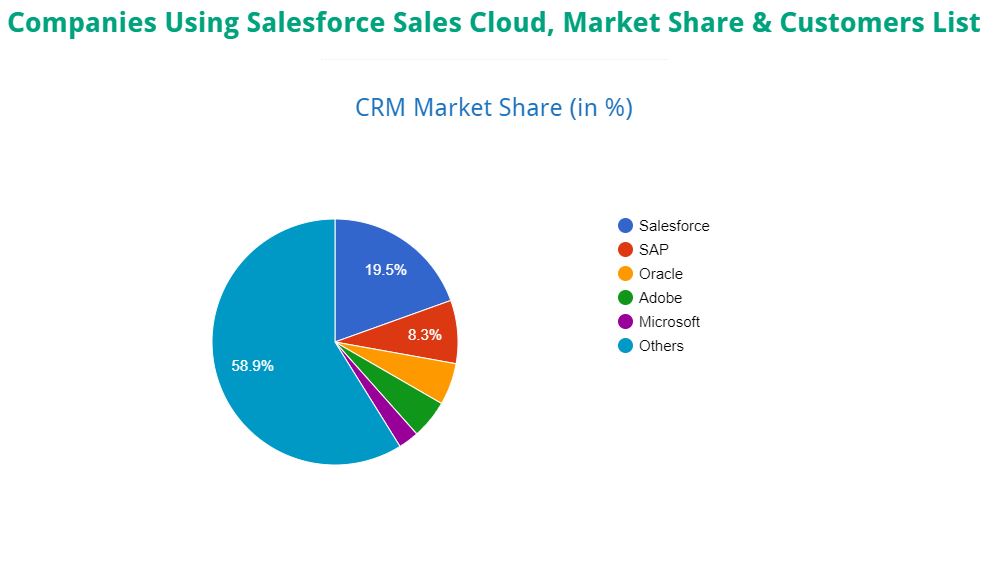 Most companies use the Salesforce Sales Cloud more than SAP, Oracle, Adobe, and Microsoft combined. Even better is that Salesforce has added in some more valuable technologies in the ecosystem. The best example would be the addition of Slack. Together, they transform collaboration in your workforce with more intelligent ways of conversation from your internal employees to third-party partners and up to your customers. Yes, you read that right.
How can Salesforce Sales Cloud help your business?

Businesses today need to constantly adapt to the impact of the pandemic and, at the same time, with technological advances. You know too well that keeping everything up to date, doing follow-ups, ensuring every lead is called, updating your sales pipeline, creating reports, and a lot more can be a handful and take so much time from your employees. With Salesforce Sales Cloud, you can give your entire organization the power to close more deals, build customer relationships, personalize each experience, and have access to the most crucial data. Plus, automation speeds up everyday processes and eliminates human error.
Another significant benefit of Salesforce CRM Cloud automation is the faster leads processing. It allows your sales team to create more meaningful relationships with your consumers more efficiently. Here are more reasons you should implement the Salesforce Sales Cloud anytime soon.
It harnesses the power of Artificial intelligence (AI)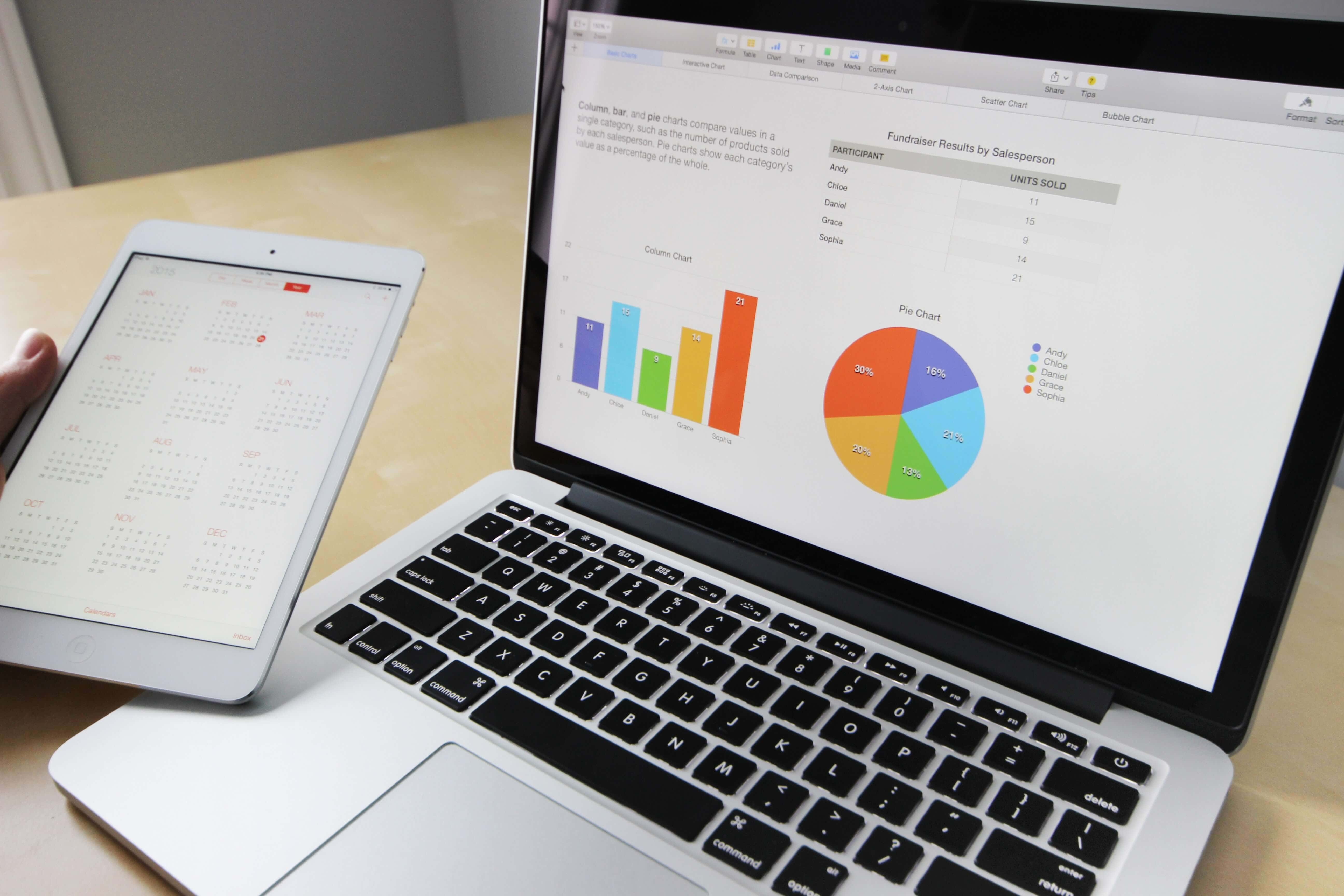 Evaluate the most effective platforms that drive your leads and higher conversion rate with machine learning technology. You'll have better insights from your different sales channels and come up with more effective business strategies.
In Salesforce Sales Cloud, you have Einstein AI, which automates specific core processes and streamlines daily tasks to an incredible speed. It can also recommend which leads are more likely to be closed faster.
It can be accessed via mobile.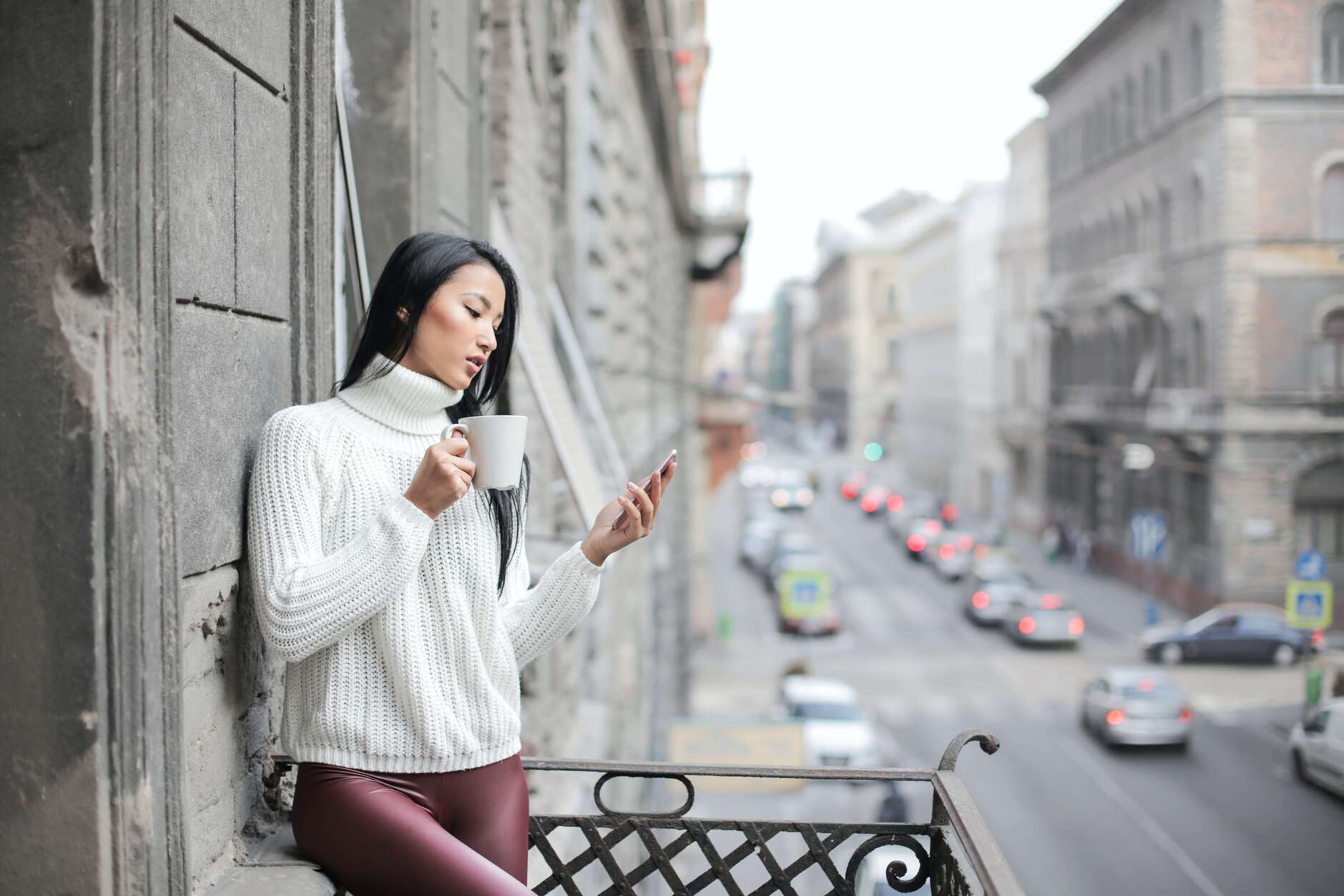 Mobility is an essential part of every industry and even in our personal daily lives. Your sales team can work from anywhere in the world, and you can monitor their productivity even on the go.
It gives a stronger foundation to your decisions.
You'll have a quick view of the latest updates of your team's performance and forecasts. You can allocate human resources more effectively by giving your top prospects to your best-performing sales reps.
With predictive analytics, you'll have a real-time view of your business so that you can keep track of everything more manageable. You also have customizable dashboards that tailor the experience based on your needs and even generate instant reports with a drag-and-drop interface.
It gives you the power to close more deals.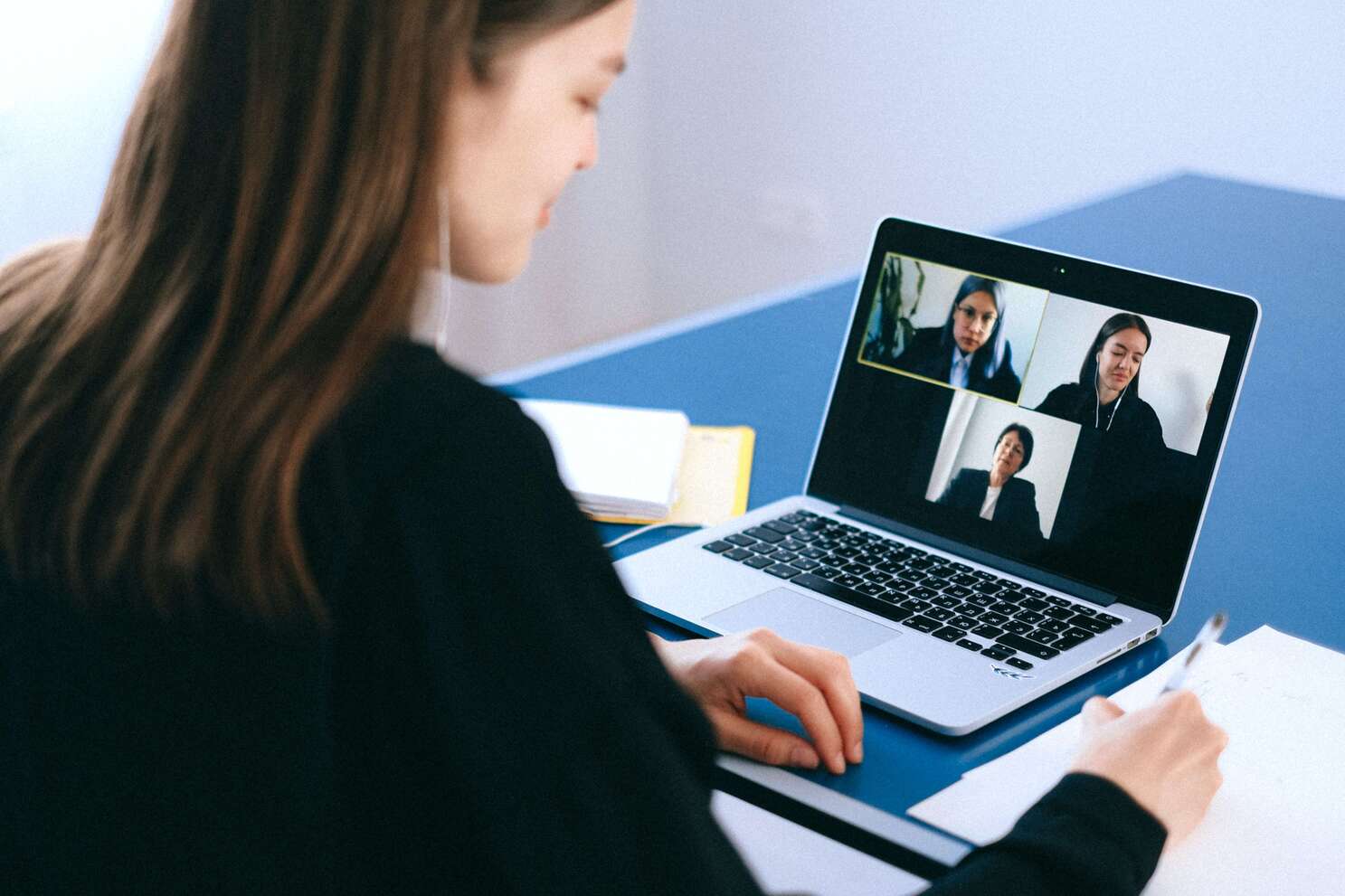 It's all about getting more leads and closing more sales faster. With all the functions available in the Salesforce Sales Cloud, you can easily sync and share files, integrate emails, have a visual workflow extension, manage leads, streamline processes within different departments of your organization so they can make smarter decisions. It has an intuitive and user-friendly platform that everyone can see to help build the pipeline and accelerate the process. It's a win-win for everyone.
What are the Different Salesforce Sales Cloud Features?
Contact Management Software
Opportunity Management
Lead Management
Reports and Dashboards
Mobile CRM Solutions for Business
Activity Management
Pipeline and Forecast Management
Process Automation
Files Sync and Share
Salesforce Engage
Salesforce Collaboration
Territory Management
Partner Management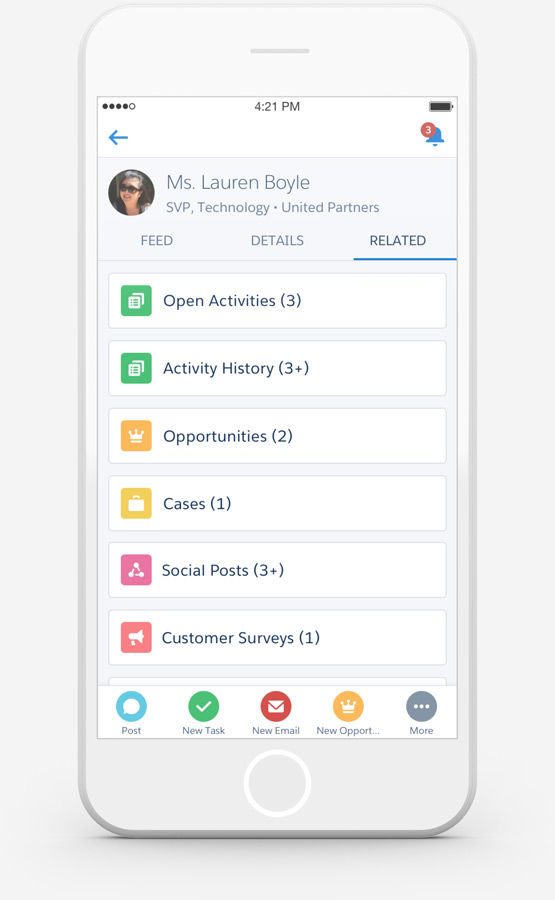 A more comprehensive understanding of your customers is vital to keep up with the existing competition. With this feature, you'll get instant access to a complete view of your customers, including their activity history, essential contact details, customer communication history, and internal account discussions. This will give you the data to help you deal with your customers more effectively.
You will also have a feed of your customers' posts about your brand or business on social media platforms, so you'll have valuable insights from those directly consuming your product or service.
Also, transitioning your contact management to the cloud enables seamless collaboration across your departments in the organization.
Opportunity Management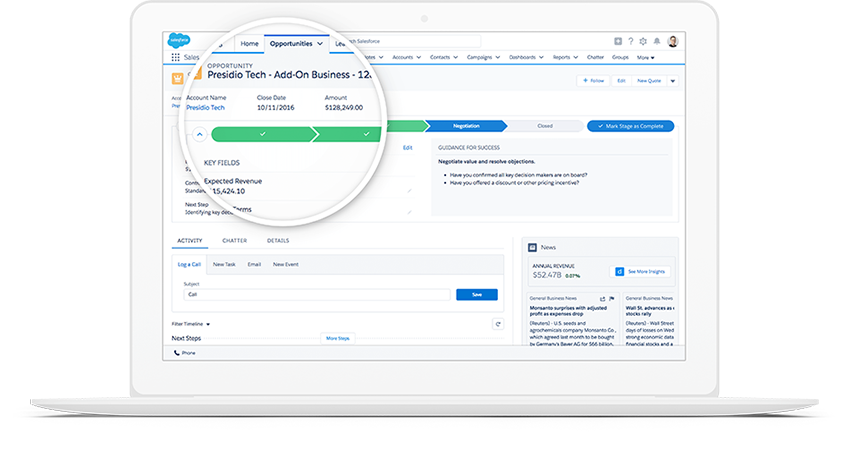 Have a rich activity timeline of all the necessary details of your customer's activity. You'll be able to know which brands you are competing against, what stage your negotiations are in, and what your next steps are to help you close the deal. What's good is that you can even track all activities and receive updates so you can quickly act on them.
Sending emails based on your negotiation stage can also be done easier. You need to choose a template and click away.
You can even customize the Salesforce apps based on your sales and forecasts. Track information about your products, including quantity, price, and product codes. Set up revenue and quantity changes according to your customer's payment mode and delivery terms. It also has built-in quoting capabilities, so you can automatically create invoices and email them to your customers directly.
Lead Management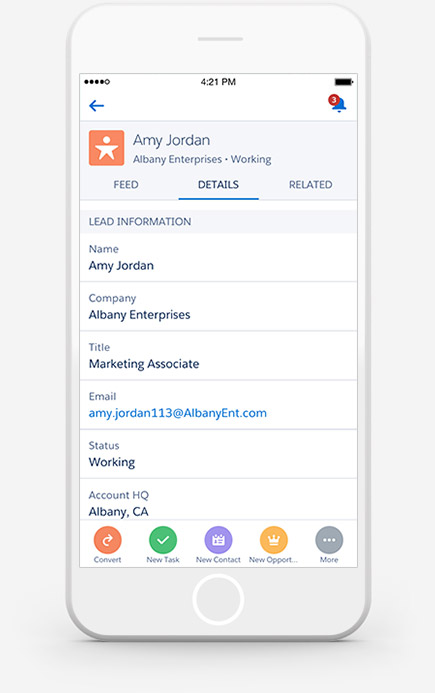 Monitor the effects of your marketing initiatives on your sales pipeline and invest more time on the leads that will most likely be closed faster. Using the Sales Path, you can access the latest contact information of your leads while having recommendations on the best practices.
You can even check which marketing platform you were able to derive the lead information from, giving you an idea of which platform is most effective for you. You can also ensure your sales rep closely follows those leads up while they're hot. It has all the features that you need to help you close leads.
Reports and Dashboards
The analytics software of Salesforce will keep you updated with sales forecasting reports that you can customize with ease. We mean that you can easily drag and drop the fields, filters, groupings, and charts that you need daily.
You can also track your team's performance with dashboards and adjust the components to get the most vital information more than the sales data. Plus, you can access all these critical business metrics through your mobile.
Mobile CRM Solutions for Business
Manage your productivity and increase your workforce collaboration every day through your smartphone. View your meeting schedule, upcoming events, and even account updates with one app.
Did you know that you can even join conference calls and take meeting notes while you are in motion? You can also access and update your data, track accounts, send and access files, and approve deals anytime. How cool is that?
Activity Management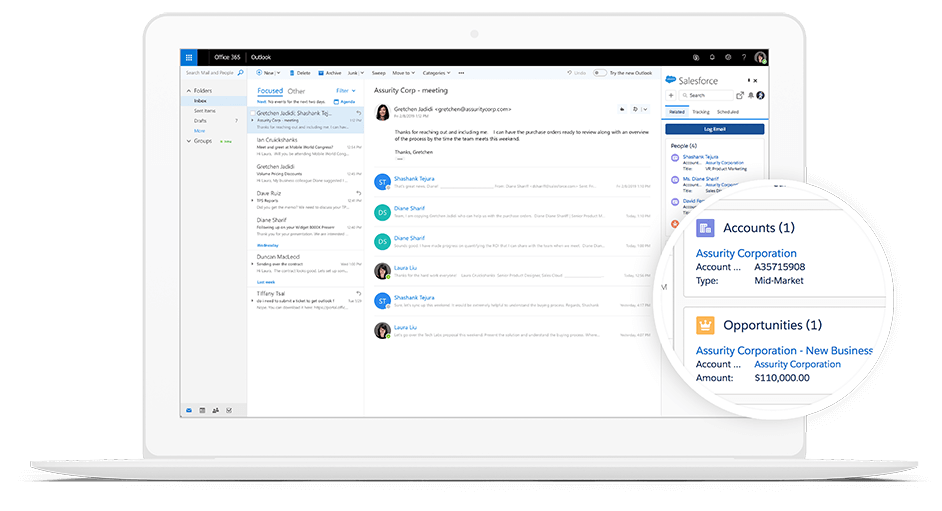 Integrate your Outlook or Gmail, have a complete view of your customer interactions and get more context from every email. With this, you can capture your emails into Salesforce, drive more sales, and keep your team updated.
You can also seamlessly sync your email, contacts, and calendars from your desktop or mobile so you can stay on top of your accounts and become more efficient and focus more on the selling aspect.
Pipeline and Forecast Management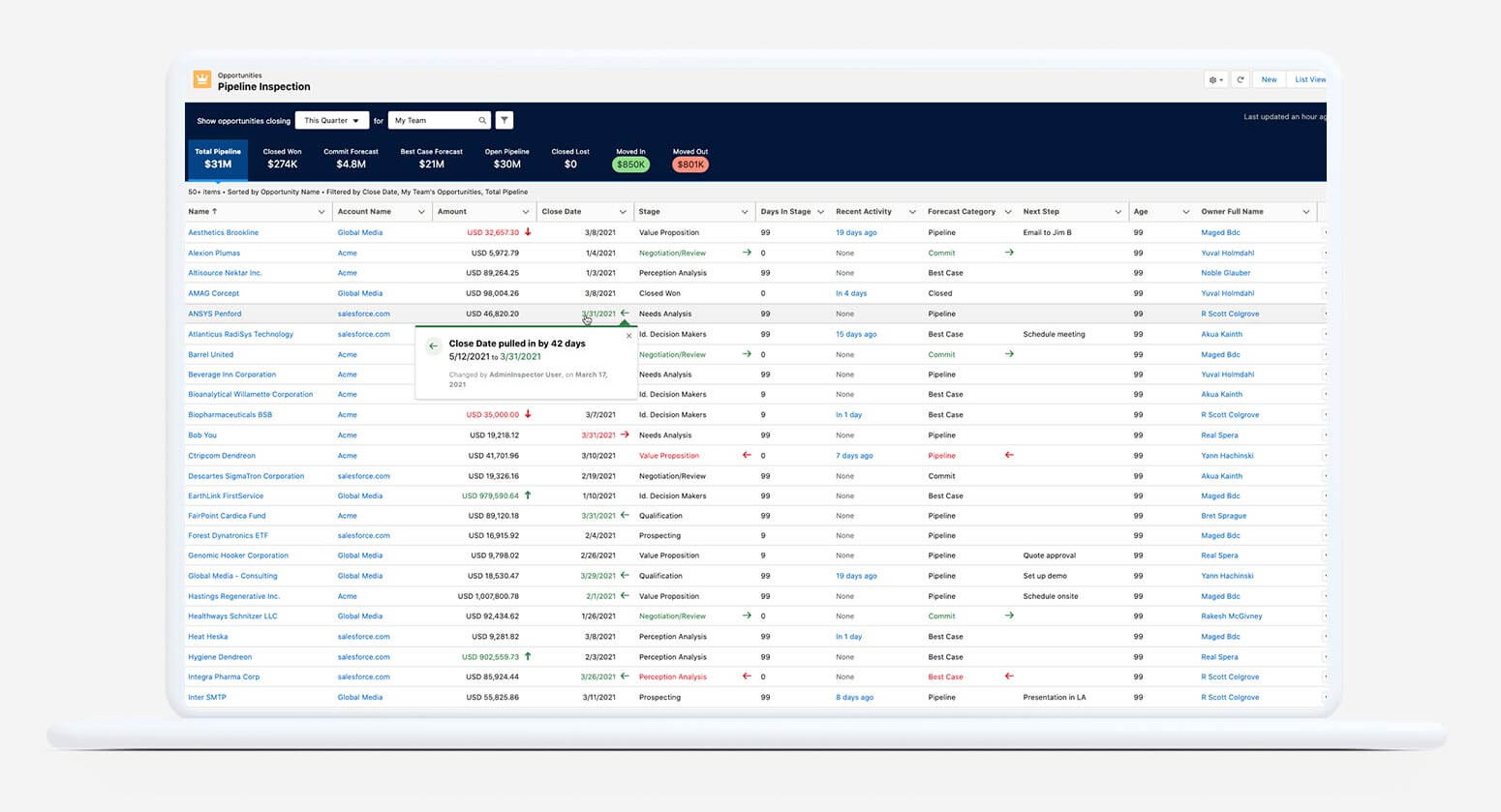 Keep a comprehensive view of your entire sales pipeline using only your CRM. You'll get real-time visibility and make adjustments on the go. The data insights and predictive AI can help you shift your decisions to those that drive more revenue.
You can also maintain your sales pipeline health and guide your sales reps to focus on the most profitable deals. You can ensure accuracy and consistency by projecting forecasts based on your business KPIs when it comes to forecasting.
Process Automation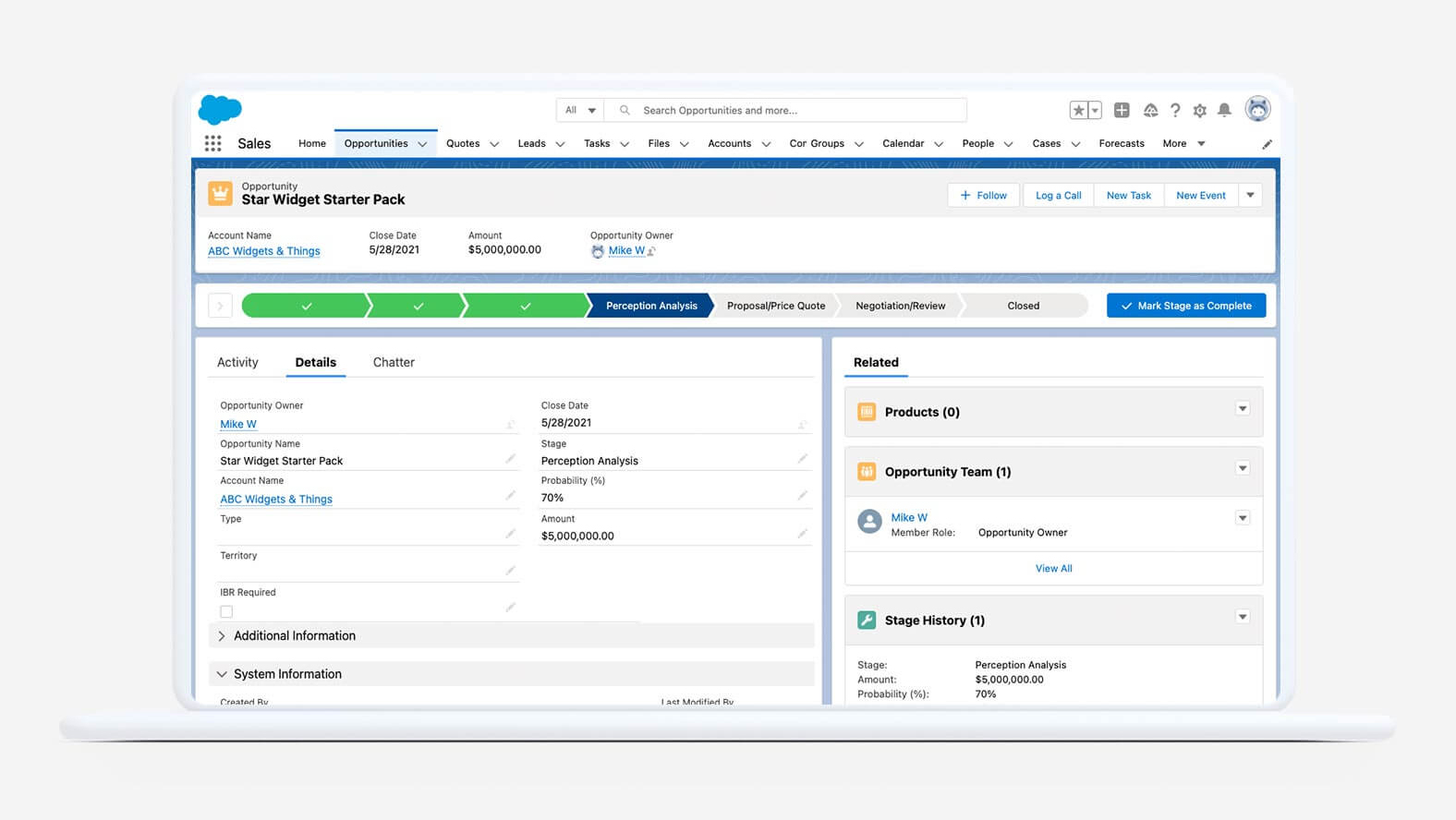 Your business processes and approval requests can be made more effectively and automatically.
The Process Builder can provide you with a point-and-click interface that automates your day-to-day processes by creating automatic email alerts and auto-assigning tasks as deals progress. You can also automate complex sales procedures and instantly create a new approach with drag-and-drop functions. Create workflows that guide your entire organization from start to endpoint.
Don't want delays for approvals and requests? You can also automate both, including deal discount approvals, travel, and expense reports with the Process Builder.
Files Sync and Share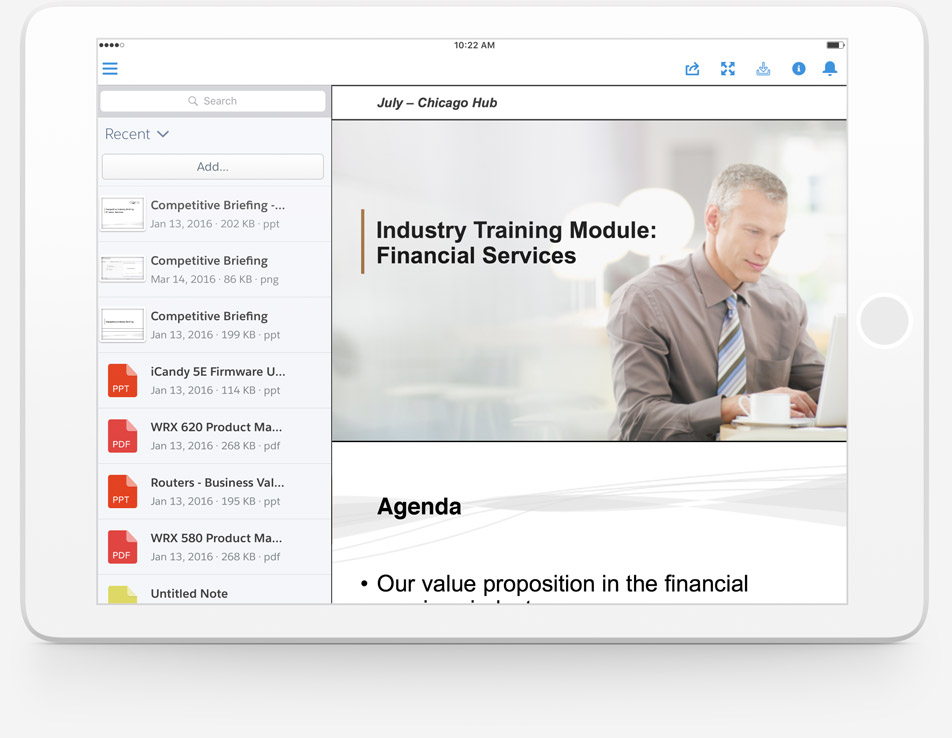 Collaborate better with a library of a wide range of files accessible by everyone using any device from anywhere in the world. You can also share your files externally with your customers.
Keep track of when your files get updated and see version histories and comments. Maintain complete control over your file-sharing settings from knowing who is viewing, editing the file, and collaboration rights.
You'll have a unified library to store all your files, content, and customer information, so it makes it easier to find files even from way back.
Salesforce Engage
You can create and store marketing-approved and customized email templates that your sales team can use to connect with their prospects. Understanding interactions and knowing when to act is vital to keep your prospects engaged. You'll have a history of their engagement with your brand to analyze trends, close deals faster, and control the success of your marketing campaigns.
Salesforce Collaboration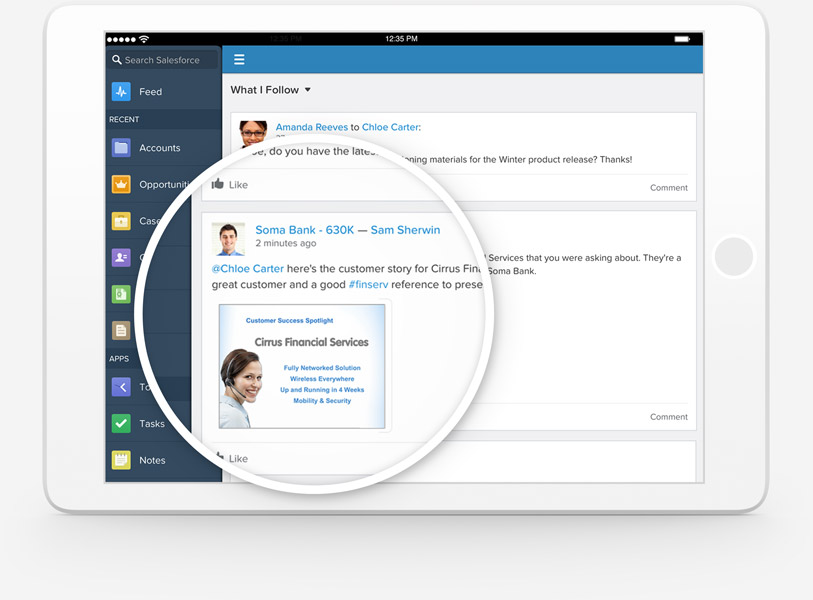 Collaborate anywhere, drive progress, and keep up with your important projects, topics, and teams in one social feed that's accessible on the go. You can capture organizational ideas and work together on different sales opportunities in one location.
Salesforce also suggests people, files, and information that you can follow based on your behavior. You can also track any topic and identify experts related to your interest.
Territory Management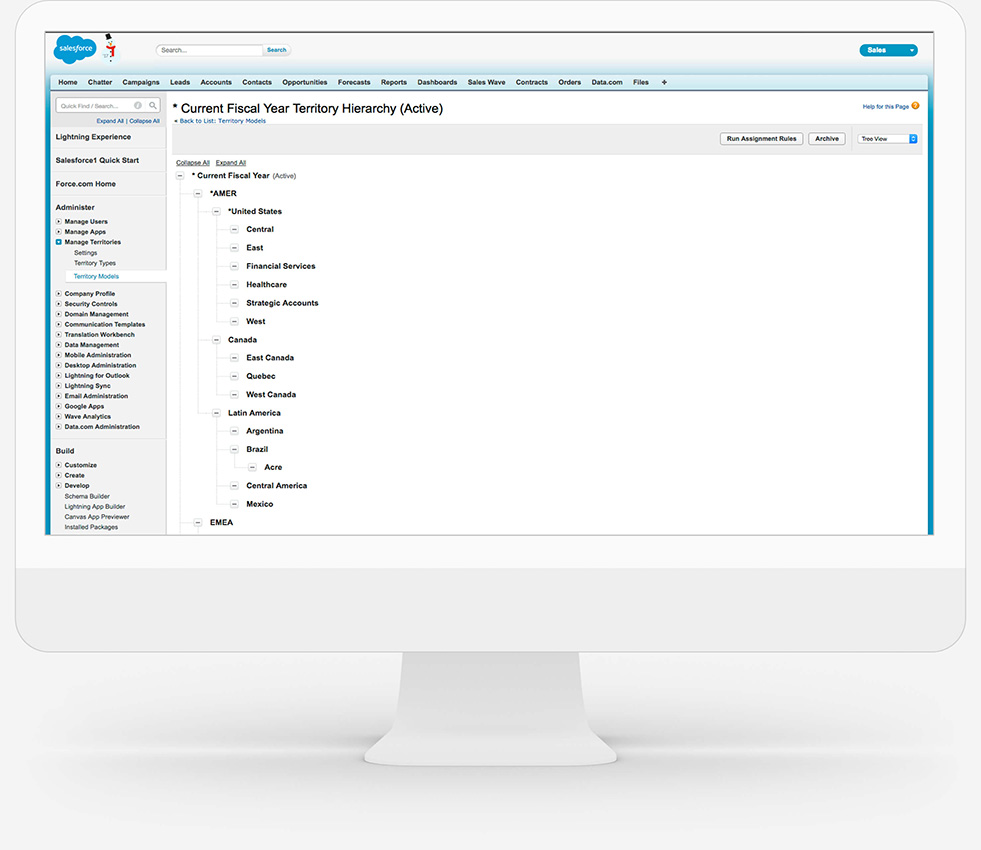 Model your sales territories into a strategic structure that guides sales reps to the right customers to increase revenue. You can drive performance with territory modeling to see what will perform best. You can copy an existing territory model, explore alternative options, and define rules for multiple territories.
Partner Management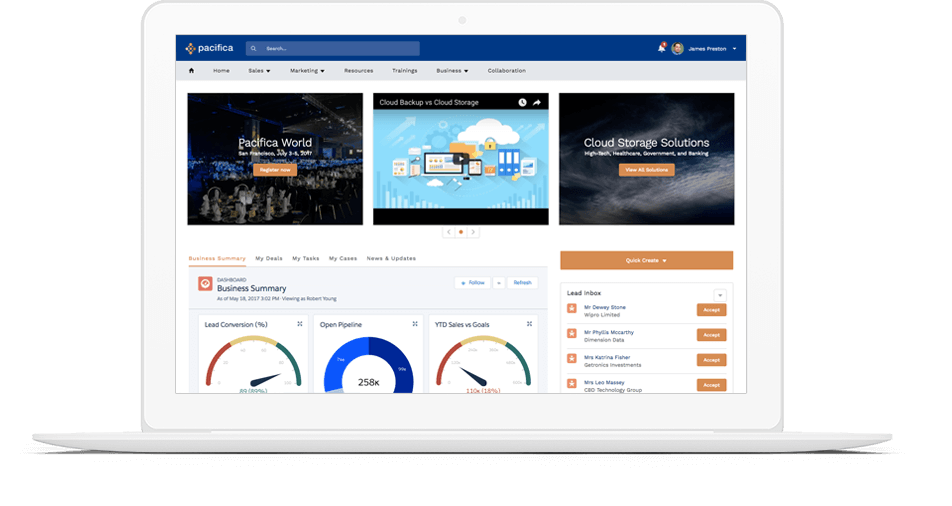 Increase partner engagement with recommended content to share knowledge and help partners discover the needed files. You can co-develop marketing campaigns with your partners and give them the power to be their marketers so they too can sell faster.
The Guided Setup supports your specific channel needs with tailored business processes. You can easily customize your partner's access to all the essential files and information they need to sell. You can even create partner tiers and personalized incentives.
Salesforce Sales Cloud vs. Salesforce Service Cloud: What are their main differences?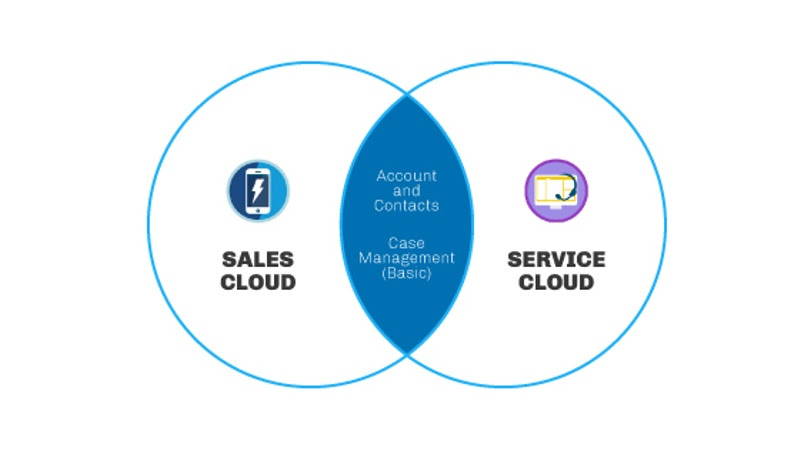 Image Source: Salesforce Ben
The Salesforce Sales Cloud and Salesforce Service Cloud are both products of the Salesforce platform. They share critical features, but each one is relatively unique.
The features of the Salesforce Sales Cloud are perfect for the job functions and processes of a sales department. It is geared to lead acquisitions, sales funnels, and important closing deals.
The features of the Salesforce Service Cloud are best for those who are in the customer support field. Its functionalities focus on agent efficiency, customer experience, and managing customer service issues.
How much does Salesforce Sales Cloud cost?
It can cost you a minimum of $25 to $300 per user and month. To help you get a better understanding of what features can you have per plan, here's a price and feature comparison chart of the different packages: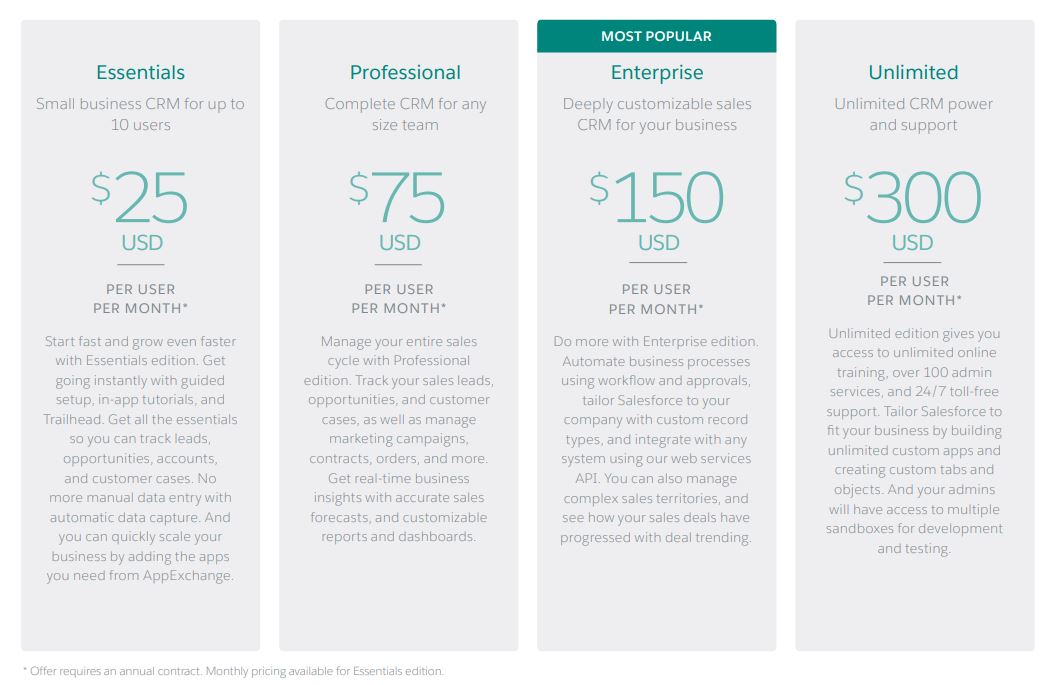 Image Source: https://sforce.co/3rOoFdm
Featured Salesforce Consultant for Salesforce Sales Cloud
CloudMasonry
CloudMasonry is a leading provider of Salesforce consulting services for large and small organizations across the US. We leverage our experience with cloud-based systems to help companies discover more significant value in their digital investments. With experience that spans across all major industries, CloudMasonry combines deep enterprise consulting experience with a collaborative approach to project delivery.
iTechArt Group
iTechArt Group has more than ten years of experience in delivering customer-centric and next-gen Salesforce solutions. Their team comprises 80+ certified Salesforce Consultants, Architects, and Developers who have the necessary skills to dive into your Salesforce implementation needs. They provide a full range of Salesforce consulting services from consulting on implementation, migrating the existing solution to Salesforce or integration with third-party tools, configuration and customization, audit services, custom development, staff augmentation, full support, and managed services.
TechForce Services
TechForce Services is an Australian-based Salesforce consulting company with quality Salesforce services from migrations, integrations, analytics, and staff augmentation. They combine their cross-cloud consulting experience and industry-specific solutions and offer end-to-end digital transformation strategy, consulting, interactive, technology, and operations services across the core verticals of Education, Financial Services, and Government sectors.
Manras Technologies
Manras is a Summit (Platinum) partner, who has won the APAC Partner of the Year award for 2021. We have diverse experience in multiple industries like Real Estate, Hi-Tech, Manufacturing, Insurance, non-profits, logistics, travel, Healthcare, etc.
Stratiform
Stratiform is here to show you there's a better way. Personal, face-to-face long-term partners that speak your language. They align your business with Salesforce, allowing for growth and the change the future will bring.
CloudKettle
CloudKettle is a Salesforce Gold Partner, Google Premier Partner, and Marketo Silver Partner. We have a decade of experience improving clients' ROI from Salesforce and tools like Google Analytics, Marketo, Marketing Cloud, Eloqua, and LeanData. The brains behind BANT+C and CloudKettle SafeGuard.
Conclusion
If you want to have a centralized area for your sales data, automate time-consuming processes, and use valuable data to power through your deals. The Salesforce Sales Cloud is vital for your company's success. It's a business solution for companies of all sizes. The different plans that Salesforce is offering allow you to find the most suited version for your company.
Find the best Salesforce Sales Cloud consultant or feel free to search for the perfect one for you on CRM Consulting's worldwide directory of highly trusted consulting companies!