What is Salesforce?
Salesforce is the #1 Customer Relationship Management (CRM) platform in the world. It brings customers and companies together and helps you run an entire business with just a single platform. Through the Salesforce Customer 360 platform, they help unite every department of your business so you can better focus on your customers.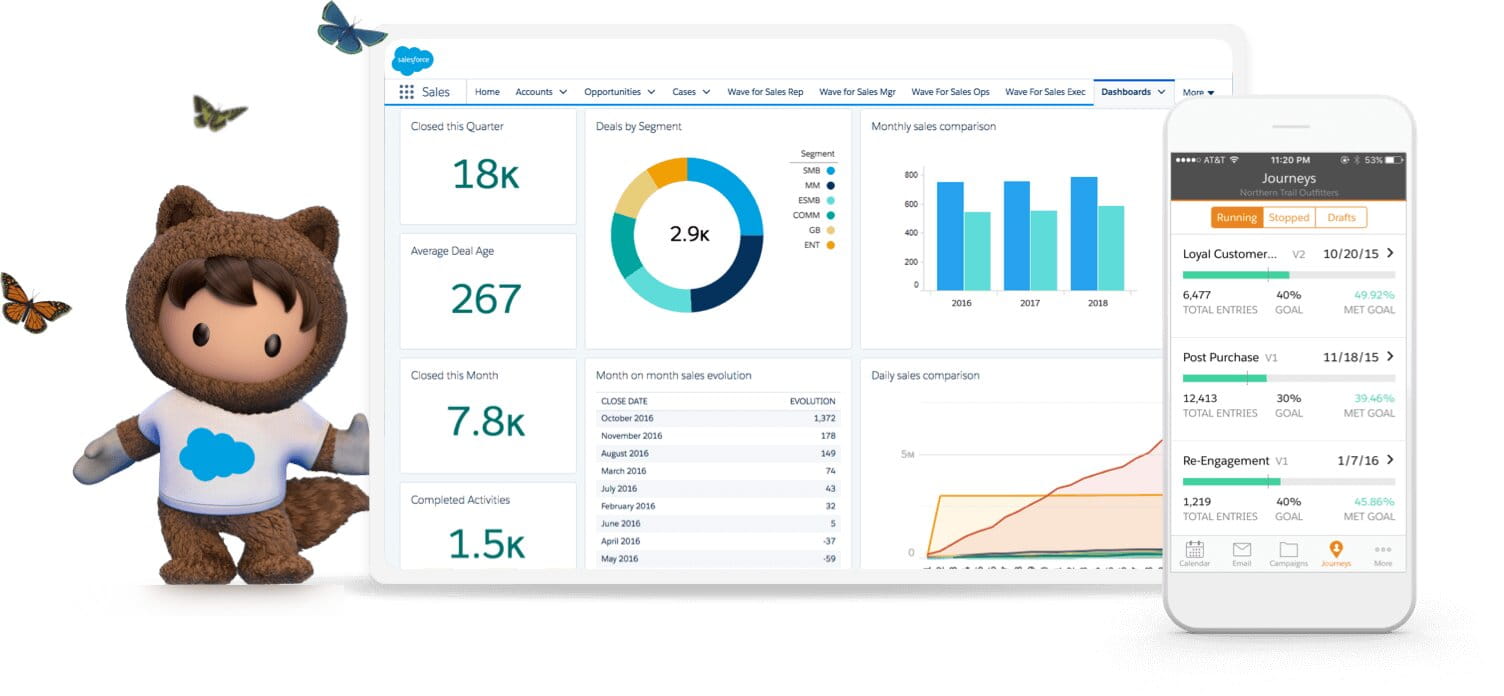 Image Source: https://sforce.co/3oxk25I
It improves productivity by helping the entire company work smarter and more efficiently. It automates processes and eliminates the manual efforts that consume time making it easier and faster for you to achieve your business goals. Since it's also a cloud-computing technology, everyone from your team can access and do the following anywhere in the world, including via mobile app, as long as they are connected to the internet:
Provide different services
Store and manage customer data
Oversee marketing campaigns
Automatically analyze insights and performance
Promote products across multi-channel platforms
Gather leads and convert them to sales
Communicate with customers
Collaborate within your departments
Develop custom-fit apps
Customize as your business grows
What are the Salesforce Products?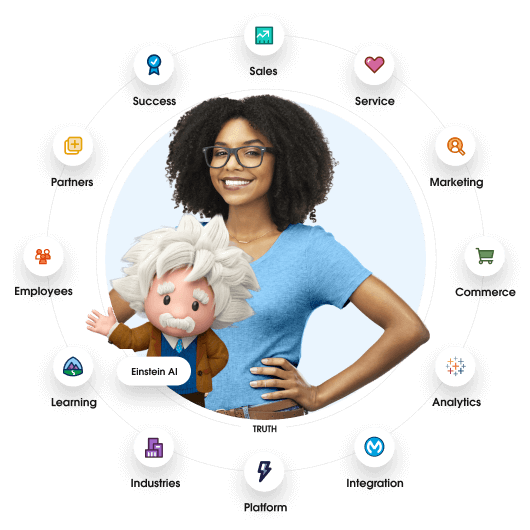 Salesforce provides a wide range of business solutions for all kinds of industries and needs all integrated on a single platform. So whether you are a start-up, small to medium company, or a large corporation, you can customize the platform to fit your operational needs.
1. Salesforce Sales Cloud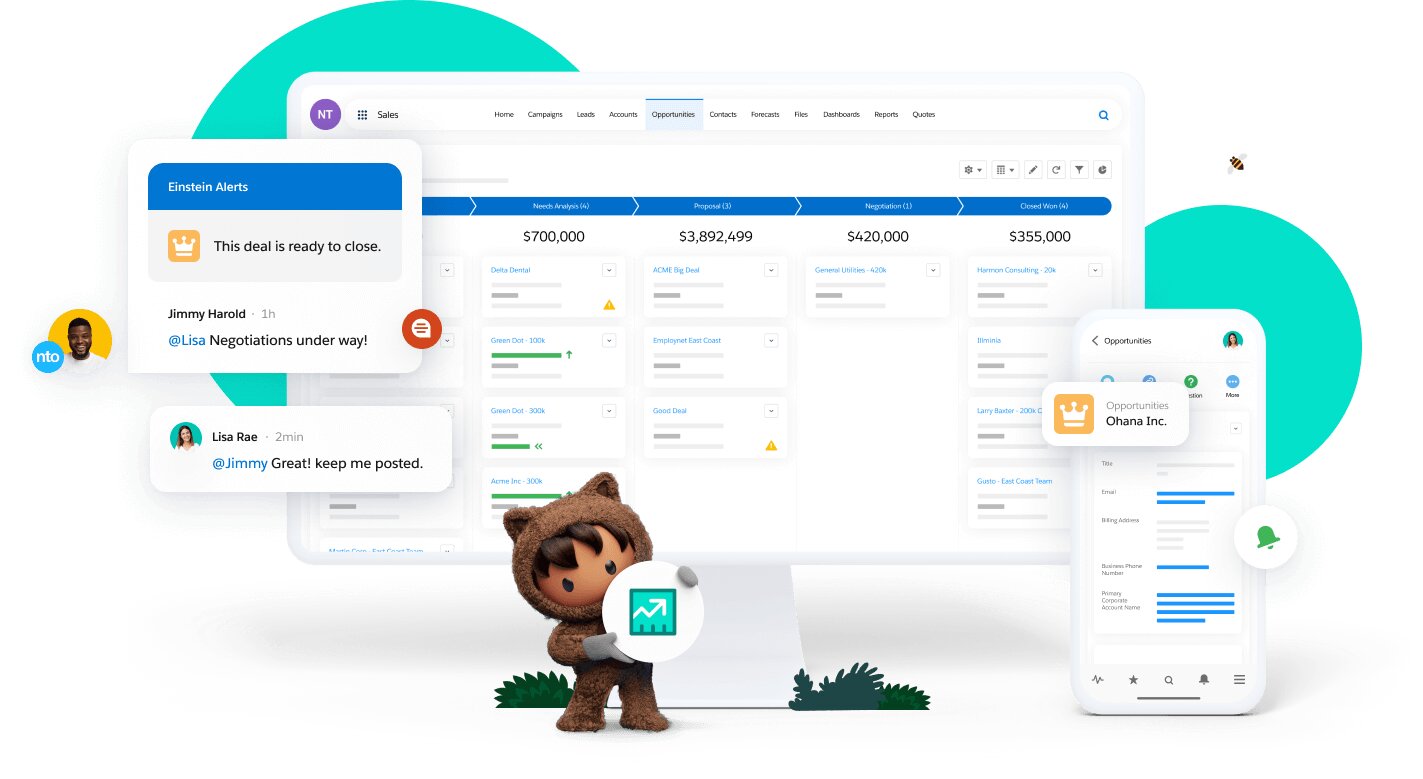 Image Source: https://sforce.co/3oIWD1q
With the world's most trusted Salesforce automation software, you can monitor your business performance in real-time, automate administrative tasks, and have more time to focus on developing strategies for your target consumers. With the Sales Cloud Service, you can develop and empower your sales teams with the following features:
Track team performance
Close more deals faster with forecasting tools
Manage leads more effectively
Monitor sales pipeline accurately
Configure price and quote for every deal
Manage, store, and access customer data anywhere
Make insightful decisions
Sync and share files
Request a Salesforce demo here.
2. Salesforce Service Cloud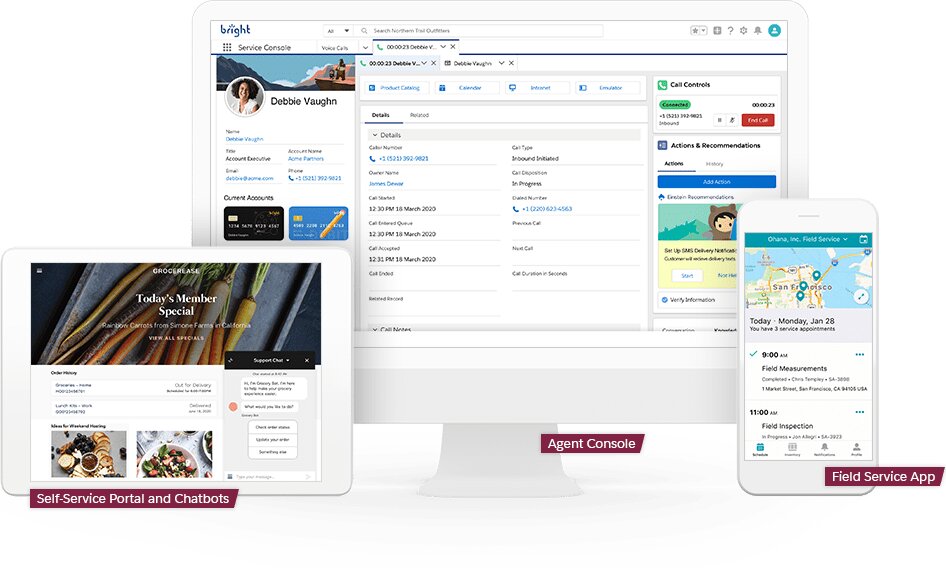 Image Source: https://sforce.co/3vbLGrA
Personalize the way you do customer service and build end-to-end engagement with all of your customers. The Service Cloud has all you need to enhance your customer engagement:
Support customer interactions on any channel
Automate business processes with intelligent workflows
Advance call center management with smart productivity tools
Get shared, actionable insight into every customer interaction
Drive revenue and upsell easier with the power of AI
Know every single customer interaction and behavior
Serve faster with automated workflows
Scale support with AI-powered chatbots
Provide customer support instantly with self-service options
Help customers by connecting them to knowledge articles, account information, and the right community members
Safely complete jobs on the first in-person or virtual visit
Automatically schedule the right person for the right jobs
Access data online and offline with the field service app
Now, you can also provide real-time support with the Salesforce Assistant Appointment. Whether it's onsite service in a home or business, your customers will prefer convenience. With this special feature, you can provide real-time updates about their appointment, the arrival time of your service team, and other important details.
Request a Salesforce demo here.
3. Salesforce Marketing Cloud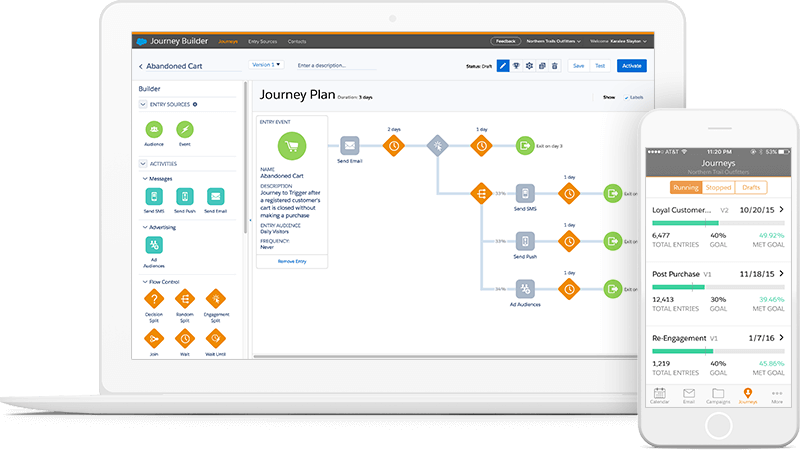 Image Source: https://sforce.co/3vbLGrA
Achieve the highest return of investment by empowering your marketing with the world's #1 CRM. Salesforce can provide you with your multi-channel needs from email marketing, digital and marketing automation, data management, and discovering top marketing insights at the touch of a button.
The Marketing Cloud offers services for both Business-to-Business (B2B) and Business-to-Customers (B2C). Here are some of the features you get to enjoy:
Unify data sources
Multi-channel customization
Engage and be present on all the stages of your customer journey
Maintain customer relationship
Measure campaign results instantly
Customization with artificial intelligence
Optimize impact, budgets, and processes
Know your customers and their behaviors on a deeper level and send the right message at the right moment using intelligent marketing automation. Request a Salesforce demo here.
4. Salesforce Commerce Cloud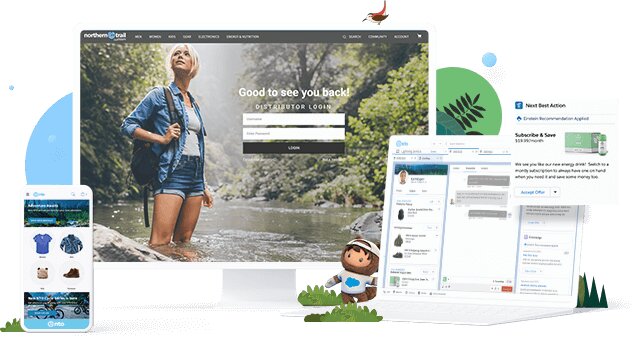 Image Source: https://sforce.co/3oLrTN7
Create a seamless eCommerce experience for all your customers, manage orders efficiently, and grow your revenue online. Suitable for both Business-to-Business (B2B) and Business-to-Customers (B2C) companies, the Commerce Cloud makes buying experience more organized and faster for all your customers.
Here are some of the features that you will be investing on:
Connect shopping experiences to marketing, sales, and service
Build beautiful commerce experiences and personalized campaigns
Boost conversions and make better recommendations with AI
Implement new technology twice as fast to scale their business
Automate processes for accurate delivery and payment
Connect eCommerce to service for order transparency and help
Easily extend solutions on a flexible cloud-based platform
Request for a Salesforce demo here.
5. Salesforce Apps Cloud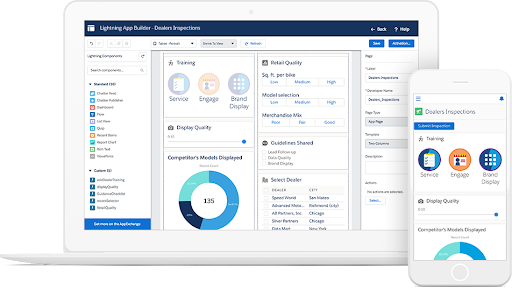 Image Source: https://bit.ly/3yBE6Zi
Develop custom apps for any business need, enhance the Salesforce Platform experience, and extend Salesforce functionality through development and enablement on the Lightning Platform.
Create pages and responsive apps quicker with a rich library of easily configurable components by simply dragging and dropping, adding custom themes, and personalizing your branding. Here are some of the functionalities of this service:
• Build apps faster and transform complex processes
• Bring data from external systems with Salesforce Connect
• Make your app smarter with Einstein and IoT
Salesforce has the world's most trusted enterprise cloud infrastructure so the apps you create with Lightning come with security standards - org security, user security, programmatic security, trust, and visibility. Request for a Salesforce demo here.
See the complete Salesforce Cloud-based Solutions here.
Why are companies choosing Salesforce?
Salesforce is a global CRM leader and an award-winning platform solution and even ranked #1 for CRM Applications based on IDC 2020 Revenue Market Share Worldwide.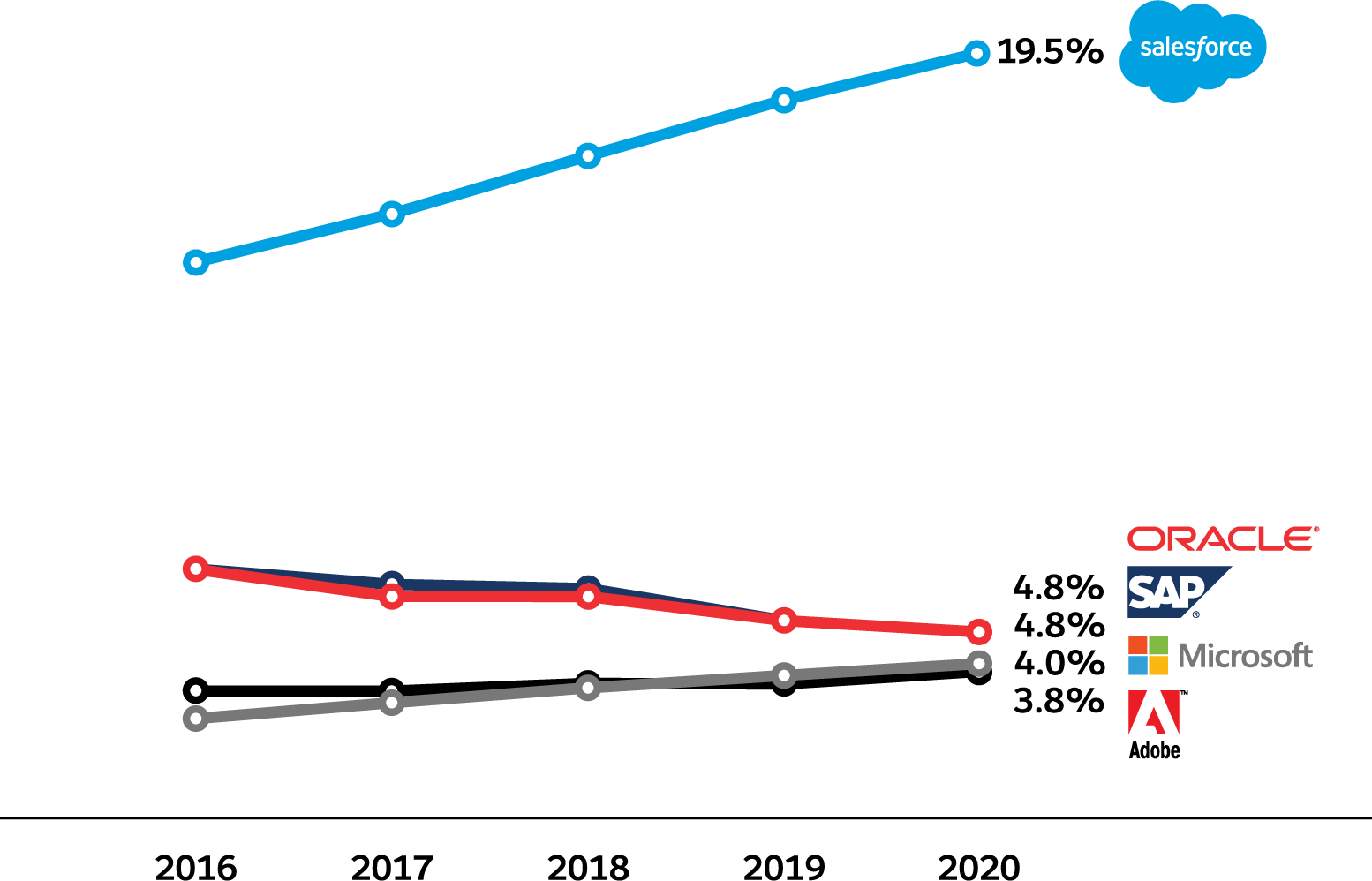 Image Source: https://sforce.co/2QLvZZj
More than 150,000 companies worldwide, from small businesses to FORTUNE 500 companies, use the Salesforce scalable cloud-based solutions. Even the world's most important companies, such as Google, Facebook, Toyota, Canon, Amazon, Adidas, and many more rely on its technology.


According to Salesforce, businesses who use their platform report 37% more sales revenue, 45% higher customer satisfaction, and 43% better marketing return of investment (ROI). Read on some of the customer success stories here.
How much does Salesforce cost?
Salesforce offers its cloud solutions at different rates. Depending on what you will choose, most products are offered through an annual contract, but Salesforce subscription terms vary, like Salesforce Essentials which offers monthly or even multi-year payment options.
Lucky for you, Salesforce is offering a free 30-days trial subscription before the actual purchase of the license.
Click on the following to view their subscription prices:
Marketing Cloud Editions
Commerce Cloud Editions
Apps Cloud Editions
Learn more about Salesforce product pricing here.
How to implement Salesforce and how to find the best Salesforce consulting firm?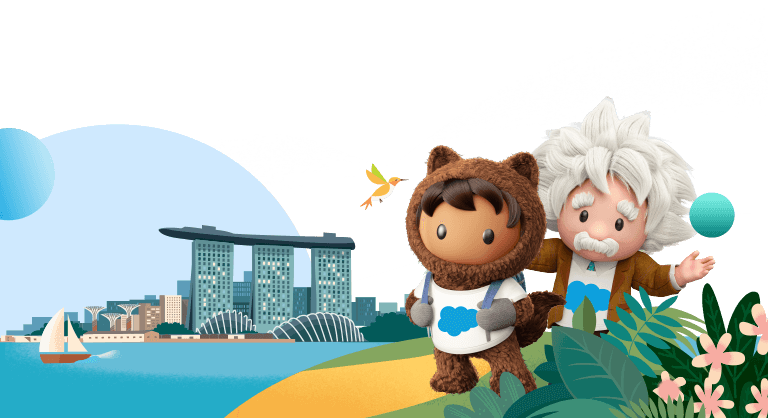 Image Source: https://sforce.co/2Tewegc
Once you've decided to have Salesforce for your business, it's a good recommendation to look for an expert who can help you implement the platform. Since you are going to adopt a new business technology, it pays to have a consulting firm that can guide your company. If you are a growing business, you will also find it helpful to partner with professionals, especially customizing and upgrading your Salesforce experience.
CRM Consulting provides you with a directory of the top and most trusted Salesforce consulting firms all over the world and lets you find the best one for free. These companies can guide you from simple admin tasks to full-scope design, development, and implementation of your Salesforce project. Get connected with the right Salesforce service provider here.
Featured Salesforce Consultant for Salesforce Sales Cloud
CloudMasonry
CloudMasonry is a leading provider of Salesforce consulting services for large and small organizations across the US. We leverage our experience with cloud-based systems to help companies discover more significant value in their digital investments. With experience that spans across all major industries, CloudMasonry combines deep enterprise consulting experience with a collaborative approach to project delivery.
iTechArt Group
iTechArt Group has more than ten years of experience in delivering customer-centric and next-gen Salesforce solutions. Their team comprises 80+ certified Salesforce Consultants, Architects, and Developers who have the necessary skills to dive into your Salesforce implementation needs. They provide a full range of Salesforce consulting services from consulting on implementation, migrating the existing solution to Salesforce or integration with third-party tools, configuration and customization, audit services, custom development, staff augmentation, full support, and managed services.
TechForce Services
TechForce Services is an Australian-based Salesforce consulting company with quality Salesforce services from migrations, integrations, analytics, and staff augmentation. They combine their cross-cloud consulting experience and industry-specific solutions and offer end-to-end digital transformation strategy, consulting, interactive, technology, and operations services across the core verticals of Education, Financial Services, and Government sectors.
Manras Technologies
Manras is a Summit (Platinum) partner, who has won the APAC Partner of the Year award for 2021. We have diverse experience in multiple industries like Real Estate, Hi-Tech, Manufacturing, Insurance, non-profits, logistics, travel, Healthcare, etc.
Stratiform
Stratiform is here to show you there's a better way. Personal, face-to-face long-term partners that speak your language. They align your business with Salesforce, allowing for growth and the change the future will bring.
CloudKettle
CloudKettle is a Salesforce Gold Partner, Google Premier Partner, and Marketo Silver Partner. We have a decade of experience improving clients' ROI from Salesforce and tools like Google Analytics, Marketo, Marketing Cloud, Eloqua, and LeanData. The brains behind BANT+C and CloudKettle SafeGuard.
How can you help your team learn Salesforce?
Salesforce and other content creators have made it easier for anyone to understand the platform. Depending on what you need to know, there are a lot of educational videos available online and there's even a 9-hour crash course. If you are a visual type of learner, you'll find it easier to understand through watching those videos. Click here to watch video tutorials.
Get to know the platform better through the Salesforce website and understand what it can do for you. Create an account, navigate your way through it, and you'll see that you have many learning resources available on the website and areas where you can reach out and connect with millions of people who can guide you in Salesforce.
We hope that what we've listed out can guide your business in Salesforce. Find the best Salesforce consulting firm through our worldwide directory - it's free!
If you have more questions, you may reach CRM Consulting via email at hello@crm.consulting.