New Age Marketing with Salesforce Marketing Cloud
When it comes to enabling a successful CRM ecosystem in this connected age, companies need more than just automating the sales and service process. Today's consumers ask for a dedicated and personalized approach right from the point of first contact to everyday service. Every customer is a different story and the key to attaining greater sales and Loyal customers is starting right. When we say start right, it means that the very first communication that the customer receives should be the trigger point for upcoming journeys, all of which feed from the previous ones. E.g. the very first ad that comes to a viewer's attention would be the one they receive right when it needs to be with an offering they want. The communication should also be open and dynamic enough to consume customer behavior and defined how the next communication should be. Such dynamic and well-placed communications lead to a successful transaction model with the customer and will also impact the level of post-purchase service that can be provided to the customer. Now the billion-dollar question is, How do you do it?.
Integrated CRM Systems
The answer lies in building an Omni Channel Ecosystem for your customers. Companies have increasingly started realizing that in order to enable a true omnichannel experience for your customers, ensuring omni channel systems is the first step. Leaders in the CRM ecosystem have adopted the approach of "Integrated CRM". Integrated CRM is the technology space where systems are designed to cater to various CRM modes (Marketing, Sales, Deal Management, Transactions, After Sales service and relationship management) while being Connected all the time. The more integrated CRM systems are, the greater would be the maturity of the CRM value stream. And as is the case with CRM process, the most important aspect of enabling Integrated CRM systems for an organization also lies in "Starting right". That's where the World Leader in CRM aka Salesforce stands out. Salesforce has built up a truly Integrated CRM system with dedicated yet tightly coupled modules for each CRM function. Salesforce also makes sure that its customers start right with a set of offerings dedicated to Marketing function with "Salesforce Marketing Cloud (SFMC)". Salesforce has acquired ExactTarget, an Indianapolis seller of marketing software, improvised it and renamed it to Salesforce Marketing Cloud (SFMC).
Pardot, another Salesforce product for B2B, supports all the needs of B2B organizations of every size. Hence, it is a great option for B2B based companies with a limited requirement of social media marketing. It is more of a lead marketing automation system that allows you to reach potential clients through a number of channels whereas the Marketing Cloud is a provider of digital marketing automation and analytics software and services.
SFMC is optimized for B2C customers. So if you are a B2C seller and want to explore how Salesforce Marketing Cloud can aid in increasing your Sales along with ensuring Customer Satisfaction, we have got you covered. This article contains a detailed overview of Salesforce Marketing Cloud starting from its components to running everyday campaigns. This will also be a good starting point if you wish to work in implementing Marketing Cloud or run Campaigns for Customers.
Introduction to Salesforce Marketing Cloud
Salesforce Marketing Cloud is the offering from Salesforce that focuses on the CRM process from Lead identification to conversion. This process in itself includes an ecosystem of subprocess and providers focussed on different aspects. At a high level, the Marketing process can be categorized in the below stages: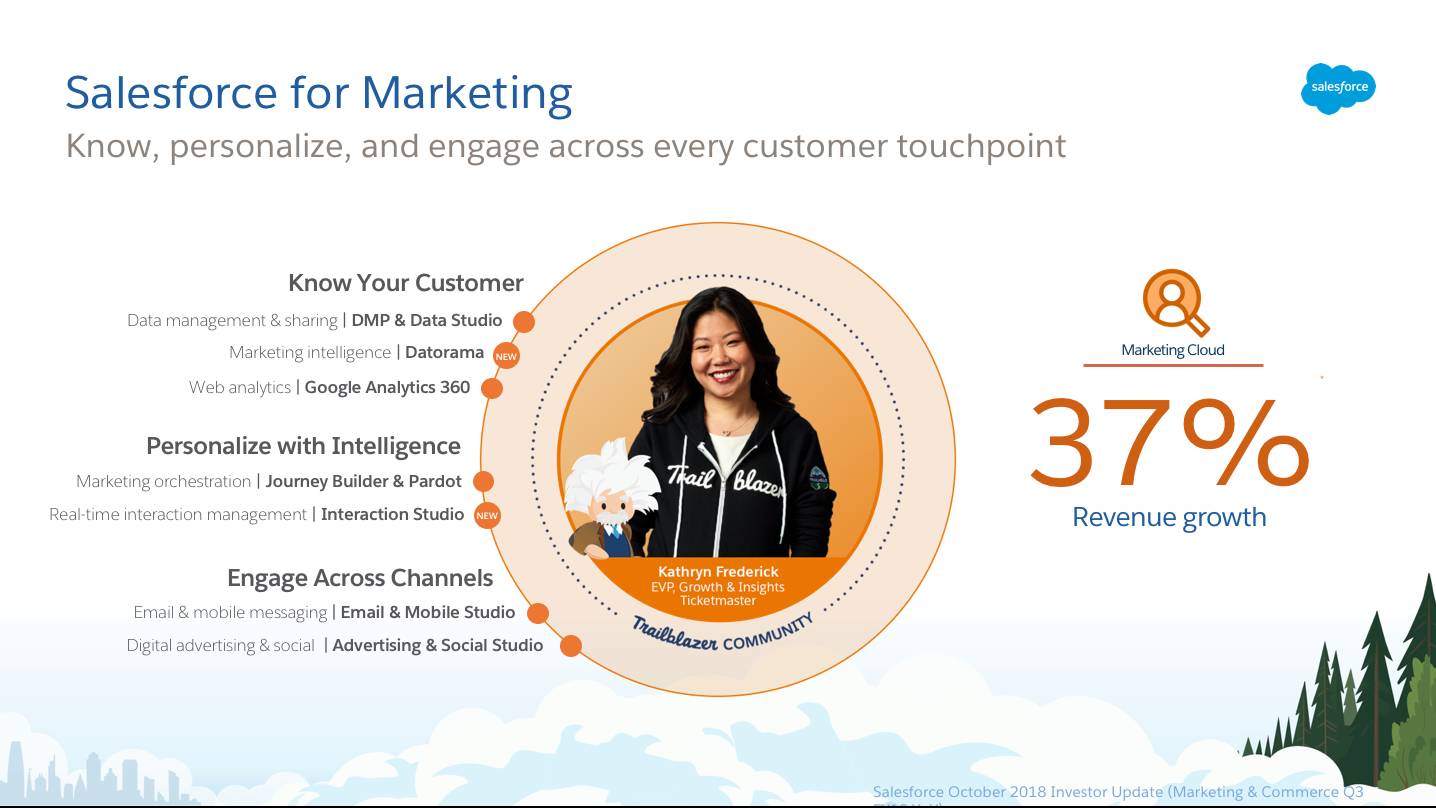 Stage 1 - Know your Customer
Stage 1 is the point where you start understanding the target audience for your communications. This involves developing a model that starts with a certain understanding of target preference, create Subscriber profiles and grooms the profiles for future communications. Salesforce Marketing Cloud has modules dedicated to attaining this by ensuring that the Marketing team has access to data from all relevant sources and device. This data can be used to create Audience segments and profiles for which Customer journeys will be designed. There are modules to design the Data management and sharing setup within your organization.
Stage 2: Personalize with Intelligence
Once you have identified the Subscriber profiles you want to target, the next step is identifying the communication points and designing Customer Journeys. Salesforce Marketing Cloud provides a "Canvas" like infrastructure to create Customer journeys that can be interrelated and dynamically triggered with real-time response. Users can design complex Campaigns and related automation with a point-and-click application and minimum coding. Another important aspect of this stage is ensuring the Marketing inventory is easily accessible for reuse.
Stage 3: Engage across Channels
Since any enterprise will be a consolidation of multiple subunits catering to various channels and entities, the supporting Marketing systems should also have the flexibility to incorporate multiple marketing tracks across channels with customized messaging.
Salesforce Marketing Cloud Structure
Salesforce Marketing Cloud has modules that incorporate all the above-mentioned stages to its entirety. SFMC modules are designed in the form of Studios and Builders, Each of these studios and builders caters to unique marketing ask. Based on your requirements you can purchase individual components of these. If you are interested in Mobile Marketing, you can buy Mobile Studio component and even can choose specifically SMS (Mobile Connect) if you only need SMS communication. Below is a description of how SFMC is structured:
Purpose
Component
What is Does?
Messaging & Automation products
Email Studio
Use data from every department to build smarter email—from basic marketing campaigns to sophisticated 1-to-1 messages
Mobile Studio
Send consistent SMS, push, and chat app messages in real-time.
Journey Builder
Deliver cross-channel personalized experiences at every step of the customer lifecycle with campaign management.
Interaction Studio
Visualize, track, and manage customer experiences with real-time interaction management—driving valuable engagement at the right moment.
Data & Advertising product
Advertising Studio
Use CRM to securely power 1-to-1 advertising across Google, Facebook, LinkedIn, Twitter, Pinterest, and Display at scale.
Audience Studio
Capture data from any source and device, then unify, segment, and activate audiences to create valuable customer experiences.
Social Media Management
Social Studio
Listen, publish, and engage to create customer advocates. Connect social to marketing, sales, and service in one platform powered by AI.
Data Measurement & Analytics Solution
Datorama
Enable cross-platform marketing intelligence by unifying data sources, visualizing AI-powered insights, and creating actionable reports to drive ROI.
Google Analytics 360
Gain cross-channel insights for seamless customer journeys with Google Analytics 360 + Marketing Cloud.
Data Studio
Expand your reach with a data sharing platform where publishers can share 2nd party data with marketers in a trusted and transparent way.
Messaging & Automation Products
Messaging & Automation products form the baseline of SFMC with capability to design campaigns and communications.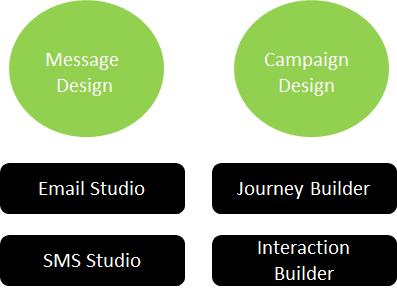 Email Studio
Email Studio lets users create personalized and dynamic Email messages for all purposes, be it promotional, transaction or responsive. Email studio lets users define send structures, create reusable content, define subscribers and track email communications. Below are the key functionalities offered by Email studio:
Content: Email studios provides a point and click setup to create reusable content blocks with data formats like text, HTML, images and dynamic content components. The content blocks once created, can be added to any number of email communications via a drag and drop interface. Email studio also lets users define folder structure to control content access and ease searchability

Email Design: Email studio lets users design every aspect of the email communication right from Subject, header, core content, sender profiles, trailer links and tracking fields. Users can also create email templates for reusability.

Subscriber Management: Email studio lets users define receivers for each communication. Marketers can define email/campaign specific target by creating Data Extensions with subscriber data specific to a communication. Email studio also lets users filter subscribers for more targeted messages. Use the subscriber key to identify your subscribers in Marketing Cloud. Create lists or data extensions to store your subscribers. Store email subscriber information in lists or data extensions, and store SMS subscriber information in data extensions only. To segment your subscribers, create as many lists and data extensions as you need. You populate the information in the lists and data extensions when you add or import subscribers

A/B Testing & Test Sends: One of the most revered features of SFMC is the ability to test messages in real time before triggering actual campaigns. A/B testing allows marketers to create two versions of an email and send it to two seperate sets of audience. A/B testing enables testing of every aspect of the email be it subject line, target group, content, template or time. You can also use "Subscriber Preview" feature to preview email as specified subscriber and test send it to the subscriber

Email Tracking: Tracking in email studio lets users track the effectiveness of email design and send by enabling the ability to analyse parameters like Clicks and opens, sections of the email viewed, conversion tracking for links added to the mail and analyse real time performance of emails. Users can generate a report, create a list/data extension, extract results to excel or share via email. Users can also compare the tracking results for an email with overall email rates.
Mobile Studio
Mobile Studio lets users design personalized mobile messaging for different devices. The functionalities of Mobile Studio are categorised in three components.
Group Connect: Group Connect allows marketers to design and create messages for messaging apps like LINE and Facebook messenger. Group Connect enable the messages to be linked with Content Builder and Journey Builder. Users can also track messaging activities and maintain Contact subscriptions

Mobile Connect: Mobile connect enable users to design targeted text and MMS messages. Mobile Connect also enable real time response to incoming messages and track responses.

Mobile Push: Mobile push allows you to send mobile app notifications to customers who have installed the mobile app. And you can include these in your campaigns along with other communication channels.
Journey Builder:
Journey Builder is the most powerful feature provided by Salesforce Marketing Cloud. It provides the ability to design and plan complex Campaigns right on a Canvas like interface. Using Journey Builder, marketers can create Campaigns specific to different Customer journeys for a brand.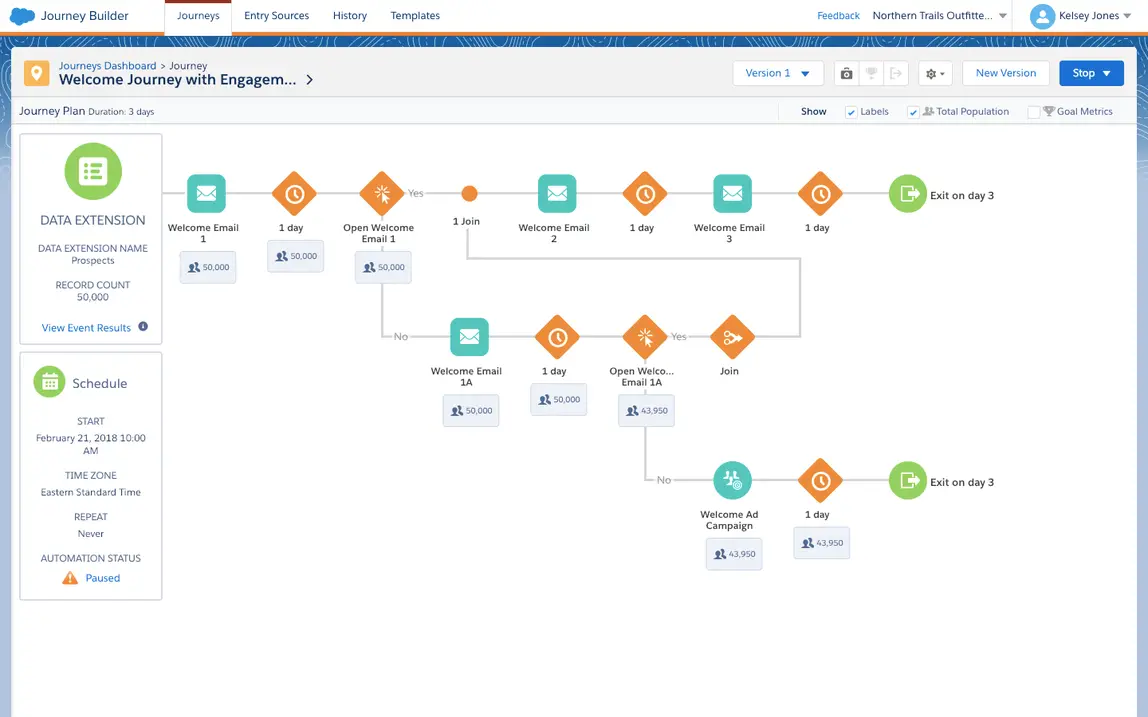 Journey Builder Template: Users can start with using a Salesforce or shared Journey template from Template gallery in Journey Builder. Users can also select to get Best practice guidance whilst they are working on the journey

Entry Sources: Each journey has an Entry source that defines trigger point for the journey. Users can use the canvas to set entry source which can be a Data extension, audience list, Salesforce event, API events from external systems, Google Analytics 360 list or Marketing cloud event ( Contact event, Cloud pages form submission, Contact Builder event etc)

Canvas Activities: Once the entry source have been defined for a campaign, the next step is to define a step by step list of the activities executed. Users can drag and drop from the extensive list of activities provided.

Message Activities: email, SMS, LINE message, push notification, inbox messages, in-app messages, or any other form of content sent to contacts

Split Activities: Split activities lets users define the criteria to divide the contacts to passed along different nodes on the journey

Contact Update: System update on existing Contact details

Sales & Service Activities: If your org. Has Marketing Cloud Connect setup, users can have activities performing actions in related Sales/Service Cloud instance

Custom Activities: Marketers can have custom activities defined and applied with developer efforts

Goal Settings: Journey Builder supports the ability to define Goals for Contacts flowing through the journeys by adding Goal criteria as filter. Once the journey has been activated, the system will detect when a contact reaches the defined Goal and add it to Goal statistics
Interaction Builder
Interaction Builder lets users generate real time insights on next best action and orchestration of the journeys. Invoke interactions from Automation Studio to retrieve the next best decision for your email campaigns, offers, or Journey Builder journeys; to synchronize keys other than contact key in data extensions; or to send activity history gathered from Marketing Cloud channels or non-Marketing Cloud channels.
Data & Advertising Products
Advertising Studio: SFMC enables users to combine their marketing goals with advertising. Advertising studio enables marketers to communicate with existing customers using Youtube, Instagram and other social advertising channels and reach out to inactive users with advertises. On of the key features of advertising studio is the ability to find "Look a like" users with existing user behavior, who sevr as qualified leads for New prospects.
Advertising Audience: Using this feature, marketers can use existing subscriber data to identify look alike prospects, re engage inactive subscribers and reach existing customer with personalized offerings. Marketers can target their digital advertising campaigns across Facebook, Google, Twitter, YouTube, Google Ads, Pinterest, LinkedIn, or Instagram. Partner networks such as Salesforce DMP, LiveRamp, LiveIntent, Viant, and Neustar can be utilized.
Journey Builder Advertising: Journey Builder advertising lets users create and trigger Facebook advertisements from journey builder
Lead Capture: Lead capture feature allows users to create a Lead capture form and store results in a dat extension for future messaging
Social Studio: Social Studio enables Content Marketers to execute real time engagements on Social media. Below is a list of social media components:
Admin - Manage administrative functions from one location like user, topic profile, social account, macro, and user management. You can also manage settings for your organization. Connect existing Salesforce Service Cloud and Marketing Cloud accounts for integration to Service Cloud and Marketing Cloud.

Publish - Enables you to create and publish content, at scale, across channels, and in near real time.

Engage - Engage allows Community Managers to moderate and join conversations started with the content created using Publish. Use classification and workflow controls to manage any scale of social engagement enabling more complex use cases such as Social Customer Service and lead generation.

Analyze - To monitor multiple social accounts and topic profiles, monitor discussions from owned social accounts and broader social news. Create custom dashboards. Dashboards can be printed as a PDF for hardcopy records and sharing.

Einstein - Use artificial intelligence to automatically classify incoming images. Einstein can classify the images by set food, logo, scene, and object classifiers. The data returned can provide deeper insights on what is important and being discussed about your brand.
Data Measurement & Analytics Solution
Data Measurement & Analytics features are the latest additions to SFMC offerings and are designed to provide greater data visibility to Marketers so that they can run targeted Campaigns.
Datorama: Datorama enables Marketers to have One source of truth for all their marketing communication sources. It brings improvements to Marketing process by providing AI based insights on a real time data extract from central location and reflect it on a connected Customer journey
Google Analytics 360: This feature allows users to securely link Marketing Cloud details with Google Analytics. By enabling a merge of SFMC's deep marketing expertise with advanced Google Analytics, the integration really brings up the Best of both worlds for Marketers
Together, these moduled create a one stop shop for all the Marketing needs, tightly coupled with downstream CRM process in CRM world. That's why it has a Customer Satisfaction rate of 99% (https://alternatives.financesonline.com/p/salesforce-marketing-cloud/)
Data Integration with Sales Cloud
Salesforce provides a connector called "Marketing Cloud Connect" that helps in syncing Sales Cloud data in Marketing Cloud. This is available as an AppExchange app that you can install in your Sales Cloud org and connect to Marketing Cloud. You can one-way sync both standard objects and custom objects data from Sales Cloud to Marketing Cloud.
But if you want to send your Marketing cloud data to Sales Cloud, you have to rely on API calls. You can do a simple API calls from SFMC to update Sales Cloud data.
Comparison - Salesforce Marketing Cloud and Others
Below is an analysis of the key alternatives to Salesforce Marketing Cloud
| Parameters | HubSpot Marketing | Adobe Marketing Cloud | Salesforce Marketing Cloud | Marketo | Mailchimp |
| --- | --- | --- | --- | --- | --- |
| Platform Supported | Web based | Web based | Web based, Mobile | Web based, Mobile | Web based, Mobile |
| Suitable For | Freelancers, Small & Mid size business, Enterprise | Small & Mid size business, Enterprise | Small & Mid size business, Enterprise | Small & Mid size business, Enterprise | Freelancers, Small & Mid size business |
| Support | Phone, Online, Knowledge , Tutorial | Online, Knowledge , Tutorial | Phone, Online, Knowledge , Tutorial | Phone, Online, Knowledge , Tutorial | Phone, Online, Knowledge , Tutorial |
| Comms Channels | Email | Email, Mobile Push, SMS | Email, SMS, Mobile Push, LINE | Email, Mobile | Email |
| User Experience Sample | +++ | ++ | +++ | ++ | +++++ |
| Predefined Integrations | 400-450 | 30-50 | 100-120 | 350-400 | 1000+ |
| Price Range | Starts at $70 per month (Starter version) to $4480 per month (Enterprise version). Has a free version. | Pricing is on a custom basis and will vary depending on the company's size and needs | Based on number of contacts and messages your organization sends using the platform. | $895 per month (Basic) to $3,195 per month (Elite) | A basic free version for entry level to 299$ per month. |
References: