An Overview of the Salesforce Economy in UAE
A recent IDC report stated that there would be a growth of 27% in the United Arab Emirates (UAE) cloud computing solutions industry. Measuring change in revenues is expected to increase from $184 million in 2018 to $778 million in 2024. The use of cloud-computing solutions of Salesforce customers will contribute to a net of $2.6 billion to the local economy of the Emirates, creating more jobs and value for multiple industries.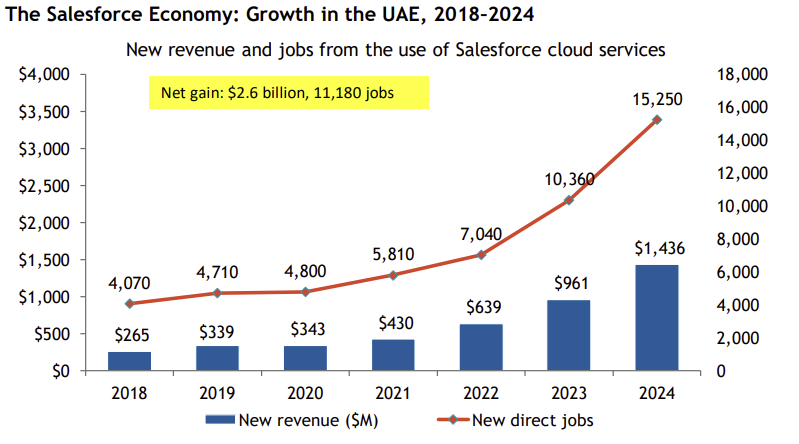 Source: IDC
In the span of the six years mentioned in the report, the Salesforce ecosystem will open up opportunities for everyone creating at least 11,180 direct jobs in the country. The spendings of organizations on Salesforce subscriptions, services, and ancillary products will grow as much as 6.5 times bigger in 2024.
The Digital Transformation of Sales in UAE
The state of sales in the United Arab Emirates (UAE) is rapidly evolving. As digital transformations reshape the economy, businesses are forced to adapt and engage in new ways, places, and channels. Since UAE is welcoming a transformative time for sales, companies are blazing trails with digital solutions, digitally empowered workforces, and innovative strategies.
About the EMEA Sales Trend Report
Effective selling has always been about adapting to what the audience needs. As time calls for more technological advancements, businesses are compelled to have heightened agility, data-driven decisions, and personalization.
Salesforce believes that data and information are vital in creating a better future; that's why they have surveyed 3,151 sales professionals in EMEA regarding the sales climate. The survey was made to determine how sales professionals respond to changing expectations, the evolving role of sales ops, and the new sales tactics and strategies to drive growth and efficiency.
79% of salespeople say that digital transformation within their operations has accelerated since 2019. The top technologies that help convert into sales include video-conference tools, Artificial intelligence (AI), mobile sales apps for employees, CRM systems, and sales prospecting tools.
5 Key Takeaways from the EMEA Sales Trend Report
Turn insights into sales
Sales reps can monitor and track multiple information sources to stay informed about customers' evolving needs. The top sales organizations are 1.3x more likely than underperformers to monitor competitor activity weekly.
Reskilling takes priority as business shifts to digital
With the new business, challenges come unique staffing needs, and EMEA sales leadership is training to fill the gaps. Fifty-nine percent of EMEA sales organizations are reskilling existing employees.
Selling goes remote, and organizations seek more visibility
As teams adjust to new ways of working, they confront new challenges around visibility and alignment. Seventy-four percent of EMEA sales organizations have increased their monitoring of field sales rep activities.
Sales Operations becomes a battle of innovative strategies
In a landscape riddled with ambiguity, agility and data-powered decision-making have become more critical than ever. Eighty-three percent of EMEA sales professionals say sales operations are becoming more strategic.
Digital transformation accelerates
The shift to remote selling has increased the urgency of connecting digitally with customers and colleagues. Seventy-eight percent of EMEA sales leaders say their digital transformation has accelerated since 2019.
Key Salesforce Announcements for UAE
Salesforce introduces Hypeforce to UAE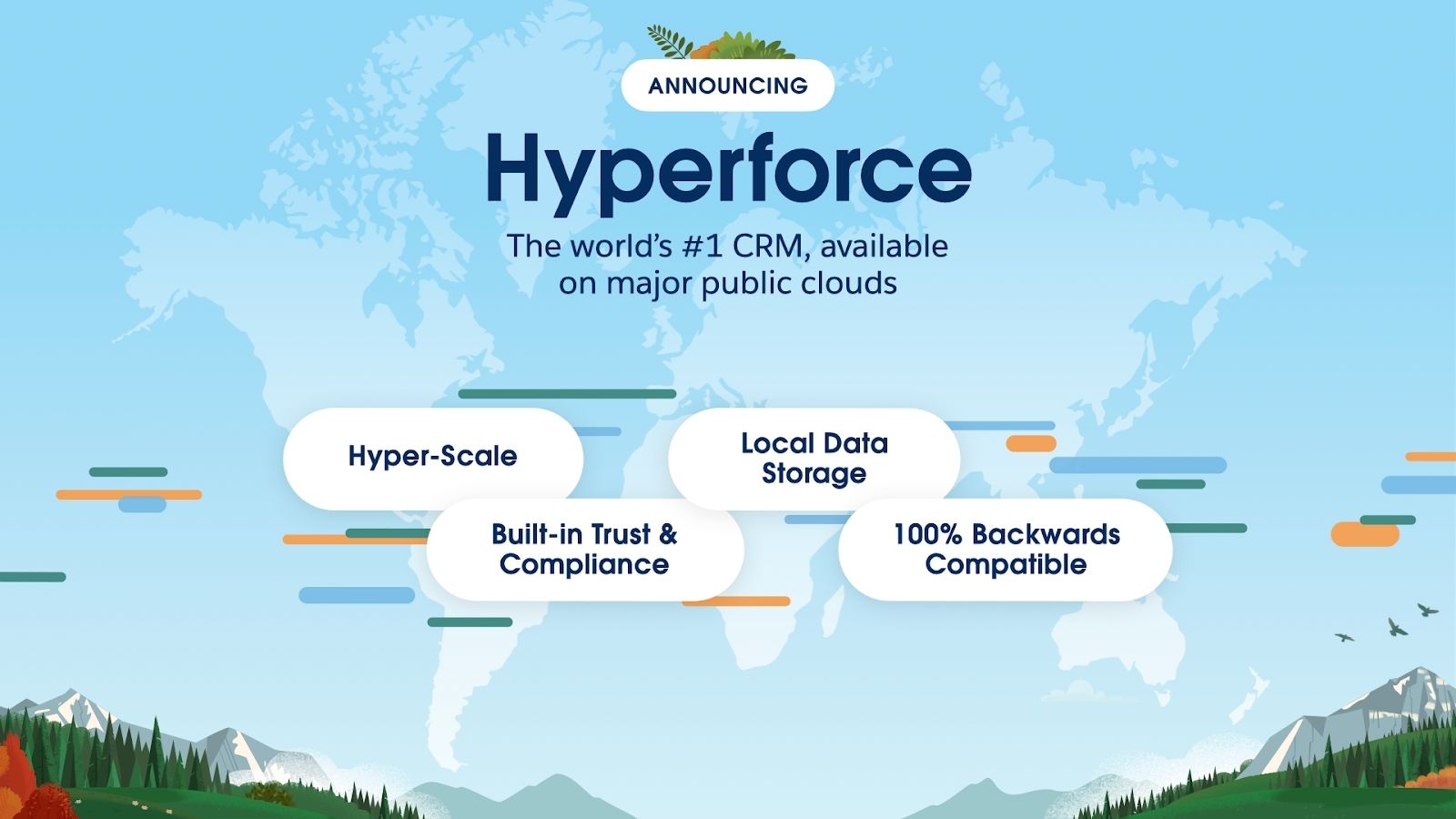 Salesforce built another solution that will securely and reliably deliver the Salesforce Customer 360 through its reimagined platform, Hypeforce. It provides a scalable and robust platform to support implementation success.
The key features of Hypeforce include:
Scalable B2B and B2C solutions: With the flexibility of the Public Cloud, resources can be easily deployed, which reduces the implementation time from months to just weeks or days.
Built-in Trust Security: Hypeforce protects sensitive information from errors and misconfigurations as its security architecture allows you to modify what customer data users can access.
Local Data Storage: Customers worldwide can select which particular location they want to store their data to support regulations that are placed precisely for a company, industry, and location.
Backward Compatibility: All the Salesforce apps, customizations, and integrations will run on Hyperforce regardless of the cloud.
Salesforce brings Loyalty Management Solution to UAE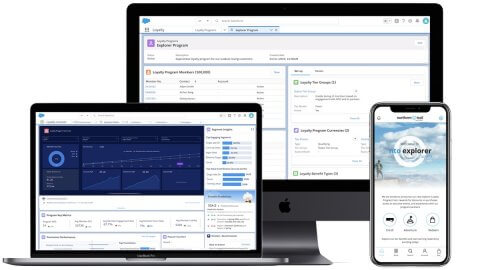 Earlier in 2021, Salesforce announced its new product, Loyalty Management, which helps empower multiple industries, including retail, consumer goods, travel and hospitality, and manufacturing, to create effective and engaging loyalty programs with just clicks and not code.
Removing the need to code means the technology can be implemented and customized quicker. Loyalty Management can also be integrated with Service Cloud, Salesforce Digital 360, and Tableau, allowing digital leaders to provide a connected loyalty experience throughout the entire customer journey.
The key features of the Salesforce Loyalty Management include:
Flexible and complete loyalty platform: Businesses can design loyalty programs that cater to customers' unique needs. Programs can cover tiered membership, points per purchase, and even earn and redeem rewards.
Personalized loyalty offerings: Targeting different segments of the membership base ensures that companies provide unique and customized offerings. This solution allows companies to create a unified customer view and pull in customer data for marketing interactions, website visits, and purchase history.
Organizational loyalty integration using a single source of truth: Because Loyalty Management is integrated into the Salesforce Customer 360, customers can quickly subscribe to a loyalty program. Businesses can create personalized content and notifications to customers with Salesforce Marketing Cloud and Customer 360 Audiences. They can also integrate external systems with APIs and integrate third-party solutions from Salesforce AppExchange. This empowers an entire organization to strengthen loyalty across every customer interaction.
Measure loyalty program performance: Using the Tableau CRM for Loyalty Management, companies can monitor performance results from member acquisition, engagement, and partner performance in a dashboard. As business and customer needs change, companies can determine the best path forward and adjust their programs, such as promotions and offers, based on real-time data.
Success Stories of Salesforce Implementation in UAE
Dubai Multi Commodities Centre (DMCC)
DMCC is the largest and fastest-growing free zone authority in the United Arab Emirates (UAE). They help foreign companies from different industries set up their business in the country.
Company Challenge
Before Salesforce, their employees had to use multiple databases to get customer information.
*Salesforce Implementation Results
*In just three months after their Salesforce implementation went live, DMCC increased the service percentage it provides in a day from 1% to 40%.
DMCC Director Krysta Fox said that with Salesforce's help, they could deliver simple, fast, and consistent solutions to their different types of customers.
CriticalRiver's Case Study on a Real Estate Client
CriticalRiver is a Salesforce partner who helps out sizable real estate companies with technological solutions. The customer is in the real estate business in the Middle East, providing land leasing for commercial establishments and accommodation for residential and businesses.
Business Challenges
The critical challenges of the client were tracking the Lead and Opportunity life cycle, updating the existing Lead and Opportunity data, tracking call events of leasing users, and eliminating escalation of notifications during weekends.
Salesforce Implementation Results
When CriticalRiver implemented the Salesforce Sales Cloud, the client captured a 360-degree view of customers. The digital customer experience improved and even addressed notifications during weekends. The company has found a 51% increase in tracking and lead generation with the enhancements to the solution. They were able to fix bugs on time and empower employees to improve and enhance the customer experience.
Top 10 High Rating Salesforce Partners in Dubai UAE
There are over 1,932 Salesforce Partners globally, and 68 of them are in the United Arab Emirates. We've listed down a list of Salesforce Partners with a high rating of 5 in Salesforce Appexchange located in Dubai:
Conclusion
Salesforce is committed to accelerating digital transformations by empowering companies in the United Arab Emirates to grow, fast and at scale, in their trusted platform. As of now, 143 companies are using Salesforce in UAE. Shortly, we will see a more significant increase of opportunities in the ecosystem as well.
If you need help to find a Salesforce Consultant in the UAE, feel free to use our Partner Search Tool. You can also learn more about Salesforce Implementation, Salesforce Pricing, and Salesforce Editions: Marketing Cloud, CPQ, Sales Cloud, Service Cloud, Commerce Cloud, and Salesforce Lightning.
Leave your contact information and project details, and we'll connect you with the most suitable based on your Salesforce implementation needs.