What is Salesforce Customer 360?
The workforce has changed massively in just two years. Covid-19 has impacted the way everyone is working and has opened the Hybrid Work Era, enabling everyone to work from anywhere in the world and still have fantastic collaboration.
The Customer 360 is Salesforce's entire cloud solutions portfolio in one product offer. They have integrated everything to give you a platform that can unite easy-to-understand data from your sales, marketing, commerce, IT, and service departments.
With a single view of every single essential data, whether from your customers or operations, your teams can collaborate more, create connected experiences, and make more informed decisions anywhere and on any device.
Salesforce Customer 360 Cloud Features
With the broad range of cloud selections, you have the freedom to select and customize the functionalities that you will be using. You can even add apps to your Customer 360 experience to simplify your Salesforce experience.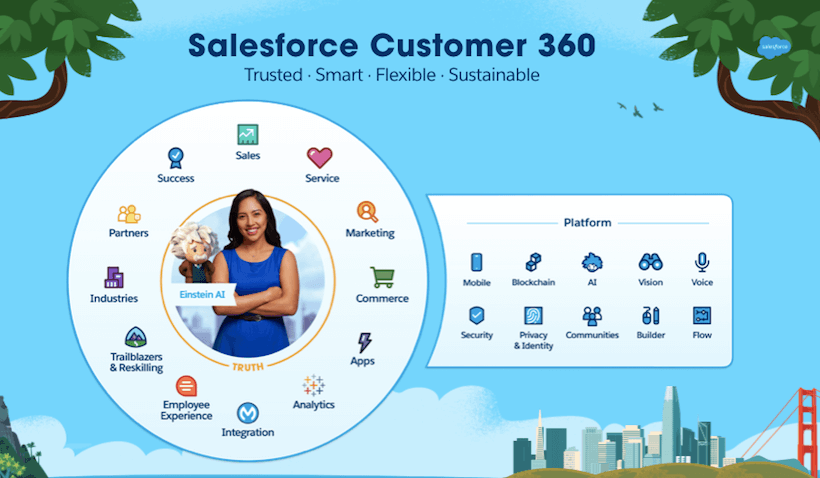 These are the tech solutions that are part of Customer 360:
Provide more innovative customer service with a 360-degree view of all your customers with the world's top-ranking customer service platform. The Salesforce Service Cloud empowers you to provide an industry-leading and end-to-end customer support experience across every channel, whether it's email, phone, chat, messaging, self-service, IoT, or in person.
The Salesforce Sales Cloud is a CRM platform designed to help your sales, marketing, and customer support teams. It's a platform that incorporates customer information, leads, marketing efforts, sales information, and performance analytics in one place. It also provides thousands of applications in the Salesforce Appexchange so you can customize your experience whether you are a Business-to-Business (B2B) or Business-to-Consumer (B2C) type of company.
The Salesforce Marketing Cloud is a cloud-based solution that integrates multiple marketing facets from lead identification to conversion, giving brands and companies an edge over their competitors. This process includes an ecosystem of subprocess and providers focused on different aspects.
The Salesforce Commerce Cloud is a scalable solution that offers both B2C Commerce and B2B Commerce, mainly used side-by-side to provide end-to-end unified commerce.
Salesforce Analytics - Tableau CRM
The Analytics features Salesforce Tableau and AI insights. The Salesforce Tableau is a technology tool that helps you visualize and understand data. With this, you can easily understand your audience's demand and make informed decisions based on data and trends.
Integrations
Salesforce can be integrated with a wide array of apps, whether built from scratch or just one download button away on the Salesforce Appexchange site. This helps personalize your entire Salesforce experience based on your company needs.
Platform
Build more customized experiences, mobile experiences, and event experiments with blockchain on the same shared platform.
Employees
Empower your employees with self-service portals, learning experiences, and insights to level up your organization.
Partners
Use the Trailhead partners section of Salesforce to unlock new functionality with pre-integrated apps for your CRM.
Success
Get certified experts to help with everything from organizational health reports to continued technical guidance.
The Key Benefits of the Salesforce Customer 360
1. Unite your entire organization while putting your customers at the heart of it
The Customer 360 with Slack brings service, sales, commerce, marketing, analytics, and IT together powers your digital HQ.
2. Customers today want more personalized experiences and instant gratification.
Having a shared customer view, your departments can meet demands better so sales can be closed faster, marketing goals are hit, service is up, and customer loyalty increases.
3. The more information you know, the better for your business growth
Customer 360 allows your organization to access essential data within seconds, giving everyone the information they need to decide on crucial matters. With the help of Einstein AI, you can automate tasks and have data visualizations and real-time analytics with Tableau.
4. Salesforce can help any industry and any size.
Salesforce can be customized to any business size and any industry need. That is how scalable the CRM platform is. Whatever your needs are, Salesforce can be personalized and tailored to your business needs.
Salesforce Customer 360 Pricing
You can choose from the Basic Edition Platform Starter, priced at $25 per user monthly and billed annually. Platform Plus's more advanced Edition is priced at $100 per user monthly and billed annually.
Featured Salesforce Consultant for Salesforce Customer 360
CloudMasonry
CloudMasonry is a leading provider of Salesforce consulting services for large and small organizations across the US. We leverage our experience with cloud-based systems to help companies discover more significant value in their digital investments. With experience that spans across all major industries, CloudMasonry combines deep enterprise consulting experience with a collaborative approach to project delivery.
iTechArt Group
iTechArt Group has more than ten years of experience in delivering customer-centric and next-gen Salesforce solutions. Their team comprises 80+ certified Salesforce Consultants, Architects, and Developers who have the necessary skills to dive into your Salesforce implementation needs. They provide a full range of Salesforce consulting services from consulting on implementation, migrating the existing solution to Salesforce or integration with third-party tools, configuration and customization, audit services, custom development, staff augmentation, full support, and managed services.
TechForce Services
TechForce Services is an Australian-based Salesforce consulting company with quality Salesforce services from migrations, integrations, analytics, and staff augmentation. They combine their cross-cloud consulting experience and industry-specific solutions and offer end-to-end digital transformation strategy, consulting, interactive, technology, and operations services across the core verticals of Education, Financial Services, and Government sectors.
Manras Technologies
Manras is a Summit (Platinum) partner, who has won the APAC Partner of the Year award for 2021. We have diverse experience in multiple industries like Real Estate, Hi-Tech, Manufacturing, Insurance, non-profits, logistics, travel, Healthcare, etc.
Stratiform
Stratiform is here to show you there's a better way. Personal, face-to-face long-term partners that speak your language. They align your business with Salesforce, allowing for growth and the change the future will bring.
CloudKettle
CloudKettle is a Salesforce Gold Partner, Google Premier Partner, and Marketo Silver Partner. We have a decade of experience improving clients' ROI from Salesforce and tools like Google Analytics, Marketo, Marketing Cloud, Eloqua, and LeanData. The brains behind BANT+C and CloudKettle SafeGuard.
Conclusion
More than 150,000 companies use Salesforce, and even 99% of the FORTUNE 100 uses the CRM. Find the best Salesforce consulting firm to help you implement the Salesforce Customer 360 Solution. Feel free to search for the perfect one for you on CRM Consulting's worldwide directory of highly trusted consulting companies!