Introduction to Salesforce Consulting Services
The adoption of CRM software has boomed — it is quickly becoming an essential tool for any size business. Salesforce has been named by the International Data Corporation (IDC) as the most popular CRM software globally for nine consecutive years. It is hailed as the #1 CRM software for several reasons. It's packed with features like no other CRM software, such as contact management, workflow creation, task management, opportunity tracking, collaboration tools, customer engagement tools, and analytics.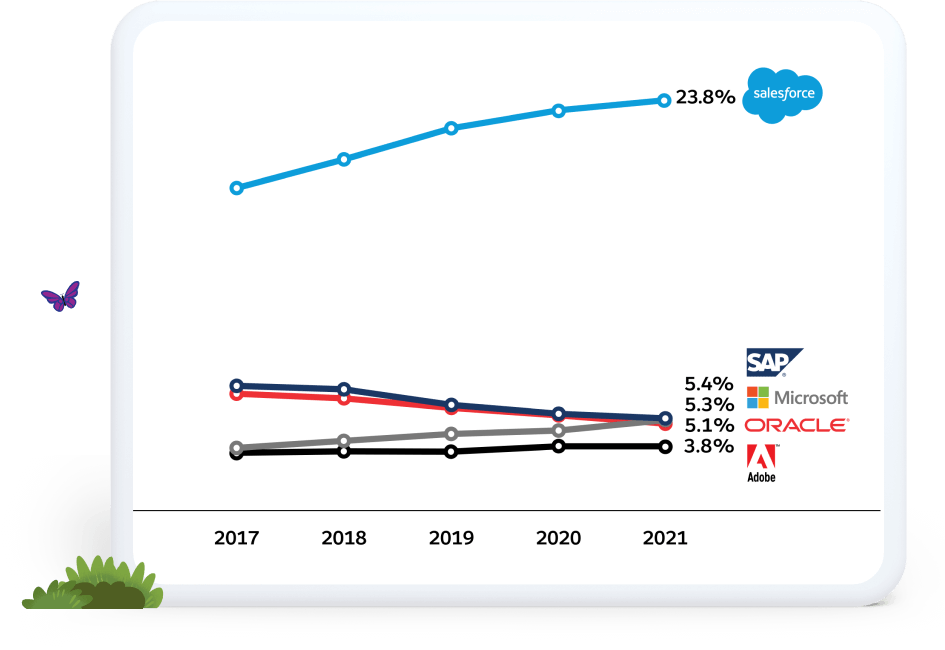 And it's not just about the features—it's also about how easily you can use them. Salesforce has an intuitive, mobile-ready dashboard that makes it easy to find the information you need when you need it.
If you want to be a true industry leader, executing your vision requires much more than adopting a technology. It will take a complete rethinking of how you seize key opportunities, address challenges, and maximize Salesforce on a full-scale level. It would help if you had Salesforce implementation partners who could advise you across the different Salesforce Solutions: Sales Cloud Consulting, Service Cloud Consulting, Community Cloud Consulting, Marketing Cloud Consulting, Pardot Consulting, Financial Services Cloud Consulting, and more.
How can Salesforce Consulting Partners help your business?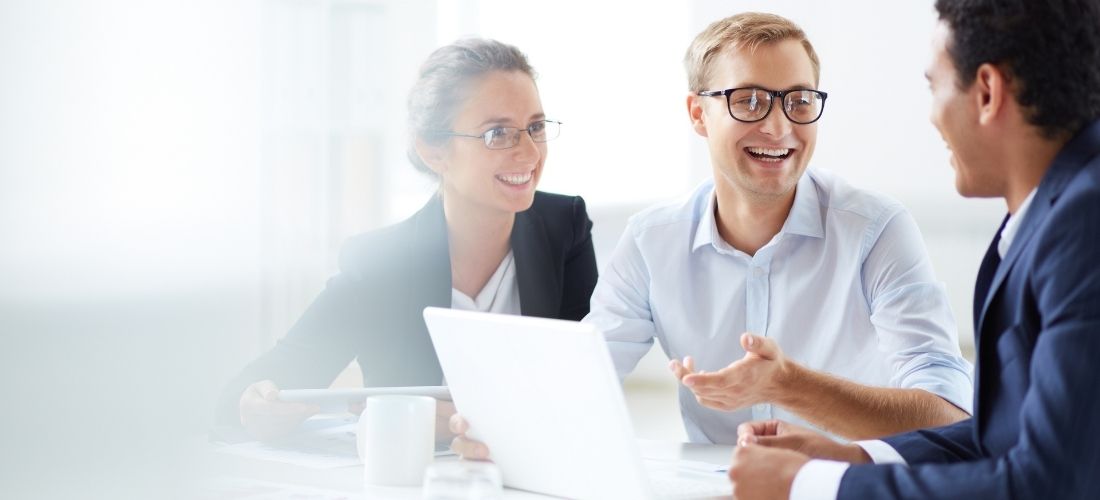 Choosing the right consulting partner if you plan to implement Salesforce is crucial. Salesforce is one of the most popular CRM systems that offer many features to help you manage your business. It can also help in improving customer service, marketing, and sales. But implementing Salesforce on your own is not an easy task as it requires some technical knowledge and experience. This is where a Salesforce consulting partner comes into the picture.
The consulting partners can contribute to your overall business growth by enhancing efficiency using their experiences and can leverage innovative tools. Moreover, they manage the dispersed business processes and increase productivity. Even though Salesforce is easy to use and flexible, the problem lies in its implementation.
You will need to have the technical knowledge and total concentration, which is impossible to manage all business activities. Successful implementation is possible if you select the right consultant from the top Salesforce consulting partners list.
At CRM Consulting, you can choose the Top Salesforce Implementation Partners based on Country, Salesforce Cloud Solution, and Consulting Service Type.
Country
Salesforce Cloud Solution
To ensure that Salesforce will deliver on its promises, Salesforce Consulting Partners have the expertise and experience to help you do it right. They are trained in the Salesforce architecture and implementation and how to use it to support different business processes. They can help you define your business objectives and map them into features of the platform. Also, they can recommend the most suitable edition of Salesforce for your business needs.
Salesforce Implementation Partners also work with you on designing sales, customer service, and marketing processes using Salesforce features. Finally, they'll create a user adoption strategy, so everyone in your organization is ready to use this new tool effectively from day one.
The Different Types of Salesforce Consulting Services
1. Salesforce Implementation
Salesforce Partners help you determine what processes and tasks you want Salesforce to facilitate and offer recommendations for the best-suited ways for it to cover your business needs.
Salesforce implementation services help businesses grow and improve customer relations by implementing processes that streamline their workflow. Salesforce Partners know that this is a significant undertaking, so they make sure every step of the way is as smooth as possible.
Take a look at these tips on how to choose a partner for your Salesforce implementation services:
CRM Consulting Tips
Ask about their experience with similar projects like yours. The more experience they have with similar projects, the better they'll be able to handle yours.
Check out references—you want someone who has worked successfully with other clients like yours before so you can get an idea of what sort of results they typically achieve with their work.
2. Salesforce Audit and Improvement
Salesforce consultants have the expertise to ensure that you get the most out of your software to achieve optimum results. They can assess your Salesforce solution and offer a comprehensive integration and customization plan to enhance functionality better and cover your business needs. They will analyze your Salesforce performance and provide you with a solution to overcome your current shortcomings.
3. Salesforce Migration and Synchronization
Migration is complex and must be carefully planned. Salesforce Partners always ensure your data migration is designed, tested, and executed effectively and in line with good practice. They will analyze your data, carry out any conversion and cleansing work, then migrate to Salesforce.
Migrations need to be managed by experienced professionals, and that's why consulting partners take care of them every step of the way, using their industry-leading expertise. Data migration is not a DIY job. The cost of getting it wrong can be high. Salesforce consultants have extensive knowledge of the tools, technologies, and processes involved in data migration, so you don't have to. Choose the experts who get it right the first time, every time.
4. Salesforce Configuration and Customization
Configuring and customizing Salesforce Cloud Solutions is the first step to ensuring that your business has the tools it needs to succeed. Salesforce implementation partners will build a solution to meet your unique needs, with customization only where necessary while maximizing the power of Salesforce's built-in tools. They use point-and-click tools to create objects, UI, dashboards, reports, and business logic. If you need a functionality that can't be completed without custom coding, they can start customization work immediately and adjust your solution to meet your unique requirements.
5. Salesforce App Development
The Salesforce Platform develops apps quickly, with various tools and services. The Lightning Platform provides simple approaches to making and changing business logic, customizing UI, and integrating with third-party apps and systems.
Salesforce Partners builds apps based on your business or industry needs with custom workflows and forms. They connect your app to external data sources, customize the look and feel of your app, and more.
6. Salesforce Integration
Salesforce is a compelling platform. It's also a huge platform that's growing every day. That means you need integrations to ensure you're getting the most value from it.
Salesforce partners are experts at Salesforce integrations, and they know how important they are for your business. They can integrate Salesforce with internal and external systems outside of the Salesforce ecosystem. They can also create custom integration solutions for Salesforce using its development capabilities and Mulesoft to create data flows that are more efficient and effective across their organizations. When done correctly, these integrations can significantly increase the value of your Salesforce platform by enabling your business to develop its capabilities further.
When you work with a Salesforce Consultant on your integration project, they'll help you define what's right for your business, what tools will be necessary to make those integrations happen, and how best to use those tools to achieve maximum productivity gains within your organization.
7. Salesforce After-Live Support
Salesforce is constantly changing. It can be overwhelming for one person to handle the next challenge, especially when your organization has specialized needs. You may need specialized or technical expertise in marketing, technical architecture, integration experts, CPQ, data, or security that can be hard to find.
We connect your internal team with our roster of all-star Salesforce specialists based on your organization's most significant challenges. Whether your team needs help optimizing the way you market to customers or automating a complex workflow for an upcoming launch, we can connect you with a Salesforce partner to get it done.
8. Salesforce Security
As Salesforce continues to evolve to support your business, so must your security requirements. Companies must enable workers to access sensitive data quickly and securely to perform at their best — no matter where they work. The amount of sensitive data stored in the cloud adds another complex layer of security standards to be met and mitigated. Security policies must now also support WFH, in-office, and hybrid workforces.
That's why Salesforce Implementation Partners provide security services that help you protect your business from unknown threats and mitigate risks. They'll support you through a backlog of issues you may have identified, help you uncover unidentified threats, and build strategies to address risks quickly.
9. Salesforce Training
If you're looking for Salesforce training services, Salesforce Partners offers a wide range of solutions to help you and your team get the most out of your Salesforce implementation.
Whether you need just one-on-one training or an entire team workshop, they have the experience and expertise required to deliver results. Their interactive workshops are designed to increase sales productivity, skills, and knowledge through hands-on exercises that help users apply their new knowledge immediately after completing them. You'll leave each session with a clear understanding of using the software most effectively in your business environment.
CRM Consulting Directory
Our online directory houses 70% of the most trusted Salesforce Partners worldwide. You can choose based on the Salesforce Cloud Solution, Consulting Type, Location, and Partnership Level.
How to choose the right Salesforce Consulting Partner?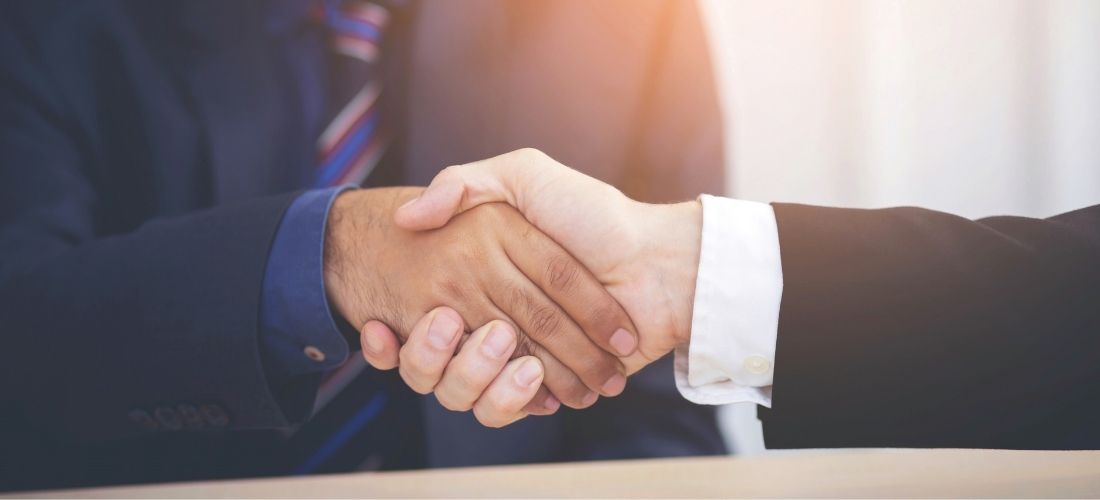 A reliable Salesforce consulting company helps you choose the right solution for your business.
It would be best to have a Salesforce consulting partner guide you to an optimal Salesforce solution. The process requires expertise, experience, and a deep understanding of your business goals. Here are some things that you need to consider before hiring a Salesforce consulting company:
A Salesforce consulting company examines your business goals and identifies the real needs of your business; analyses the market, competitors, etc., and comes up with a tailored solution.
A Salesforce consulting specialist makes sure the solution is technically sound and guarantees its functionality and compatibility. It means that the project is built at a level where you can customize it and scale it.
Great consultants will adjust their estimates if the scope changes, but they'll also help prioritize the scope and split it into milestones. We call this approach "the partner" approach, which goes way beyond just having an expert on board who knows how to use Salesforce.
Always make sure the firm has:
A deep understanding of your business and its goals
A proven track record in delivering results for similar companies in your industry (and preferably in your vertical)
A strong reputation among clients and peers who can vouch for them.
Featured Salesforce Consulting Companies
CloudMasonry
CloudMasonry is a leading provider of Salesforce consulting services for large and small organizations across the US. We leverage our experience with cloud-based systems to help companies discover more significant value in their digital investments. CloudMasonry combines deep enterprise consulting experience with a collaborative approach to project delivery and expertise that spans all major industries.
iTechArt Group
iTechArt Group has more than ten years of experience delivering customer-centric and next-gen Salesforce solutions. Their team comprises 80+ certified Salesforce Consultants, Architects, and Developers who have the necessary skills to dive into your Salesforce implementation needs. They provide a full range of Salesforce consulting services from consulting on implementation, migrating the existing solution to Salesforce or integration with third-party tools, configuration and customization, audit services, custom development, staff augmentation, full support, and managed services.
TechForce Services
TechForce Services is an Australian-based Salesforce consulting company with quality Salesforce services from migrations, integrations, analytics, and staff augmentation. They combine their cross-cloud consulting experience and industry-specific solutions and offer end-to-end digital transformation strategy, consulting, interactive, technology, and operations services across the core verticals of Education, Financial Services, and Government sectors.
Manras Technologies
Manras is a Summit (Platinum) partner who has won the APAC Partner of the Year award for 2021. We have diverse experience in multiple industries like Real Estate, Hi-Tech, Manufacturing, Insurance, non-profits, logistics, travel, Healthcare, etc.
Stratiform
Stratiform is here to show you there's a better way. Personal, face-to-face long-term partners that speak your language. They align your business with Salesforce, allowing for growth and the change the future will bring.
CloudKettle
CloudKettle is a Salesforce Gold Partner, Google Premier Partner, and Marketo Silver Partner. We have a decade of experience improving clients' ROI from Salesforce and tools like Google Analytics, Marketo, Marketing Cloud, Eloqua, and LeanData. The brains behind BANT+C and CloudKettle SafeGuard.
Conclusion
Do you have a Salesforce project that you're struggling to get up and running? CRM Consulting helps companies across the globe (North America, South America, Europe, Middle East, Africa, Asia Pacific) connect with Salesforce consultants who can turn your vision into reality. We are already working with 70% of the world's leading Salesforce partners and would be happy to put you in touch with the right partner based on your individual needs.
Salesforce Consulting can change your business in ways you never imagined. A company can see a drastic increase, shorten its growth time, and cut costs through efficiency. If there is anything you are uncertain about, feel free to contact us. We'll guide you on using our online directory so you will get the most benefit out of it.
Must-Read Salesforce Implementation Articles and Guides