As organizations worldwide begin to recognize the importance of Salesforce, the demand for Salesforce consultants is also popularly increasing. According to Forbes, the consulting industry is now worth $ 100 billion per year and is expected to grow at least 80% per year over the next coming years. So if you are a Salesforce professional who wants to take the next step and build a Consulting Company, we have listed down tips and guides to successfully starting your own and the benefits that come with it.
What is a Salesforce Partner?
A Salesforce consulting partner is a consulting company authorized by Salesforce to develop and provide custom solutions, project implementations, and integrations. It comprises industry-specific experts trained to provide professional advice, guidance, actionable solutions, and unique expertise across Salesforce products, industries, and system integrations.
Why should you become a Salesforce Partner?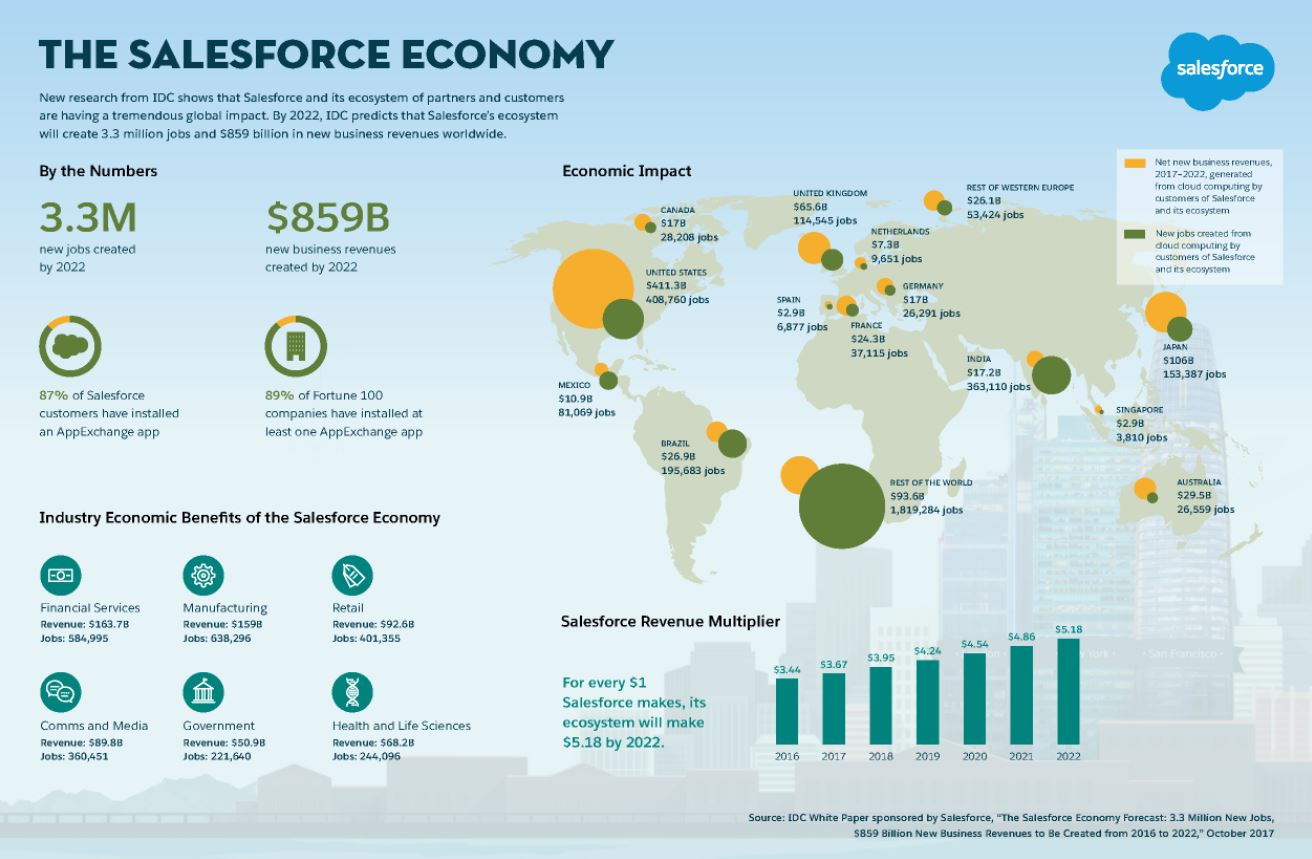 Right now, there are over 1843 Salesforce Consulting Companies in the world, and over 150,000 companies use the Salesforce platform. This year, Salesforce has reportedly earned its highest revenue ever at a whopping 21.25 billion dollars, which means demand for their secure, scalable cloud platform skyrocketed. Millions of companies seek Salesforce, which is why they have become the leading CRM enterprise. Salesforce even stated that their partners lead 70% of customer implementations and 86% of their customers use apps and solutions provided by the latter.
How much does it cost to become a Salesforce Partner?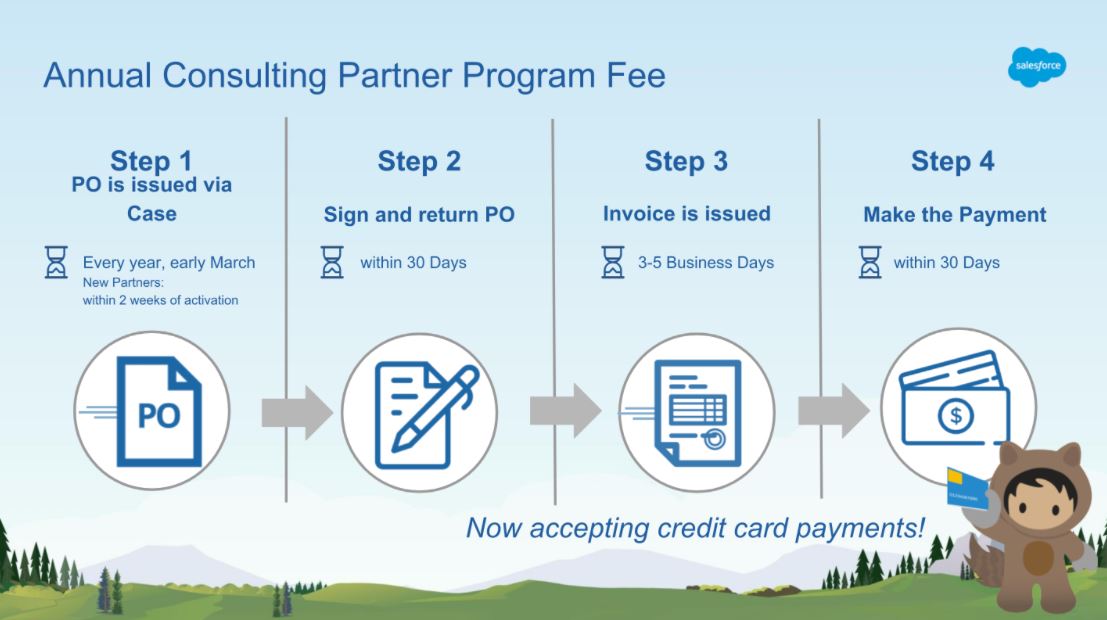 There is an annual consulting program fee that consulting companies need to pay. The consulting program year usually runs from March 1 to February 28 of the following year. The amount is based on the final tier evaluation of the previous year.
How much do Salesforce Partners make?
It is said that pursuing a Salesforce career is quite lucrative; you will start your own business around it. To give you an idea of how much Salesforce Consulting Firm earns, Cloud Mastery have shared how they charge for theirs:
Salesforce Consulting - $ 125 - $ 200 / hour
Salesforce Training - $ 1K - $ 1.5K / day
Salesforce Development - $ 200 - $ 250 / hour
Salesforce Integrations - $ 125 - $ 150 / hour
Salesforce Data Management - $ 200 - $ 250 / hour
Of course, the amount you charge will still depend on your expertise level and how comprehensive your services are.
Benefits of Salesforce Implementation Partners
Aside from Salesforce as the most in-demand CRM platform, partners can also unlock other benefits:
The Salesforce Partner Program is a 5-star award-winning program that partners will need to enroll in to access an expanded range of features across the following categories by designation: Design & Develop, Sell & Market, and Service & Support. This was developed to enable partners to successfully build and grow their businesses by enhancing their expertise and providing innovative tools.
The Salesforce Partner Community is a channel management solution created by Salesforce to directly connect and collaborate with other partners, allowing you to share ideas and get in touch with experts.
Questions you need to answer before starting a Salesforce Consulting business
Why start a Salesforce consulting business and not a job?
This is the first question you need to address when starting any business. It would be best if you found that reason to hold on to move towards success in the future.
Do you have the resources to start a Salesforce consulting company?
Initial capital investment is always needed when you are putting up a business. That's why you should always plan out your resources and ensure that you have enough financial assets and workforce resources.
You can design timelines and goals based on your money and the money you can earn based on your milestones.
What would be your process methodology?
If you wish your Salesforce consulting company to achieve, you need to have a long-term project. This plan will serve as your backbone if some things don't go as planned. Decide on the most productive and reliable methods you will use to solve problems and recommend steps for your clients.
Where would you get the deals from?
You need to think about the prospects you need to talk to for your future projects. Do you have a list of possibilities? What do you need to get that information? It's essential to address this because clients are the lifeblood of your business. Pricing, technical expertise, and commercial awareness are all part of the mix to help you increase your chances of winning a project.
Six tips to starting a successful Salesforce Consulting Company
Starting your Salesforce Consulting business is not an easy task, but there are things that you can do to make sure your company is on the right track:
Find Your Niche In The Market
Salesforce offers different products from Sales Cloud, Marketing Cloud, Service Cloud, Commerce Cloud, and more. With their wide range of cloud-based solutions, you can define the market section you want to cater to. This will help you tailor-fit all your future activities and efforts in a clear direction. Adjust your approach and communication once you have decided who you want to serve. This will allow you also to provide more value to your clients if you understand their industry needs.
Stress on Your Business Processes
Streamline all your internal processes and make sure everything is in sync. You can hire the best human resource to take care of all the specific services you are willing to provide to your customers.
Maintain Healthy Relationships
You will need to constantly engage and maintain good relationships with your clients and employees daily for your business to be effective. If you do these, there are higher chances your clients will stick long term and even refer you to someone they know. Another thing is having business empathy or the ability to present solutions that fit the client's vision and ideas which makes your consulting company different from others.
Have Flexibility In Structure
Plan out a flexible business structure with enough provisions for improvement. The nature of Salesforce Consulting Companies is constantly changing, and you will need to take specific measures to adapt to all the technology advancements Salesforce has.
Be Inventive and Adaptive
There will always be better companies than what you do, so you need to stand out. As a client's needs change rapidly, you need to be creative with your approach and think of out-of-the-box solutions to use technology to address them all. Inventing new methodologies can help you attract more clients.
Build a Team of Salesforce Professionals
Hiring Salesforce experts who can contribute to your business goals is crucial and quite challenging. It would help determine what the person will do daily and what Salesforce solution they will focus on. If you are looking to hire Salesforce Professionals to join your team, check out Jobssie for the candidate with relevant experience.
Who are the people you need to hire for your Salesforce Consulting Company
You will need the help of professionals and experts to run a successful consulting company. Here is the list of people that are mandatory for you to hire:
Salesforce Administrator – The person who will manage specific Salesforce requirements of your clients.
Salesforce Developer – The person who will develop customized and enhanced applications for your clients.
Salesforce Business Analyst – The person who will solve issues of your clients regarding Salesforce tool or platform implementation.
Salesforce Architect - The person who will be your trusted digital advisor and team leader. They love to look at the bigger picture and design systems that can solve the problems of businesses.
Conclusion
Opportunities in the Salesforce ecosystem grow more prominent by the day. If you want to help millions of businesses use Salesforce effectively, today is the best time to take the leap and start your own Salesforce Consulting Company.
If you become a partner, Salesforce will welcome you to a community. As they say, your success is also their success, so that they will help you every step of the way.
Get your Salesforce Consulting Firm listed at CRM Consulting, and we will connect you faster and easier to thousands of business owners who are looking for Salesforce Implementation Partners.