Salesforce Live Asia 2022 Event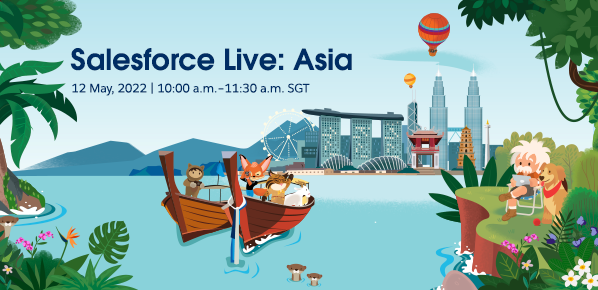 The Salesforce Live Asia Event was held last May 12, 2022, which was terrific. It was full of entertainment, learning, and inspiration. There were many exciting talks during the event, and its primary focus was on the subject "How the Future Works".
The Salesforce Live Asia event is all about inspirational stories across industries. It is a conversation that celebrates the future and how people, businesses, and organizations can thrive in all aspects of their lives, now and in the future. A common theme binds all these stories together — a disruptive world where relationships are at the center.
Disruption is all around us. We are in the middle of a massive shift from an industrial to a digital economy. Organizations and individuals that embrace innovation will be those best positioned to succeed in the future of work. Today's generation relies more on collaborative consumption and sharing economy.
Transformation is a must, and that's what Salesforce consistently delivers. The Salesforce Live Asia event was full of powerful moments that encapsulated this word. Organizational leaders and new thinkers alike gathered to discuss the Salesforce trends and technologies that will shape the future of business. Here are the speakers who were present during the event:
Salesforce SVP & GM ASEAN Sujith Abraham
Salesforce SVP & GM Singapore Cecily Ng
Head of Salesforce ASEAN Naomi Rajendram
Salesforce VP Marketing ASEAN Wendy Walker
Salesforce RVP Partner Alliances Stephanie Goveas
Internationally Acclaimed Speaker & Best Selling Author Simon Sinek
Chief People Officer (Grab) Chin Yin Ong
Co-Founder and Chief Product Officer (Ninja Van Group) Boxian Tan
People Technology Analyst (Workato) Jia Ying Lee
We've compiled the major announcements and critical things that Salesforce has discussed during the event in this article. We're also sharing some details on digital transformation solutions for next year, which you should take note of.
Salesforce Economy in Asia
The event started with remarks from Senior Vice President and General Manager ASEAN Salesforce - Sujith Abraham, who said that it was the "Time for a change." He shared how grateful Salesforce is to its customers, partners, and employees for making them a global leader in CRM and the fastest-growing enterprise software company. They are thrilled to celebrate their eighth consecutive year as the #1 CRM globally. This milestone is a testament to the constant innovation that drives their success.
Salesforce is the leader in culture, philanthropy, and innovation. It transforms how companies harness their data, run their businesses, and empower their employees. As the industry leader, they have gained the trust of over 150,000 companies worldwide by delivering innovative cloud solutions and services. Its goal is to hit $26.4 Billion in revenue, emphasizing the interactive and creative ways of moving forward. They want to inspire and enable every organization in Asia to do well and do good.
Workforce Impact of Salesforce in Asia
Salesforce has become a significant source of job creation. The Salesforce Economy has grown to 15 million trailblazers, contributing to more than 9 million jobs and $1.6 trillion in economic impact by 2026. In Asia, that is 4.2 million net new jobs and a $378 billion new business revenue by 2026.
Salesforce empowers organizations to transform their businesses with cloud technologies and connect with customers like never before. With offices across APAC, they are working with our partners and customers to drive digital transformation in the region through innovation, technology, and services.
Salesforce's Commitment to Go Net Zero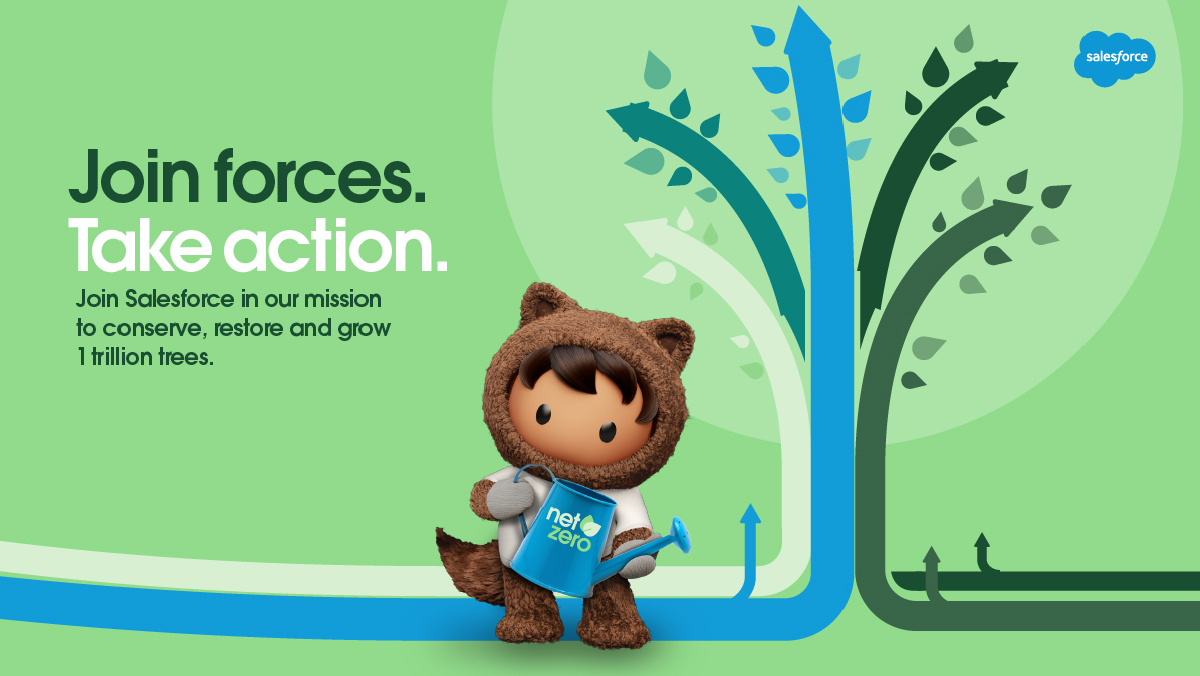 For 23 years, Salesforce has been guided by these core values - trust, customer success, innovation, equality, and sustainability. Today, they are proud to showcase how much progress they have put into becoming a net-zero company.
Salesforce is committed to the planet, the people, and the business. They believe it's time for companies worldwide to step up their communities, including the planet. They want us to join as #TeamEarth and take actions that build trust and make a difference in the world.
We are proud to announce that Salesforce has pledged more than 43 and a half million trees globally through 1t.org – the first global initiative from The Nature Conservancy that enables companies and individuals to offset the carbon emissions they produce by planting trees.
Salesforce is committed to supporting all stakeholders and not just shareholders. Doing what's suitable for everyone and the planet is at the core of who they are as a company.
The How behind the Wow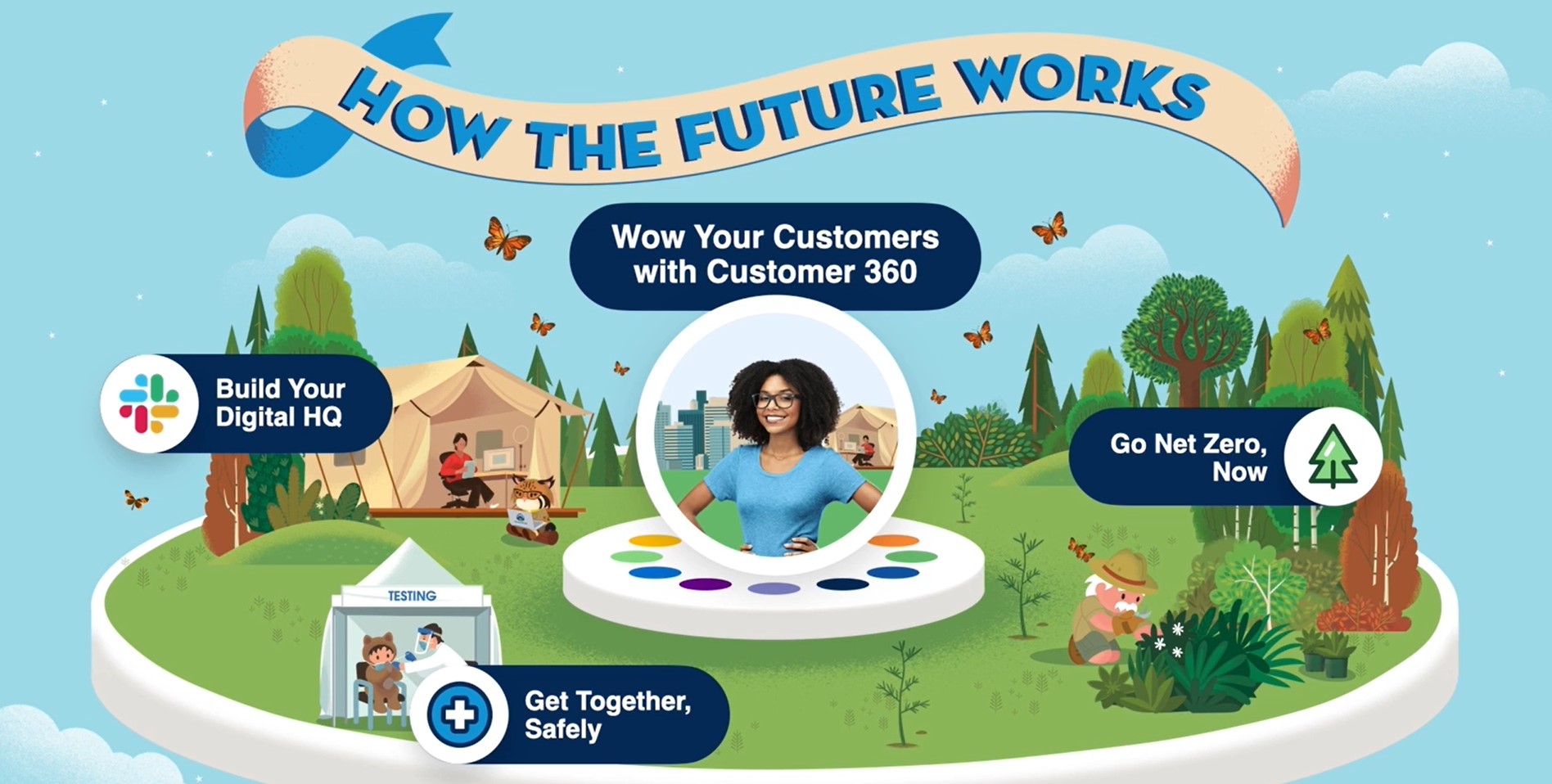 Salesforce SVP & GM Singapore Cecily Ng shared that we are all in a new world. We are navigating through different channels, answering new challenges. In the face of hardships and challenges, we choose resilience.
In a world where we are all digitally connected, what matters most is how companies serve their customers. Customers want to communicate with people, not channels. They want an experience that makes them feel like they matter. Every company has to be customer-first and create experiences that wow the customers. Salesforce has designed a new playbook for business: a playbook any company can follow. It all starts with the customer experience.
It's not just about technology; it's about culture as well. We need to ensure that our employees are empowered to go above and beyond for customers every day in every interaction.
Let's take a look at how the future works:
Wow customers with Salesforce Customer 360
Build your digital HQ anywhere in the world with Slack
Get together safely with Safety Cloud
Committing to net-zero now
Wow customers with Salesforce Customer 360
Salesforce Customer 360 is the most comprehensive and integrated customer experience platform. It powers every interaction across sales, service, digital marketing, and e-commerce. You have one platform that wows every touchpoint of your customer journey.
A single source of truth
With Salesforce customer 360, you get a single source of truth for all customer interactions so that everyone in your organization can make smarter decisions faster. Every employee can access real-time data about customers, so they're always working with up-to-date insights and information.
The best of both worlds
With Salesforce Customer 360, you get the best of both worlds — a seamless combination of cloud technology and human expertise. Cloud technology gives you fast access to your data without installing or configuring anything on your servers or desktops.
Build a Digital HQ with Slack
Slack is a digital HQ for businesses in every industry. It is the fastest-growing business communication app and a robust collaboration hub that brings together people, apps, and data to help teams work better.
In our work from anywhere world, our headquarters have to be digital. Salesforce is putting Slack into every product across the Customer 360 platform. So your sales, service, marketing, and commerce teams can work flexibly from anywhere.
It's been used by small teams and Fortune 100 companies alike to create their digital headquarters — a place where they can organize and prioritize tasks, communicate with coworkers, share files, and build camaraderie.
With Slack, employees can message coworkers directly from their inboxes or any channel/group they belong to. Users can also share files now through Slack, which means no more emailing attachments back and forth or searching through files on your computer to find what someone sent you weeks ago. Slack also has features that let teams organize their workflows into channels and group them by topic — like sales leads or customer support tickets — so that everyone knows what's going on without searching through multiple emails.
Read the 10 Slack Benefits to Salesforce CRM Users.
Tokopedia's Success with Salesforce
Tokopedia is an Indonesian technology company with a mission to democratize and empower commerce through technology embraces this approach. They enable millions of sellers and users through the marketplace and digital products, fintech and payments. Recently, the company merged with Asia's leading mobile on-demand services and payment platform Gojeck. They formed GoTo Group, which is the largest technology group in Indonesia. Despite two different cultures coming together, the process has been very smooth. Before the merger, both companies adopted Slack and shared a digital-first mindset that helped teams plan effectively and collaborate remotely.
Get together safely with the Salesforce Safety Cloud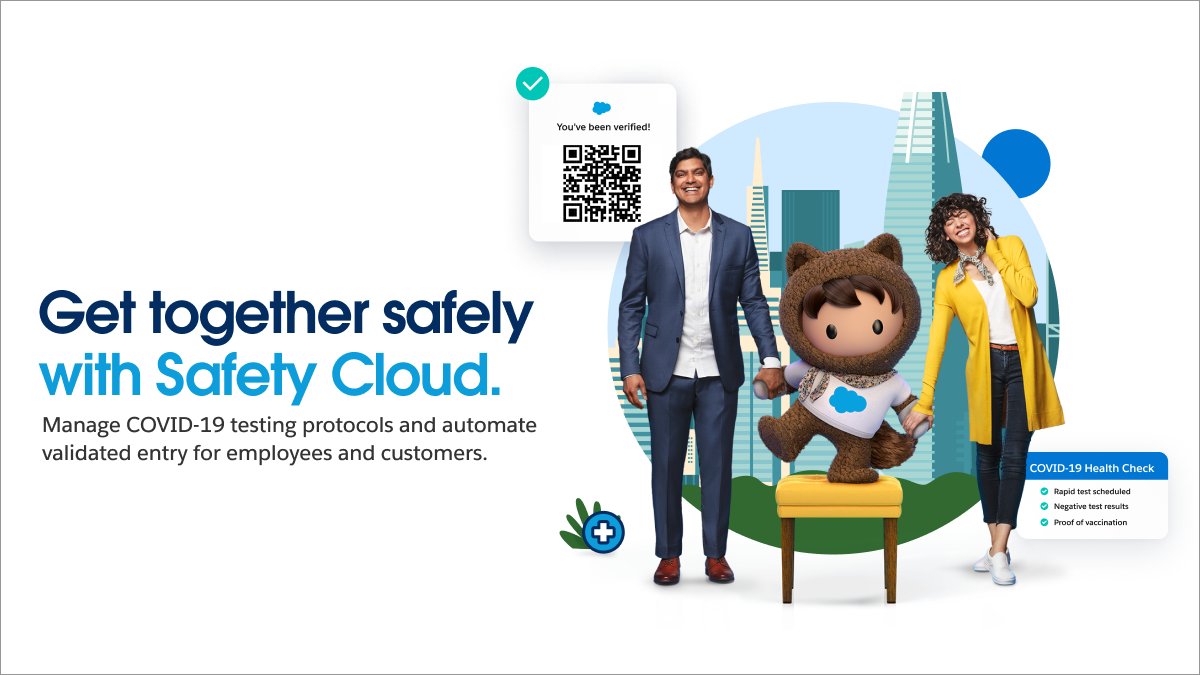 In today's world, nothing is more important than safety. The right technology can help keep everyone safe, especially when home, at work, or attending events. Salesforce created the Safety Cloud, enabling you to scale Covid-19 testing and manage safety protocols. The cloud solution has been developed so that you can bring employees and customers together safely – no matter where your organization is located. Salesforce initially unveiled this solution at the Dreamforce 2021.
With Safety Cloud, you can help employees return to work safely using a single, employee-centric wellness platform that incorporates testing and symptom checkers. You can also use the platform to provide contactless access for all community members.
Committing to net-zero now
The world has been in turmoil over climate change for decades, but it feels like more people have begun to care as of late. How does this relate to Salesforce? We can all agree that we need to move in a more sustainable direction. We've got to do something, and as Salesforce customers, we're moving the needle. Salesforce thinks about sustainability in the products they build and the community that surrounds us. That's why Salesforce is helping every business go net zero. Through the Net Zero Cloud product, they provide carbon reporting on cloud services for investor-ready carbon reporting.
Ninja Van's Success with Salesforce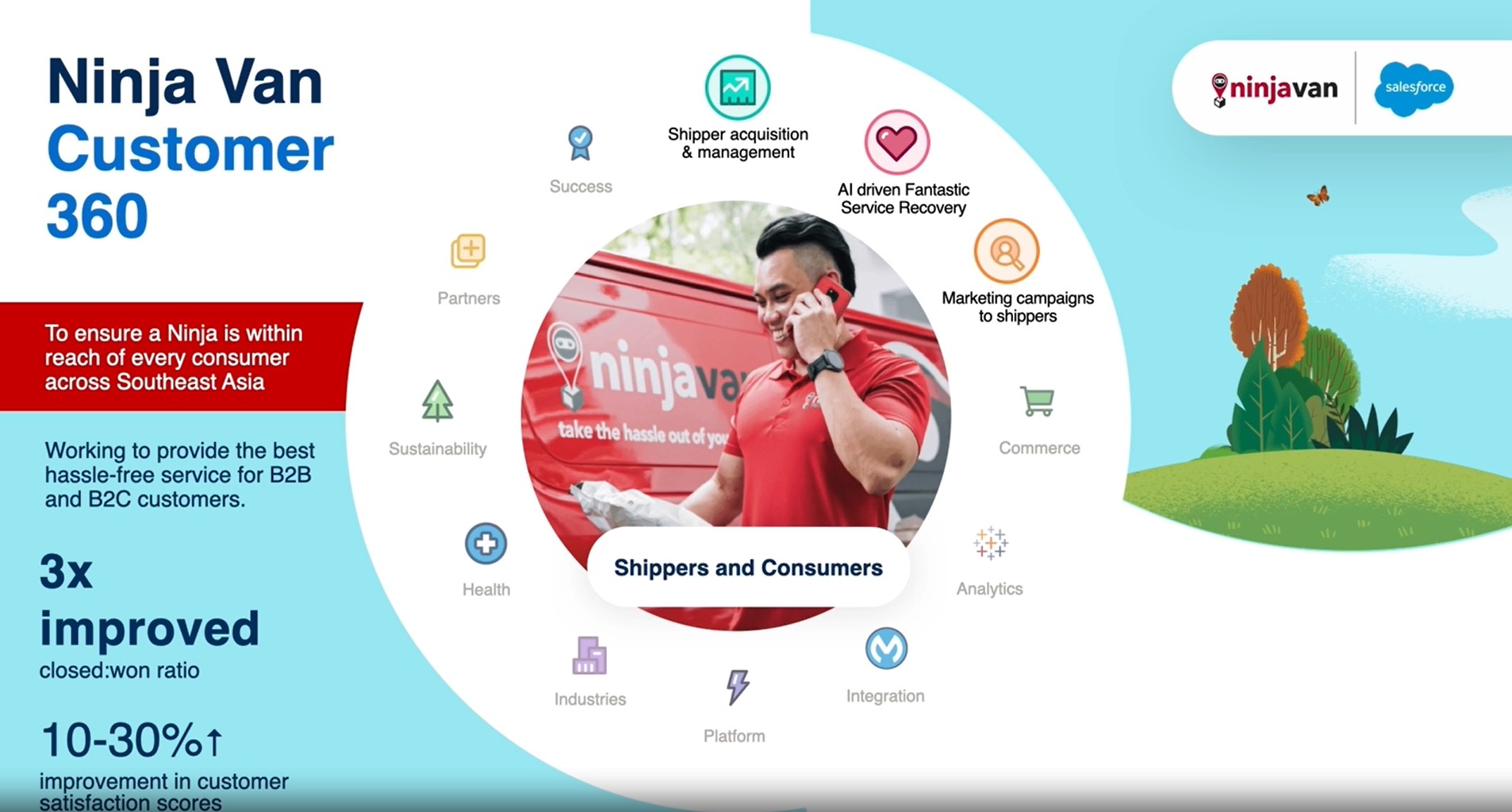 Ninja Van is a logistics company providing supply chain solutions for businesses in Southeast Asia. Co-founder and CPO Bosien Tan shared the company's journey from starting from scratch, building resilience, and their digital transformation with Salesforce.
These are the key things that contributed to their success:
having access to timely, accurate decisions and empowering teams
decentralizing the decision-making process
optimizing and automating processes to ensure the team focus on doing what they do best
A more comprehensive view of the sales team gives them visibility into sales activities per agent improvement with up to 3x conversion rates.
Building Resilience with Simon Sinek and Chin Yin
Simon Sinek and Chin Yin are the perfect combinations to share insights on the importance of building resilience in your personal and organizational lives. Simon explained the science behind building strength, why it is often overlooked, and some handy tips for increasing stability. Chin Yin made us aware of how we can create more resilience at work and some ways to help build a resilient organization.
When thinking of resilience and where it comes from, it is easy to focus on our own needs, both physically and mentally. This can be translated into diet and exercise, and personal development. To a certain point, this will bring about results. However, we live in a consumer-driven society, primarily made up of people aspiring to use things that will give them visible results. If we are not conscious of what resilience means in the workplace and society, we may miss the true purpose of this positive mindset. Resilience within a company or group of individuals can be used to improve communication and cohesiveness between employees. Resilience can also produce more success stories among those who have surpassed hardships and challenges.
Conclusion
In the new century, businesses are faced with different challenges and new opportunities arising from the blurring of boundaries and the rise in global competitiveness. Today's world has become technologically advanced, making it even more critical for businesses to operate and transform at such a rapid pace. To respond to the changes in business environments and innovative technologies, enterprises, including workers within and outside the organization, must embrace differences and walk shoulder to shoulder with the new era.
We learned so much from this event, and we want to share that knowledge with you. By attending the Salesforce Live Asia 2022 event, you can better understand how and why businesses in the APAC region should focus on Salesforce to fuel the future of their company.
Find a Salesforce Partner at CRM Consulting's Online Directory
How businesses conduct their operations changes dramatically when they begin using the Salesforce platform. It allows them to run the business more efficiently, but it changes how they do business entirely. The good news is that this model has worked for many different companies. As a result, your company could see similar results as well. But to get there, you need to find a Salesforce partner who can help you make this switch in the most effective way possible.
We hope you've found information about Salesforce consulting within our platform. We want to help you learn about the solution, learn more about the CRM company, and see you as a Salesforce partner.