Slack is a business communication platform developed by Slack Technologies and is currently owned by Salesforce. According to Slack CEO Stewart Butterfield, the 9 to 5 work hours and Monday to Friday work week are over. Now, more than 10 million people are using Slack. 43% of the FORTUNE 100 and big companies such as Walmart, Nike, Shopify, Airbnb, Udemy, and Pinterest use the communication app.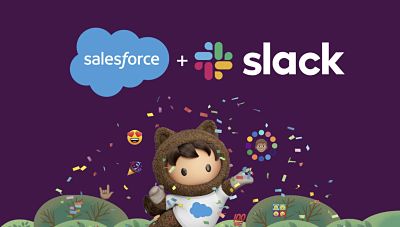 Salesforce made the right decision to purchase one of the leading workplace messaging apps right now. To date, the whopping $27.7 billion acquisition of Slack has been the biggest purchase of the CRM company.
The integration of Slack and Salesforce Customer 360 will prove a powerful tool for everyone. Here are ten benefits of Slack Salesforce integration: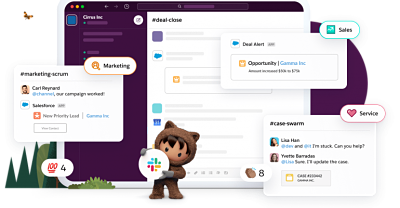 10 Slack Features that your Business will Benefit From
1. Slack for Communication | Amplified collaboration across all departments in your organization
Combining the world's #1 CRM with the world's most innovative messaging app will give your team a more engaging, intuitive, and productive way of working anywhere, anytime.
Salesforce Customer 360 unites all your departments in one platform, and Slack adds another layer of engagement to improve alignment throughout your organization further. Imagine that your sales team can instantly update opportunities in Slack, or your service reps get quick access and close tickets in one platform.
Slack integrates with multiple business apps
Bring the experience and processes together when you connect your Slack and Salesforce with the apps you are using. You can also build custom apps with no-code functionalities to drive better organizational outcomes quicker.
Reports have shown that users of Slack resulted in fewer meetings and a 338% return on investment (ROI).
3. Slack for Sales | Empowers your sales department to close opportunities faster
Studies have also shown that by using Slack, sales teams were able to close deals faster, making $2.6 million more.
The combination of Slack and Salesforce will give your sales representatives access to insights, action items, and customers all in one place. Both shorten and streamline the sales cycle by enabling people to work together directly and sync Salesforce records to receive critical deal notifications.
4. Slack for Customer Service | Provide excellent service to top-notch customers
A connected customer service team means more satisfied customers. With Slack integrated with Salesforce, you bring all your systems in one place, speeding up your response time, unlocking customer insights, and investing in customer loyalty and retention.
Studies have shown that switching to Slack has reduced the cost per service ticket by 15%.
5. Slack for Marketing | Give your Marketing team an AI-driven shared space
Slack and Salesforce integration will give your marketing department a headstart by enabling them to pull out AI-driven insights from the Marketing Cloud and Datorama.
When changes to specific marketing material, your entire team will also be notified.
6. Slack for Productivity | Get quick file access and sharing
Your entire organization can easily search and preview records and information related to the accounts they are managing without closing the Slack app. You can easily loop a new member by tagging them on the file.
7. Slack for Productivity | Prioritize tasks easier
Businesses that have integrated Slack with Salesforce will now receive alerts about their jobs and assignments in the messaging app. Slack will become a vital part of your daily progress and provide crucial information about your upcoming tasks.
8. Slack for Quotations | Manage quotations more efficiently and faster
Some companies have started spending hours every month checking the status of every opportunity. With Slack integrated into Salesforce, your sales, management, and administrative departments can be quickly notified if a quote has been received, for review, denied, or accepted.
9. Slack for Analytics | Become more effective at data reporting
Salesforce integration with Slack will make data analysis more straightforward. There are tools that you can use to generate reports from leads to sales revenues. This gives you a clear picture of the areas driving growth and improvement and where you need improvements.
10. Slack for Security | Protect your data inside the platform
Slack encrypts your data at rest and in-transit data. With tools such as Slack Enterprise Key Management, audit logs, and top data loss prevention providers, the messaging app can further increase the security of all your data and conversation.
Featured Salesforce Consultant for Salesforce Sales Cloud
CloudMasonry
CloudMasonry is a leading provider of Salesforce consulting services for large and small organizations across the US. We leverage our experience with cloud-based systems to help companies discover more significant value in their digital investments. With experience that spans across all major industries, CloudMasonry combines deep enterprise consulting experience with a collaborative approach to project delivery.
iTechArt Group
iTechArt Group has more than ten years of experience in delivering customer-centric and next-gen Salesforce solutions. Their team comprises 80+ certified Salesforce Consultants, Architects, and Developers who have the necessary skills to dive into your Salesforce implementation needs. They provide a full range of Salesforce consulting services from consulting on implementation, migrating the existing solution to Salesforce or integration with third-party tools, configuration and customization, audit services, custom development, staff augmentation, full support, and managed services.
TechForce Services
TechForce Services is an Australian-based Salesforce consulting company with quality Salesforce services from migrations, integrations, analytics, and staff augmentation. They combine their cross-cloud consulting experience and industry-specific solutions and offer end-to-end digital transformation strategy, consulting, interactive, technology, and operations services across the core verticals of Education, Financial Services, and Government sectors.
Manras Technologies
Manras is a Summit (Platinum) partner, who has won the APAC Partner of the Year award for 2021. We have diverse experience in multiple industries like Real Estate, Hi-Tech, Manufacturing, Insurance, non-profits, logistics, travel, Healthcare, etc.
Stratiform
Stratiform is here to show you there's a better way. Personal, face-to-face long-term partners that speak your language. They align your business with Salesforce, allowing for growth and the change the future will bring.
CloudKettle
CloudKettle is a Salesforce Gold Partner, Google Premier Partner, and Marketo Silver Partner. We have a decade of experience improving clients' ROI from Salesforce and tools like Google Analytics, Marketo, Marketing Cloud, Eloqua, and LeanData. The brains behind BANT+C and CloudKettle SafeGuard.
Conclusion
Together, Salesforce and Slack help companies and businesses build a better Digital HQ so you can achieve success wherever you are. Slack Salesforce integration empowers your organization to exchange ideas, recommendations, and files or data across every department.
So, now that you have a quick background of the benefits of Slack Salesforce integration, we believe it's time for you to make the best decision for your business. If you want to talk to Salesforce experts, you can find one and get connected instantly at CRM Consulting. Visit our Partner Search Tool to get started.