Salesforce consistently holds the #1 CRM title for eight years. Its market share of 19.8% defeats the number of its competitors combined. It improves productivity by helping the entire company work smarter and more efficiently. It automates processes and eliminates the manual efforts that consume time, making it easier and faster to achieve your business goals. Since it's also a cloud-computing technology, everyone from your team can access and do the following anywhere.
Here are five reasons why Salesforce remains the best CRM in the market:
1. Scalability and customization based on your ever-changing business needs
2. Salesforce has a continuously growing Partner Ecosystem
3. Salesforce prioritizes your security
4. Salesforce can integrate with cloud-based apps
5. Salesforce is an All-in-one Platform
Salesforce is not only known for its CRM solutions; its company and culture are also what makes more people attracted to what they are offering and maintaining a long-term partnership. It has received numerous awards for its company efforts and innovations.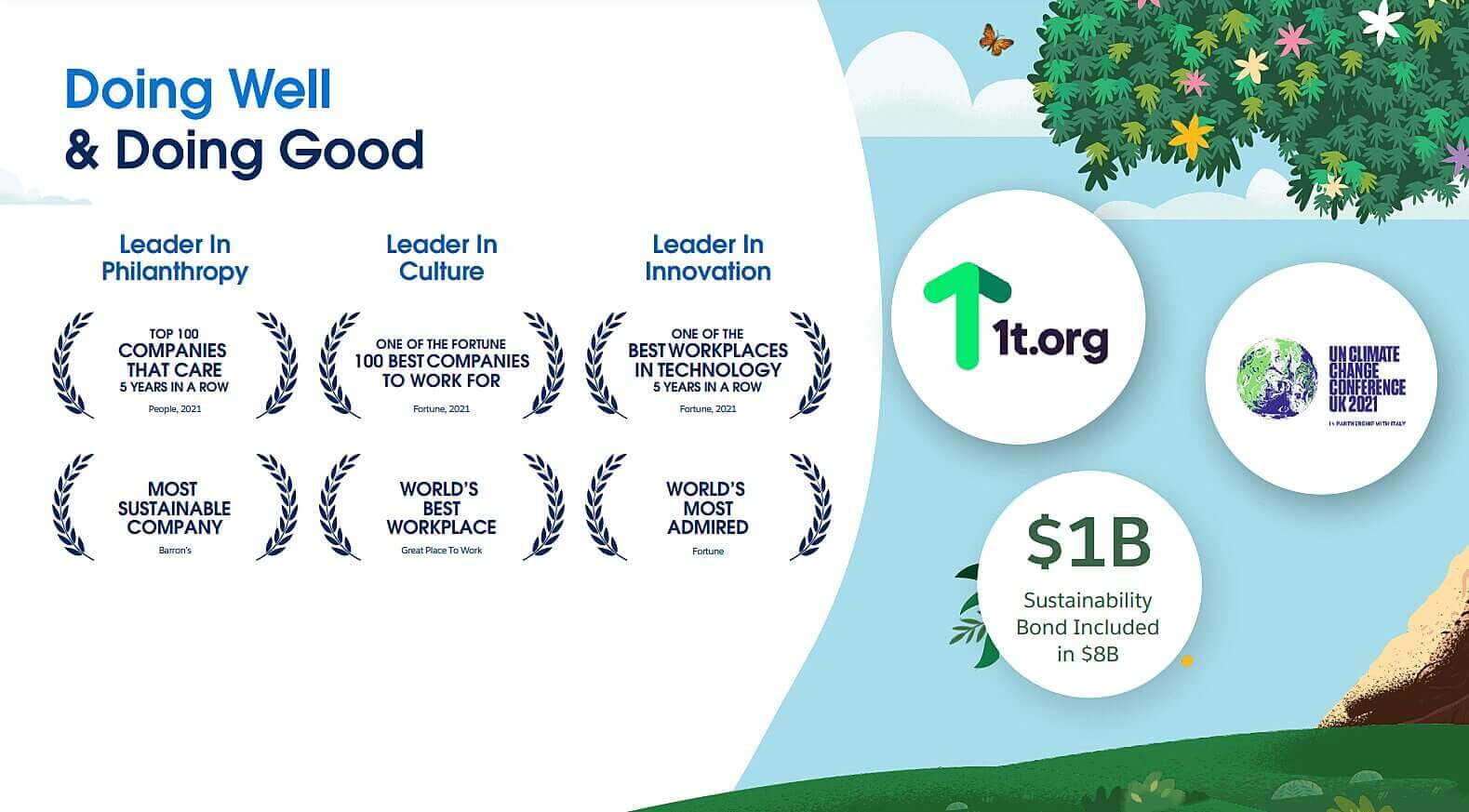 Image Source: Salesforce Investor Day Report
Let's also check what the world market numbers say about Salesforce. Here are essential Salesforce statistics that you should know before welcoming the year 2022.
Salesforce Company Milestones
There are over 150,000 companies worldwide that are using the Salesforce CRM.
Salesforce ranks as #137 in the list of FORTUNE 500 ranking rising from 53 spots higher due to its growing revenue of 29.1% in 2020.
Salesforce ranked #2 on the FORTUNE 100 Best Companies to Work For.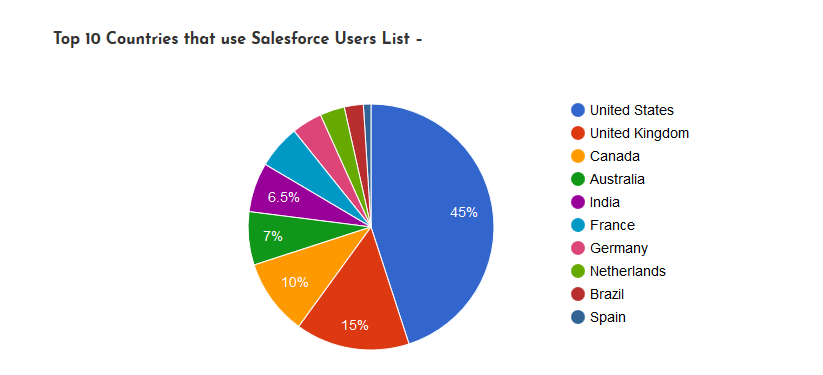 The highest number of Salesforce usage goes to the United States at 45% share.
When it comes to business size, 74% of Salesforce users are small businesses.
The highest industry that uses Salesforce is the Computer Software at 16%.
88% of the FORTUNE 100 companies have used a Salesforce app.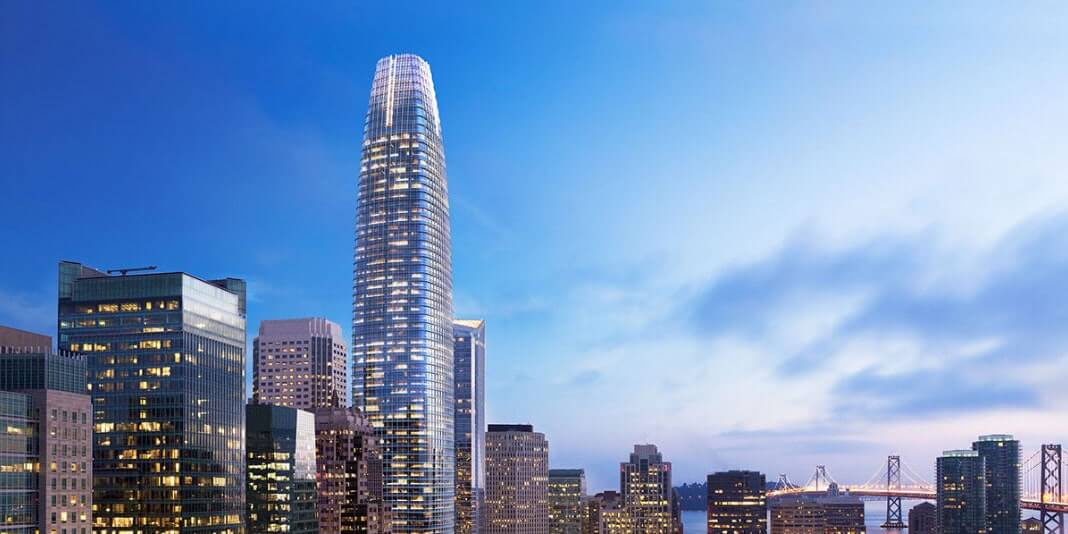 Image Source: Architectural Digest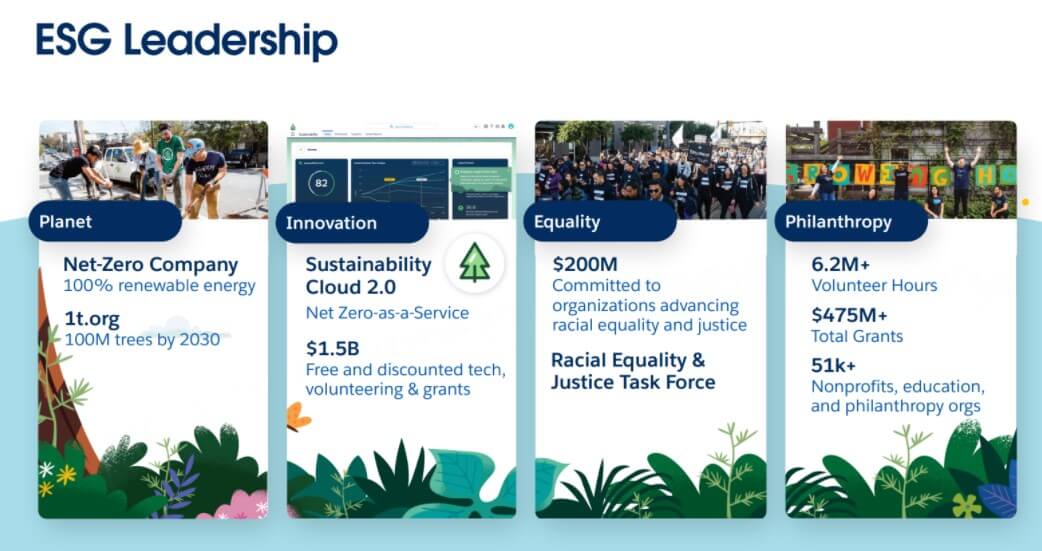 Image Source: Salesforce
As part of Salesforce's environment, social, and governance leadership, they plan to become a net-zero company relying on 100% renewable energy.
Salesforce is targeting to plant 100 million trees by 2030.
Salesforce has rendered more than 6.2 million volunteer hours.
Salesforce Market Share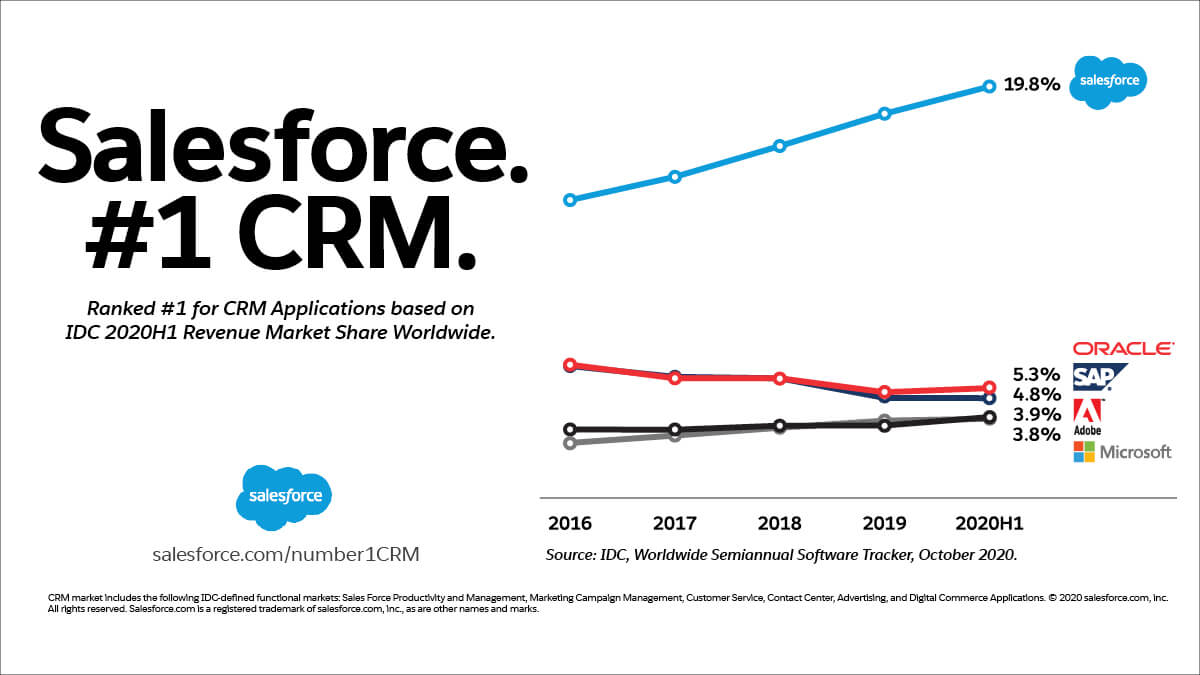 Image Source: Salesforce
Salesforce holds a 19.8% market share of the CRM category. This percentage is even more significant than when all its competitors are combined.
Salesforce has been the #1 CRM in the market for eight consecutive years.
Salesforce Products and Acquisitions
Salesforce provides a wide range of business solutions for industries and needs, all integrated on a single platform.
salesforce strongest product portfolio
The Salesforce Service Cloud holds the highest revenue growth at 23% at $6.4 billion.
Multi-cloud adoption increased by a 97% increase in revenue for 7+ cloud platforms.
The Salesforce Customer 360, which includes 12 Industry Clouds and Solutions, is the complete Salesforce product.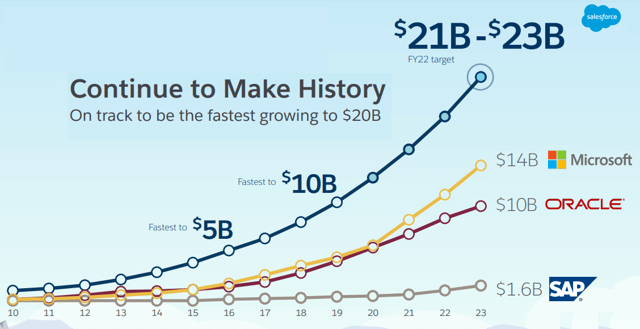 Image Source: Salesforce
Salesforce has acquired a total of 69 companies.
Slack is the highest acquisition of Salesforce priced at $27.7 billion.
Salesforce acquires the #1 analytics platform Tableau at $15.7 billion.
Salesforce Annual Revenue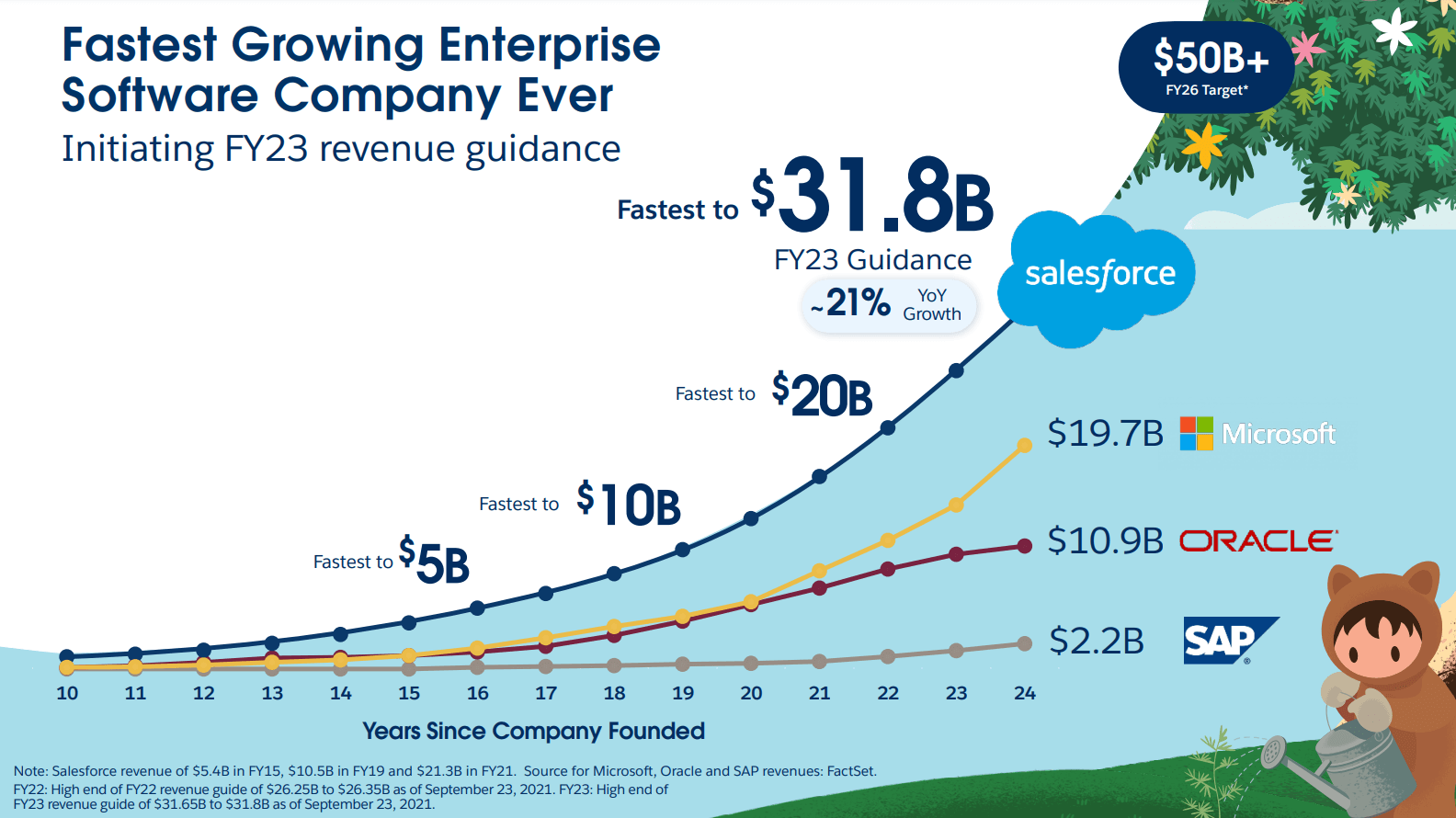 The fiscal sales revenue of Salesforce grows on an average of 26% per year.
Salesforce has gained a record-breaking sales revenue of $21.25 billion for its 2021 fiscal year.
Salesforce raises the FY22 revenue target to a range of $26.25 billion to $26.35 billion.
For FY23, the revenue target of Salesforce is $31.65 billion to $31.80 billion.
Americans mainly contributed to the revenue of Salesforce as it amounted to $14.74 billion in Salesforce spendings for 2021.
The Salesforce revenue in the Europe area is the second-largest at $4.5 billion with a 31% growth rate.
Salesforce Partners
They are the companies certified by Salesforce to implement its platform for you. The growth of the Salesforce Partner ecosystem is Let's take a look at the 2021 Market Data of Salesforce Partners worldwide:
There are 1,939 Salesforce Partners in the world.
The highest Salesforce certification is the Certified Administrator at 97,846.
The Salesforce Partner that received the highest amount of reviews made by customers at 392 in Salesforce AppExchange is Sales Optimizer.
The Top 5 Certifications fall under Certified Administrator, Platform Developer I, App Builder, Sales Cloud Consultant, and Service Cloud Consultant.
Approximately 1,145 Salesforce consulting companies are operating in the United States, the highest country user of Salesforce.
There are 79,241 Salesforce completed projects worldwide.
The number of Salesforce-certified professionals is 73,165.
Trailhead, the leading website to learn Salesforce, has 3.6 million users.
IDC reports that the Salesforce partner ecosystem will create $1.6 trillion in new business revenues and 9.3 million jobs worldwide by 2026.
An average project cost for Salesforce implementation is around $5,000 and upwards.
There are over 15 million Trailblazers in the world.
If you are looking for Salesforce Partners, here's a list of recommendations based on the Salesforce Product:
Conclusion
That's it for our list of essential statistics for Salesforce. With its annual revenue of $21.25 billion, Salesforce has proved itself a CRM giant that looks out for businesses and the world.
As businesses worldwide continue to invest in digital transformation, Salesforce looks well-positioned to continue being a leader in the CRM market.
Need help finding a Salesforce Partner?
If you need more help to find other Salesforce Partners based on your location, Salesforce product need, and service type, feel free to use our Partner Search Tool. You can leave your contact information and project details, and we'll connect you with the most suitable based on your project needs.
Want to be part of our Worldwide Directory for Salesforce Partners?
We offer membership and advertising opportunities to maximize your online visibility and lead acquisition. We can help you appear on Google's first page results of Salesforce search keywords, promote your business, and give you high-quality leads. Send a message at hello@crm.consulting to get your Salesforce Consulting Company at the forefront.