Salesforce Partner
H+W CONSULT ist seit 2001
auf die cloudbasierten Lösungen von Salesforce spezialisiert und zertifizierter Consulting Partner. H+W bietet ein komplettes Spektrum an Dienstleistungen rundum Salesforce und ist insbesondere Experte für technisch anspruchsvolle Projekte sowie Salesforce Integrationen in bestehende Systemlandschaften.
# Focus
# Service lines
11.11%
11.11%
11.11%
11.11%
11.11%
11.11%
11.11%
11.11%
11.11%
#11.11% Einstein Analytics
# Salesforce Expertise
# Portfolio
Key clients:
# Geographic Focus
Languages:
International: Germany
# You will also like these agencies
---
Help your business win in the cloud
The leader in china for salesforce solution consulting. Our experienced consultants help you create an environment that allows your people to excel, through integrated CRM solutions that bring together individuals, teams, processes & technologies.
Certified Professionals: 11
AppExhange Reviews: 1
AppExhange Rating: 5
International: 9 Countries
---
Salesforce Experts, doing it right first time.
Get the most value out of your Marketing, Sales and Service activities. Waeg is specialised in maximising the business benefits from investments in the salesforce platform, from eCommerce, Sales, Service & MarketingCloud & SocialStudio globally.
Certified Professionals: 149
AppExhange Reviews: 21
AppExhange Rating: 4.8
International: 8 Countries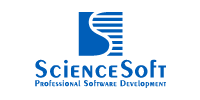 ---
Salesforce consulting and development for your digital success
ScienceSoft is a US-based IT consulting and software development company founded in 1989. We are a team of 700 employees, including technical experts and BAs.
Certified Professionals:
AppExhange Reviews: n/a
AppExhange Rating: n/a
International: 11 Countries
---
Connect your Products | Internet of Things | Salesforce PDO | Heroku VAR
We help you implementing the next generation of cloud applications and mobile apps. We're specializing on the Salesforce Platform, Force.com and Heroku. We're Salesforce PDO and Development Partner for your ISV Apps and Heroku Enterprise VAR in Germany.
Certified Professionals: 5
AppExhange Reviews: 8
AppExhange Rating: 4.8
International: Germany
---
Consulting, integration
Atos Customer Experience ACE is our end-to-end offering to deliver customer centric solutions in sales, service, marketing and beyond to help organisations drive improved customer experiences and optimise processes using Salesforce and Force.com Platform
Certified Professionals: 310
AppExhange Reviews: 5
AppExhange Rating: 4.8
International: 23 Countries