Professional Service Automation | Salesforce Core Solutions | Integrations
Highlights Project Controlling | Resource PlanningTime & Expense ManagementTalent Acquisition Lightning ExperienceSales & Service Cloud | CPQPardot | Marketing Cloud entero Integration Frameworkour managed package integration solution Description entero AG is an owner-managed business and IT consultancy. We support our clients successfully for 15 years from conception to implementation - often based on SAP and SF.com. With our international network we deliver globally with local expertise. The combination of our understanding of ERP systems and SF.com for many years as well as process and industry expertise allows us to deliver efficient and comprehensive solutions. entero is the German sales and integration partner ofKIMBLE, the first end-2-end solution for managing professional services based on SF.com optimizing business processes that will provide a foundation for your company's growthCONNEXYS, the market leader in solutions for talent sourcing, selection and retention - helping companies with smart recruitment, matching and sharing of candidates with partnersWe offer FIVE PRINCIPLES of Professional Service Automation:·Recruiting: Find the best employees for your company·Chargeability: Optimize your employees workload·Delivery: Achieve the best results for you and your customer·Controlling: Establish transparancy with comprehensive analysis and reports·Cash Flow: Strenghten your financial power
Certified Professionals

42

Salesforce Certifications

142

Appexchange Reviews

10

Appexchange Rating

4.9/5

YEAR OF FOUNDING

2001

Email

info@entero.de

Phone

+49619677125800
# Focus
# Salesforce Expertise
#25% Preconfigured Solutions
# Certifications (142)
# Portfolio
Key clients:
# Geographic Focus
Languages: English, German
International: Germany
# You will also like these agencies
---
Salesforce Partner
H+W CONSULT ist seit 2001
auf die cloudbasierten Lösungen von Salesforce spezialisiert und zertifizierter Consulting Partner. H+W bietet ein komplettes Spektrum an Dienstleistungen rundum Salesforce und ist insbesondere Experte für technisch anspruchsvolle Projekte sowie Salesforce Integrationen in bestehende Systemlandschaften.
Certified Professionals:
AppExhange Reviews: n/a
AppExhange Rating: n/a
International: Germany
---
Business. Experience. Technology.
PwC takes your business further as they build customer-centricity and adaptability directly into your systems and processes, keeping you ready for what's next. Their consulting company will solve the most complex business problems with industry expertise, automation capabilities, and profound experience. Since 2013, PwC has won the most Salesforce Innovation Awards as compared to any other partner. The company goes end-to-end to ensure every implementation is done with certainty and adapts to future business upgrades.
Certified Professionals: 2797
AppExhange Reviews: 18
AppExhange Rating: 4.8
International: 45 Countries
---
business. people. technology
adesso is one of the leading IT providers in the German-speaking market and focuses on the core business processes of companies and public administrations by providing consultancy, system integration, and custom software development services.
Certified Professionals: 156
AppExhange Reviews: 25
AppExhange Rating: 4.8
International: 2 Countries
---
Infosys provides end-to-end Salesforce® Consulting and Solutions
Digitally transform your enterprise and lead your industry with the help of the global team of experts of Infosys so you can change the customer experience you offer and succeed in the new normal. Infosys Salesforce service offerings can help ensure a superior experience to your customers, employees, and partners. They have reinforced our capabilities and offerings in driving outstanding customer experiences by acquiring Fluido and Simplus.
Client feedback from AppexChange:
"Infosys provided domain and industry expertise to craft scalable solutions for our new Salesforce implementation. The team was extremely knowledgeable on Salesforce products and solutions but also learned and recommended to pivot to new capabilities as they were released during our initiative."
Certified Professionals: 6828
AppExhange Reviews: 388
AppExhange Rating: 4.9
International: 17 Countries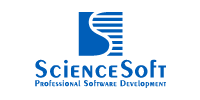 ---
Salesforce consulting and development for your digital success
ScienceSoft is a US-based IT consulting and software development company founded in 1989. We are a team of 700 employees, including technical experts and BAs.
Certified Professionals:
AppExhange Reviews: n/a
AppExhange Rating: n/a
International: 11 Countries