Driven to help customers maximize their Salesforce.com investments
Our Experience
Credo Consulting Group is driven to help customers maximize their Salesforce.com investments. We focus on aligning technology with process, balancing the inherent capabilities of Salesforce.com with a customer's unique processes and priorities. Our expertise lies within the Sales and Service Clouds, being a trusted partner to organizations which want to extend their sales, pipeline and customer support processes. We also have a passion for the Nonprofit Cloud and partnering with local nonprofits to engage their constituents and achieve their specific mission.
Why Us?
Credo Consulting Group takes a customer centric approach with each engagement, serving as a partner to companies looking to maximize their Salesforce.com investment. We are a small and nimble company, with the capability to differentiate ourselves by partnering with customers based off their individual needs. We deliver targeted and relevant solutions to their challenges while building trust in the Salesforce platform. We do this through continuous collaboration between customers, partners and the community. We believe in providing support at all stages of the project/product life cycle for all customers and keeping them updated and supported through new opportunities.
Certified Professionals

2

Salesforce Certifications

9

Appexchange Reviews

0

Appexchange Rating

0/5

YEAR OF FOUNDING

2018

Phone

704-775-6433
# Focus
# Salesforce Expertise
#25% Preconfigured Solutions
# Certifications (9)
# Portfolio
Key clients:
# Geographic Focus
Languages: English
International: United States
United States: North Carolina
# You will also like these agencies
---
Helping small to medium businesses achieve greatness with Salesforce
We help companies implement and manage their Salesforce.com investments. Our mission is to be your trusted advisor and help obtain greater utilization, adoption, and ROI so you can reach the next level.
Certified Professionals: 30
AppExhange Reviews: 21
AppExhange Rating: 5
International: 2 Countries
---
Where People & Opportunity Meet
Leveraging our experience to help fill our clients' requirements regardless of company size through staffing, projects, training, and managed services.
Certified Professionals: 17
AppExhange Reviews: 74
AppExhange Rating: 4.9
International: United States
---
People Matter, Results Count
Capgemini has been recognized as one of the Salesforce global strategic consulting partners for over ten years and has received multiple Salesforce Innovation Awards. Their strengths are focused on thought-leading transformational solutions to various sectors globally. With acquisitions of Itelios, LiquidHub, and Lyons Consulting Group (LYONSCG), the consulting company has a robust global network of over 2,500 certified Salesforce and cloud experts. This has dramatically enhanced their capabilities and solutions to meet their clients' digital customer experience needs globally, accelerating innovation and competitiveness.
Certified Professionals: 8256
AppExhange Reviews: 31
AppExhange Rating: 4.7
International: 32 Countries
---
Business Assisted by Technology
We're business and technology experts that help you create a single view of your customer across your organization. We help you to Connect your data, digitally Transform your business, and redefine your customer Experience to excel in today's market.
Certified Professionals: 6
AppExhange Reviews: 8
AppExhange Rating: 5
International: United States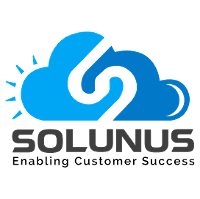 ---
A Dedicated Salesforce Partner
Solunus Inc. a dedicated Salesforce partner headquarters in Dallas, Texas. We relentlessly focus on understanding our clients' needs, backed by our Salesforce expertise, which empowers us to deliver customized solutions that create exceptional value.
Our highly skilled team comprises certified CRM architects, Salesforce professionals, project management experts, and IT specialists holding the Agile Scrum Master designation, who help our customers leverage Salesforce to enhance business performance.
Certified Professionals: 120
AppExhange Reviews: 20
AppExhange Rating: 5
International: 3 Countries