What is Salesforce Health Cloud?
With the rise and fall of Covid-19 cases worldwide and the entrance of new strains, the healthcare industry and businesses must quickly adapt to the unpredictable effects of the pandemic.
As we live in a world where COVID-19 testing, vaccination, contact tracing, wellness assessments have become constants, organizations in different industries must look for ways to do business operations safely.
As a response to this crisis, Salesforce has announced the launching of the Salesforce Health Cloud 2.0 at the Dreamforce 2021 event last September in San Francisco. This cloud-based technology can help the government and businesses bring people together safely and deliver care anywhere. This article has compiled everything you need to know and why implementing a healthcare CRM is vital today.
What is Salesforce Health Cloud?
The Salesforce Health Cloud is Salesforce's premier patient and member relationship platform. It combines the power and security of the cloud with social and mobile technologies to deliver a more personalized experience.
During the Dreamforce 2021, Salesforce announced upgrades and changes to the Salesforce Health Cloud, turning it into a solution built to address the pandemic challenges so that everyone can win in the new normal. This cloud solution was why the CRM company could physically hold the event.
Using this healthcare CRM, you will be provided with a complete patient record view, more competent patient management, a connected engagement experience, and a wearable device that reflects the patient's records.
Healthcare teams will have easier access to the data of patients or members, including clinical and non-clinical records, medications, health conditions, appointment history, and data from the EHR and other systems. This will empower businesses, governments, and healthcare facilities to provide more insightful care anywhere and on any device.
What are the benefits of implementing Salesforce Health Cloud in healthcare?
Salesforce Health Cloud benefits to Providers
We've listed down the three core advantages of the Salesforce Health Cloud.
Complete Patient View
Salesforce Health Cloud provides a 360-view of every patient.
• Make rich, contextual patient profiles
• Access collaborative care network and health timelines
• Connect patient data from the electronic health record (EHR)
• Integrate third-party data from medical devices and wearables
With a full view of the patient, you can easily access the correct patient information, current conditions, medications, appointment history, and communication preferences.
Salesforce Health Cloud works in sync with your health system's EHRs to make patient data easily referenced, actionable and current from any device. And medical instruments and wearables can connect directly to your Salesforce Health Cloud. It can even capture data from at-home devices, such as glucose levels, sleep patterns, and activity measures.
Salesforce Health Cloud delivers a complete and real-time view of each patient's health records, giving healthcare providers the data they need to provide care that improves outcomes for patients and populations.
Smarter Patient Management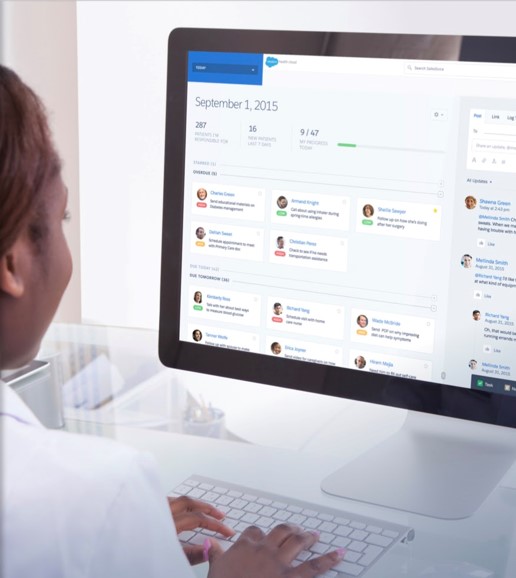 Salesforce Health Cloud makes it possible for healthcare providers to:
• Prioritize and organize tasks across all the needs of your patients
• Manage and segment patient populations
• Map out networks of personal and professional care providers
The Salesforce Health Cloud features a 'Today' page to provide a full-blown view of your patients and the most crucial tasks related to your patient population. With the Today view, you can decide efficiently by browsing the customized care plan for lessons and quickly acting on them. You also can manage and segment patient populations, such as sending a custom message to all patients with a particular disease to schedule regular check-ins.
And with the Salesforce Platform, you can review your patient conversation history-making coordination and patient handoffs manageable.
The Salesforce Health Cloud enables you to manage your whole patient population easily, personalize every interaction, and drive better outcomes.
Connected Patient Engagement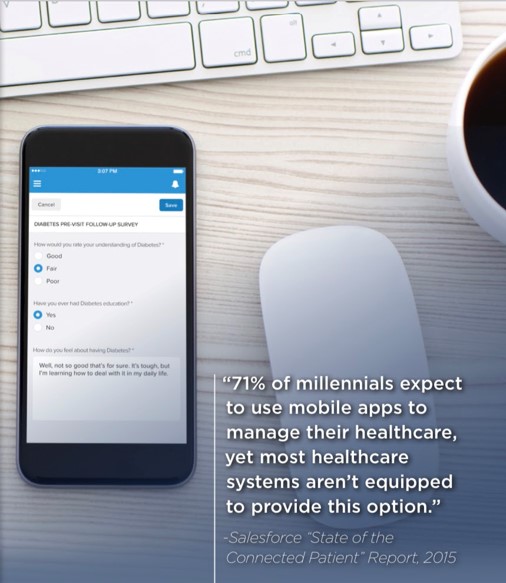 Healthcare information is made more accessible, improving workflows and outcomes.
• Collaborate seamlessly with patients and healthcare teams
• Assign and monitor tasks to caregiver networks
• Share secure and private messages using any device
Healthcare coordinators can securely collaborate and assign tasks across the caregiver network. This extends across the whole care system. You can efficiently work with your patients to track progress against care plans or health goals; communicate with licensed physicians, care coordinators, and even family members; and get your questions answered quickly by different specialists.
The Salesforce Health Cloud also extends to mobile platforms; you can send secure messages to patients' mobile devices, meeting their expectations for convenient communication, encouraging deeper engagement and accountability, and developing stronger relationships and loyalty.
Salesforce Health Cloud Benefits to Payers
With the help of the Salesforce Health Cloud, health insurance providers can enable a more proactive engagement with their members.
Scalable member care management programs
Personalized member services
Omnichannel member journey management
Salesforce Health Cloud benefits to biotech or pharmaceutical companies
The Health Cloud will become the foundation of many patient support programs. It will create a centralized system for HCP script information collection, patient information, track fulfillment, and patient opt-ins to reduce operational costs and deliver better results. This will be true for both large and small biotech and pharmaceutical organizations.
Here are some benefits for the biotech and pharma companies:
Scale and streamline compliance and adherence
Personalize the patient and HCP experience
Collect and analyze essential products and process information in a compliant manner
Salesforce Health Cloud benefits medical devices companies
For medical device organizations that want to build relationships, manage commercial processes, and support the patient experience, the Health Cloud CRM contribute to:
Empower sales and account teams with centralized data, task automation, and immediate insights they need on any device
Enable and leverage account-based forecasting with Einstein Analytics
Increase outcomes and positive experiences for patients through optimized, personalized patient programs
Essential Features of the Salesforce Health Cloud 2.0
Based on the upgrades to the Salesforce Health Cloud 2.0, here are also essential features that will significantly benefit businesses worldwide in the new normal:
Dreampass: It helps deliver a safer in-person event for employees, customers, and communities. This includes registration management, Covid-19 vaccine status verification, and testing vendor integration to help issue testing kits. With a personalized QR code, Dreampass allows admission upon confirmation. In case of possible exposure, notifications are also sent to the attendees.
Contact Tracing: It gives you a more safe and secure way of collecting data from individuals who are either infected or potentially exposed by creating a visual map of contacts to monitor outbreaks.
Vaccine Management: Governments and organizations all over the world can help manage vaccine programs which include inventory management, appointment scheduling, public health notifications, outcome monitoring, and more.
Value-based Care: Empowers healthcare organizations to personalize patient experiences and provide hybrid healthcare services in different care settings.
How is Salesforce used in healthcare?
In the new average era of care, healthcare organizations need to work smarter and more productively. Salesforce launched a survey with more than 1,700 US adults with health insurance and primary care physicians to determine how they currently engage with their providers.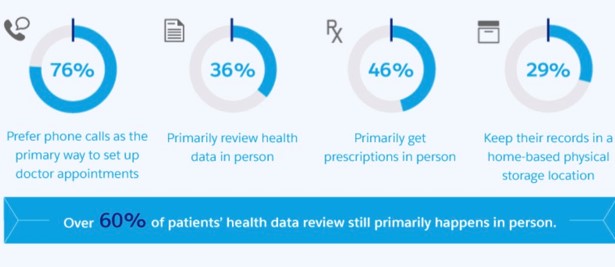 Source: Salesforce
The patient-doctor relationship still revolves in twentieth-century technology, with patients interacting through person-to-person or phone calls. This traditional approach can limit a patient's ability to receive information and receive care the way they want it.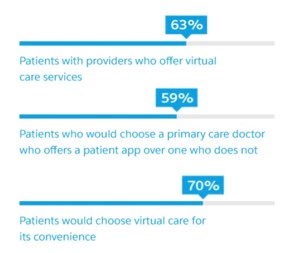 Based on the survey results, patients now prefer virtual interaction for convenience. With the Patient Management Software, Salesforce transforms healthcare by creating more solid relationships between patients, members, and healthcare providers. It converts the healthcare industry to become more innovative care providers to meet the pressing demands of today's challenges.
Is the Salesforce Health Cloud a cloud service?
Health Cloud is designed to manage multiple healthcare and life sciences cases and is built on Salesforce Service Cloud.
The Developer Success Platform provides flexibility to quickly create and customize trusted business apps, enabling you to create a personalized experience for your healthcare services.
Salesforce Health Cloud Pricing

It can cost you a minimum of $300 to $450 per user and month. Contact Salesforce today to get a demo.
Featured Salesforce Consultant for Salesforce Health Cloud
CloudMasonry
CloudMasonry is a leading provider of Salesforce consulting services for large and small organizations across the US. We leverage our experience with cloud-based systems to help companies discover more significant value in their digital investments. With experience that spans across all major industries, CloudMasonry combines deep enterprise consulting experience with a collaborative approach to project delivery.
iTechArt Group
iTechArt Group has more than ten years of experience in delivering customer-centric and next-gen Salesforce solutions. Their team comprises 80+ certified Salesforce Consultants, Architects, and Developers who have the necessary skills to dive into your Salesforce implementation needs. They provide a full range of Salesforce consulting services from consulting on implementation, migrating the existing solution to Salesforce or integration with third-party tools, configuration and customization, audit services, custom development, staff augmentation, full support, and managed services.
TechForce Services
TechForce Services is an Australian-based Salesforce consulting company with quality Salesforce services from migrations, integrations, analytics, and staff augmentation. They combine their cross-cloud consulting experience and industry-specific solutions and offer end-to-end digital transformation strategy, consulting, interactive, technology, and operations services across the core verticals of Education, Financial Services, and Government sectors.
Manras Technologies
Manras is a Summit (Platinum) partner, who has won the APAC Partner of the Year award for 2021. We have diverse experience in multiple industries like Real Estate, Hi-Tech, Manufacturing, Insurance, non-profits, logistics, travel, Healthcare, etc.
Stratiform
Stratiform is here to show you there's a better way. Personal, face-to-face long-term partners that speak your language. They align your business with Salesforce, allowing for growth and the change the future will bring.
Conclusion
Adopting a Healthcare CRM can provide you with multiple advancements and upgrades on how you do patient care. Find the best Salesforce consulting firm to help you implement the Salesforce Health Cloud Solution. Feel free to search for the perfect one for you on CRM Consulting's worldwide directory of highly trusted consulting companies!