Reaching the front page of Google
Salesforce, the global leader in CRM, shared with us a new IDC study that projects that the CRM company and its partner ecosystem will open a massive 9.3 million jobs and $1.6 trillion in business revenues worldwide by 2026.
The study also highlights the immense growth for Salesforce demand and could generate $308 billion this year and more than double in 2026, at $724 billion.
Nowadays, Salesforce partners implementing cloud services to customers is five times as big as Salesforce itself. In 2026, it is predicted that the population will be six times larger. On top of that, the business revenues of Salesforce consulting companies will also experience immense growth making $6.19 for every $1 Salesforce makes by 2026.
At CRM Consulting, we have made it easier for businesses to reach out to Salesforce Partners worldwide by using good SEO practices. This article is created to help Salesforce Partners thrive on digital and prepare your SEO game for 2022.
What is SEO? A Quick Reminder


In the Digital Age, technology breakthroughs and innovations are seen and felt by the minute. Because of technology, people now have the power to search for every information they want to have through search engines. In September 2021, Google achieved the highest global market share of 86.64% compared to its competitors Yahoo 2.75%, and Bing 7%. This means, if your business heavily relies on digital exposure, you need to improve your website's SEO performance.
The goal of search engines, like Google, is to serve more related content depending on the search queries of their searchers. SEO is short for Search Engine Optimization. It is the process of improving the quality and quantity of your website traffic through organic search engine efforts and results.
Search Engine algorithms have become more intelligent, and Google rewards websites to appear on Google's first page results if it is more relevant to the search keywords. Salesforce Partners that want to stay or be at Google's first-page result should consistently create more relevant and more innovative content for their audience.
Since you are offering Salesforce services, you need to understand the search mindset of Salesforce service seekers to know the best content or strategy that you need to do to encourage them to click on your website.
Why is SEO Important?
In the digital landscape, getting your business found online is very competitive but highly critical. Every day, more than 252,000 websites are being launched globally, so it's becoming difficult to climb on top of search results. Also, you are competing against 1,919 Salesforce Partners worldwide for the same niche. SEO helps you stay competitive and on top of your game.
SEO is also related to organic efforts. If you do it well, Google will reward your website and serve you on top of businesses' search results associated with Salesforce Implementation. Thus, there will be a lesser need for you to spend your budget on Search Engine Marketing (SEM) platforms like Google Adwords.
The Hierarchy of SEO Needs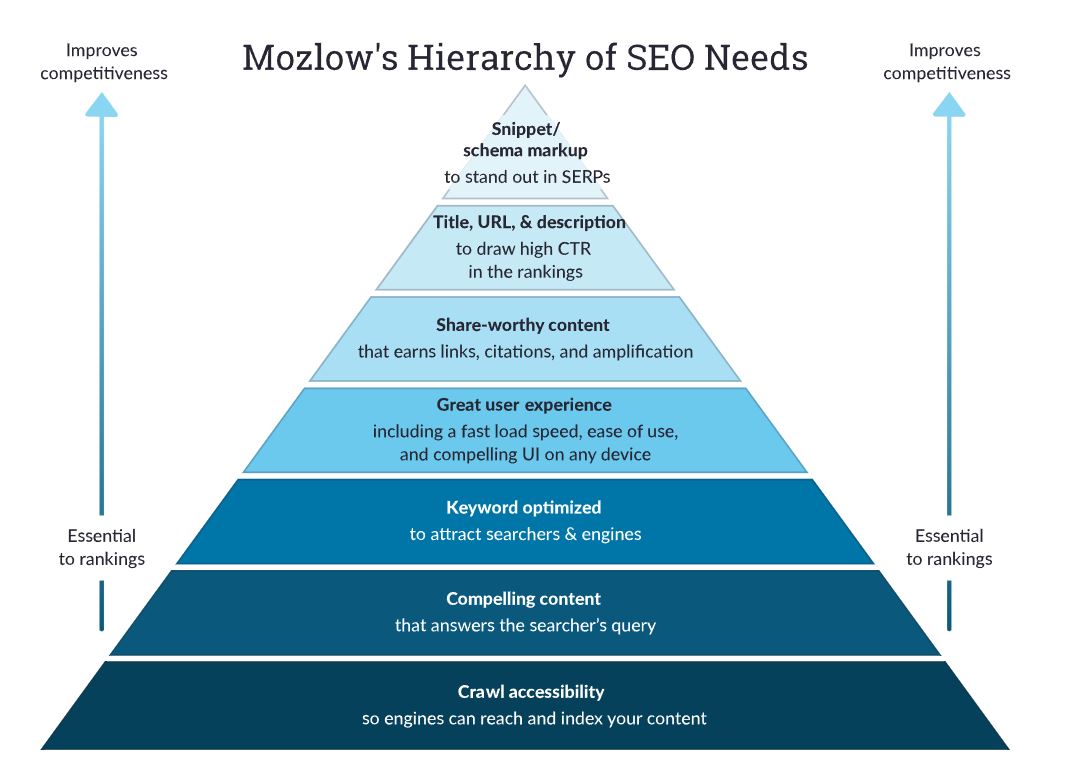 Source: Moz
You are probably familiar with Maslow's Hierarchy of Needs, a psychology theory that prioritizes the most fundamental human needs. This one is similar to that which Moz founder Rand Fishkin created. He identified seven steps on how you should go about SEO.
According to Mozlow's Hierarchy of SEO Needs, you can follow these steps to become successful in SEO:
Make search engines read your website through crawling
Create relevant and informative content that answers the searcher's question or problem
Make sure your content is keyword optimized to attract your searchers & engines
Have a great user website experience, including a fast load speed and compelling UX
Invest in making share-worthy content that earns links, citations, and amplification
Strategize how you do your title, URL, & description to draw high CTR in the rankings
Implement snippet/schema markup to stand out in SERPs
How do search engines rank your content?
In a nutshell, SEO ranks content based on discovery, relevance, and authority. These three factors are correlated to specific actions and are dependent on one another: Crawling, Indexing, and Ranking.
First Stage: Discovery Stage
This is when search engine bots discover your content by crawling it. Crawling is the action made by web crawlers, a web spider/robot program that browses the world wide web using a systematic and automated approach.
Second Stage: Relevance Stage
This is when search engine bots decide how relevant your content is by indexing it based on signals and keywords.
Third Stage: Authority Stage
This is when search engine bots rank your content in search results based on your website's SEO authority. This means building enough credibility through backlinks and other factors Google uses to determine if your website should rank high enough on search results. Authority directly impacts ranking strength.
6 Must-do SEO Steps for Salesforce Partners in 2022
Google cares about E-A-T, which stands for expertise, authoritativeness, and trustworthiness of a website and its content. EAT is a great guiding principle for creating high-quality SEO content that answers your audience's search queries.
SEO is a long-term strategy. It can take weeks or months before you start seeing results. Ranking organically takes time, so it's essential to start as soon as you can. Your SEO strategy should depend on how established your Salesforce Consulting Company is online and what resources you can dedicate to SEO. A healthy SEO approach balances both relevance and authority. Focus on creating more relevant Salesforce content to be discovered by Google and earn backlinks from other websites.
Step 1: Assess your overall SEO performance
Analyzing the information of your overall performance and where you stand in the competition is vital before you develop your SEO strategies. Identify your strengths, weaknesses, and opportunities. This will help you solidify the strategy that you will be creating.

When crafting strategies, always think of the three different categories of SEO; on-page, off-page, and technical:
On-Page SEO: Any factors that relate to what is inside your website content. This includes your web pages, text, metadata, HTML tags, images, alt texts, and links.
Off-Page SEO: Any SEO activities are done outside your website. This includes referring domains, inbound links, brand mentions, and social media marketing.
Technical SEO: Any actions that are related to your website's core functionality and crawlability. This includes URL structuring, redirection, and structuring data mark-up, XML sitemaps, HTTPS, and mobile responsiveness.
To assess your website for SEO performance, you can use tools such as Ahrefs, SEMrush, Google Search Console, MOZ Pro, and more.
Keyword research is the guiding force of your SEO efforts. It gives you insights into what your audience is typing to search for queries about what you offer. Also, if nobody is searching for the content you put out, your website won't receive any traffic from Google.
It would help if you did Keyword Search Planning initially because it shapes your strategy on becoming more substantial on the best-performing keywords. It is the process of finding and analyzing search words/terms that people enter into search engines. Doing so helps you answer questions like what people are searching for, how many people are searching for it, what kind of format they want their information in, and how difficult it is to rank for that search query.
Some of the best keyword research tools that SEO experts use are the following:
5 Search Keywords of Businesses for Salesforce Partners
We'll be sharing with you some notable keywords that you can maximize for your next year. We tested five different Salesforce-related keywords using Google Trends. The data below shows that Salesforce Partner and Salesforce Appexchange are the most used keywords to date. Take a look at Salesforce Consultant also, and this was the first search keyword that searchers used way back in 2004.

Below are the top 20 recommended keywords related to Salesforce Partners and Salesforce Products with high performances in Ahrefs:
Keyword
Keyword Difficulty
Global Volume
Cost Per Click(US data)
Clicks(US data)
Clicks Per Search(US data)
Return Rate(US data)
Salesforce Partner
Medium
3.3K
$20
566
0.81
1.45%
Salesforce Consultant
Medium
2.3K
$25
1.3K
1.14
1.32%
Salesforce AppExchange
Medium
14K
$8
6.9K
1.00
1.68%
Salesforce Consulting Partner
Medium
600
$20
N/A
N/A
N/A
Salesforce CPQ
Medium
8.5K
$11
3.2K
0.88
1.42%
Salesforce Marketing Cloud
Medium
19K
$15
6.1K
0.85
1.29%
Salesforce Commerce Cloud
Medium
8.5K
$8
2.3K
0.94
1.29%
Salesforce Lightning
Medium
14K
$6
4.5K
0.89
1.36%
Salesforce Community Cloud
Easy
3.6K
$15
1.1K
0.95
1.21%
Salesforce Implementation
Medium
1.1K
$20
373
0.91
1.29%
Salesforce Nonprofit
Medium
1K
$9
513
0.97
1.20%
Salesforce Implementation Partner
Medium
300
N/A
N/A
N/A
N/A
Salesforce Implementation Consultant
Easy
200
$20
N/A
N/A
N/A
Appexchange Salesforce
Medium
3.2K
$11
1.7K
1.02
1.26%
Salesforce Editions
Medium
1.7K
$3.50
570
1.09
1.18%
Salesforce Products
Easy
3K
$5
1.4K
1.06
1.17%
Cloud Services Salesforce
Medium
4.6K
N/A
N/A
N/A
N/A
Salesforce Financial Services Cloud
Medium
1.6K
$13
836
1.10
1.12%
Salesforce Health Cloud
Medium
3.5K
$13
2.1K
1.17
1.36%
Salesforce Pardot
Medium
6.2K
$4.50
1.7K
0.86
1.11%
Step 3: Observe the content of other Salesforce Consultants and do better
Make sure to develop high-quality content that's bigger and better than what is available online. This technique can also be called The Skyscraper Technique.
Spot your competitors and find out what areas are they doing well. Run a competitor analysis to help you understand their strategy. The goal is to dig down how you can provide better content than what everyone currently has.
It would be best to look for their Organic search rankings, Online reviews, Blog strategy, Backlink profiles, User experience, Social media, Target audience segments, USPs, and other differentiators.
From a technical SEO perspective, you need to review their Site health, Page load speed, Technical SEO implementation, and Mobile-friendliness.
Step 4: Know the search mindset of Salesforce Service Seekers
Companies looking for Salesforce Implementation Partners usually revolve around four search categories: Search by Location, Search by Salesforce Product, Search by Consulting Service type, and Generic Partner List Search.
Make sure that your content has the right keywords to be present on all those search categories so you can easily attract high-quality leads.
Google Adwords A/B Test for Salesforce Search Categories
We did a Google Adwords Campaign A/B testing to determine which search category works best to get leads. We boosted both set for the same amount and same period. In this study, we tested for:
SET A - search keywords related to consultants of specific Salesforce products
Keyword example: Salesforce Marketing Cloud consultant
SET B - generic search keywords
Keyword example: Top Salesforce Partners

INSIGHTS
The average click-through rate (CTR) of the technology industry is 2.48% for Search Ads. SET A received a higher CTR even though the impressions and clicks were small. This could mean that the people searching for this keyword set are smaller but more likely to find a partner for Salesforce because they are already researching more about the Salesforce product. SET B received the highest clicks and impressions but received the lowest CTR. The reason for that is they searchers are most likely clicking on the organic results that Google serves.
We do not recommend going for the paid route because you can build your content organically and perform high on these keyword sets.
Step 5: Devise your link-building strategy
Creating great content is not enough anymore. Google cares about how attractive other people think of your content. Backlinks are one of the most important signals of Google to determine that your site is a high-quality resource that people use as a reference. The more backlinks you get and the more quality you get will result in a higher ranking.
Link building is the process of manually encouraging people to link to your website from theirs. The key to becoming effective is to create compelling content that complements manually building links. It is also a form of relationship building with the right people who will most likely link your content.
By becoming a member at CRM Consulting, we can give you the advantage of adding backlinks inside your profile and on our blog articles. Since we cater to a niche audience, we receive around 6,000 monthly organic visitors. We can promote your Salesforce Consulting Company and even create good content for businesses looking for a Salesforce Implementation Partner.
How many links does your content need to rank high?
To rank highly, you need as many links as the others in the first page results. Check the ranked links of the high-performing websites on your chosen topic, and this will help you determine your baseline targets.
Salesforce AppExchange, the leading marketplace of solutions and consultants, receives around 95.1K monthly organic traffic and has over 933K backlinks. That number seems too big, but did you know that you need at least 35K backlinks to rank for number 1.
It takes a considerable amount of time and hard work before you can earn those links. By doing so, you'll have a better chance of gaining revenue-boosting visibility and pushing your website on top.
Step 6: Get listed on Salesforce Partners directories
Make sure you are listed on Salesforce Partner listings that rank high on search engines. These websites can help you appear on top of Google's first page results. The best examples of online directories are Salesforce AppExchange, Clutch.co, The Manifest, G2, and CRM Consulting.
At CRM Consulting, we have Top Salesforce Listing pages that appear as first page results in Google for different major country users of Salesforce such as the United States, Australia, India, United Kingdom, and more! Try searching for "Top Salesforce Consulting Companies in (Location)" to check.
5 SEO tactics to avoid in 2022
1. Avoid Guest posts on spammy websites
Guest posts are great for building the high domain authority of your website, and it also brings traffic to your platform. It's one of the oldest and the most effective tactics that bring substantial benefits to your website.
However, you should avoid using spammy websites for your link building. The majority of those websites tend to have lower domain authority and won't significantly affect your website. It's good to do a fact check about their domain authority and page authority rating before pursuing the partnership.
2. Focusing too much on link quantity
You need to focus on building quality links rather than focusing on just increasing your number of links. Since search engines are improving and they focus on making sure links are of high quality.
Focusing on link quality will improve the overall user experience and length of visits as these links will add significant value to your website and your readers.
3. Using exact match anchor texts
Anchor texts are used for building backlinks and for internal linking. Now that the SEO game is advancing,
Earlier, it was workable that you could use an exact match for the link. For example, "best car insurance" was a relevant anchor text to link your insurance plans page. However, now things are changing after the exact match, keywords will bring no benefits.
Instead of this, you can write a long title and then link back to your page. So, instead of using "best Salesforce services," you can write— read our article about the best Salesforce services. When you use this type of text, it will improve the overall user experience.
4. Excessive use of keywords
Over optimizing a page with too many keywords is a big no in 2022. Search engines have improved their algorithms to focus more on overall user experience rather than on keywords alone.
You can still use a couple of main targeted keywords for your pages but avoid stuffing unnecessary keywords. Instead, you can use long-form Latent Semantic Index (LSI) to help you better visibility on search engines.
LSI is a computer program that is built to learn a variety of synonyms based on context. It uses mathematical methodologies to find relationships between words and concepts within a piece of content.
5. Creating Pages for every keyword
Earlier, this SEO technique was used as a catalyst to boost the overall ranking. Nowadays, if you try today to build pages for every page, it will destroy the website's indexability, and the majority of the crawl budget will get wasted.
If you have unnecessary pages for single keywords and they are not ranking well, consider removing them. Instead, you can focus on creating quality pages that will help you add more value to your website readers. Even if you optimize your single page using only 3-4 keywords, it won't affect your website's SEO ranking.
SEO Glossary
Crawl: Google crawls the web using web crawlers to discover new and updated web pages. Afterward, all the pages that Google has read will be indexed.
Web Crawler: A web spider that is an automated software that crawls (fetches) pages from the web and indexes them.
Index: Google stores all the web pages that it has crawled in its index. The index is an entry for each page that describes the content and location URL.
SEO: Search engine optimization is a long-term series of website improvements for content and overall user experience to perform better for search engines.
Keywords: These are words or phrases that people type when they are searching in the search engines.
What's the difference between SEO and SEM?
SEO is focused on optimizing your website to get the best organic traffic results so that Google will show it on its first page. It is more cost-effective compared to paid strategies and has a snowball effect. You don't pay to be in that space with SEO because Google is the primary determinant for that.
On the other hand, Search Engine Marketing (SEM) usually refers to organic and paid visibility and traffic via Pay Per Click (PPC) Ads.
Google Ads is the best example of SEM. Some Salesforce Partners target expensive keywords which might cost higher in the long run.
Conclusion
Every month, thousands of Salesforce consulting services seekers visit our website to find the right implementation partner. Because of good SEO, we can serve your clients worldwide and connect them directly to your Salesforce Consulting Company.
We offer membership and advertising opportunities to maximize your online visibility and lead acquisition. We can help you appear on Google's first page results of Salesforce search keywords, promote your business, and give you high-quality leads. Send a message at hello@crm.consulting to get your Salesforce Consulting Company at the forefront.