TechForce Services – An Overview
TechForce Services is an Australian Salesforce cloud technology consulting company headquartered in New South Wales. Founded in 2015, we focus on conceptualizing, designing, engineering, marketing, and managing digital products and experiences for high-growth companies in government, financial services, higher education, and manufacturing.
Over the last six years, our focus has been on a multivariate approach to strategic and tactical business development - the three Ps:
● Projects, including customization and support services.
● Products, including resale and support for partner products.
● People, including two out of nine Salesforce MVPs in Australia; the firm itself is founded by a Salesforce MVP and Hall of Fame Member (only two in Australia).
Strengths and Capabilities
TechForce's strength comes from the fact that not only are we a Salesforce strategic partner, but we also use in-house tools and techniques to offer configuration and integration capabilities best suited for our clients. We have integrated multiple systems - AutoRABIT, MuleSoft, Tableau - and built a solid partner ecosystem, including a strategic partnership with AWS for cloud services. Our core strengths include:
● Simplifying CRM - Salesforce, Microsoft Dynamics
● API and non-API led integration solutions, i.e., MuleSoft, Jitterbit
● Technical expertise in AWS cloud technologies, Salesforce Einstein, Tableau, Quip Analytics, and other partner solutions - MyGuide by EdCast, DevOps - AutoRABIT, Gearset, Copado, Jenkins, and more!
In the last two years, a significant push for us has been our headway into the Federal and State governments' agencies, such as Services Australia, Australian Taxation Office, and the Department of Defence. This has been possible only because of our specialist skills and certified consultants. We've over 100 Salesforce, AWS, and related certifications. We are also a member of the Professional Partner Program of the Australian Computer Society, hold the ACS Trust Mark in four categories, and have an ISO 9001:2015 certification under our belt.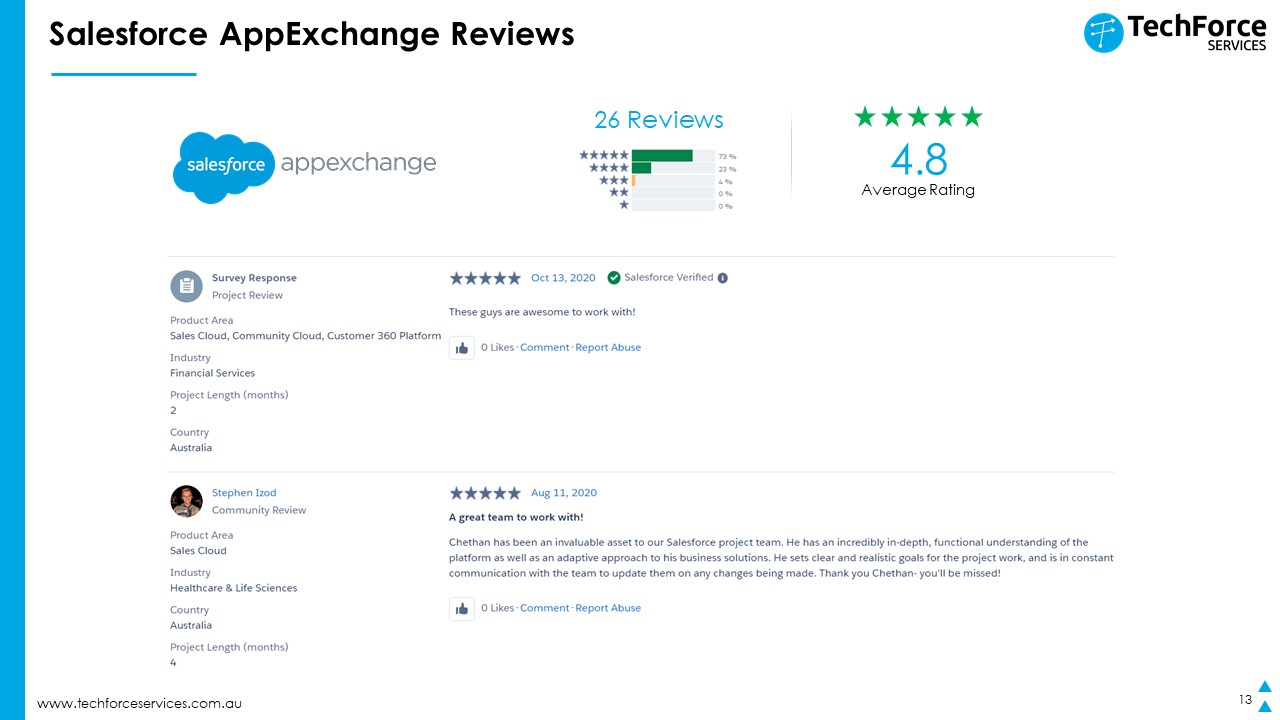 Our Growth Story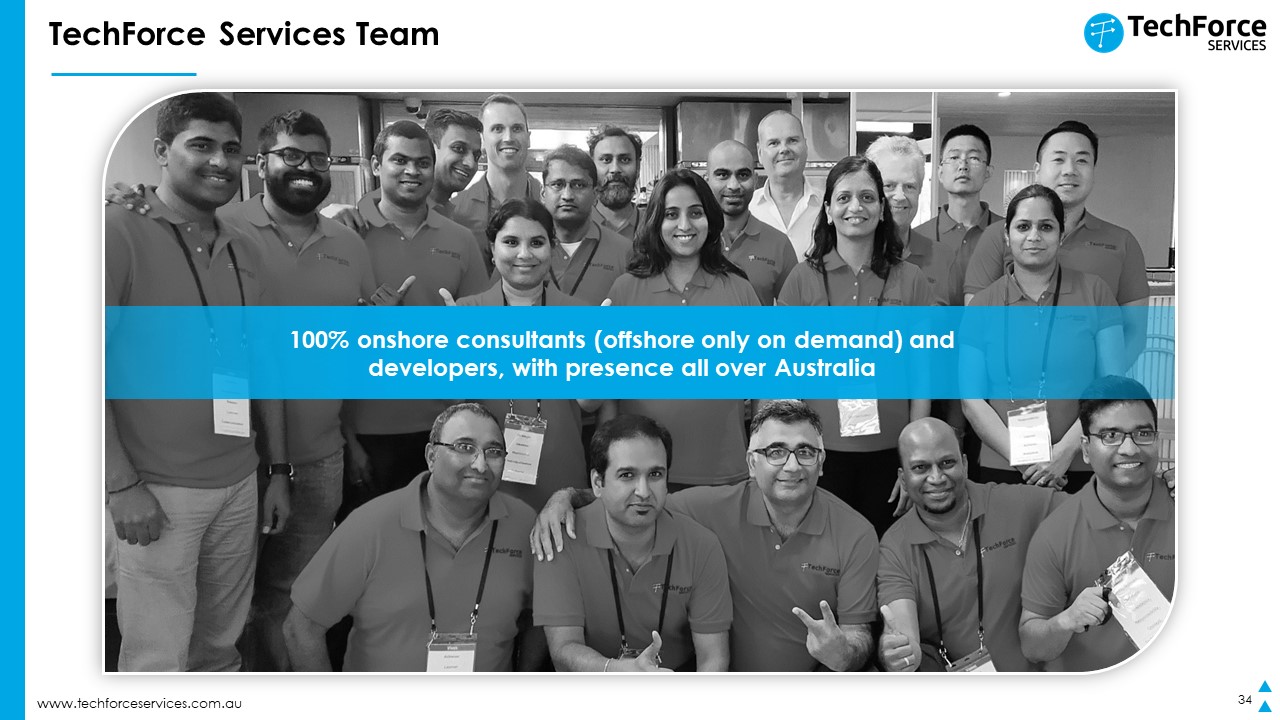 Our growth has been consistent. Over the last 12 months, we clocked an absolute growth rate of 638.2% and a CAGR of 94.5%. Our revenue has grown exponentially from A$0.34 million in 2016 to A$2.53 million in 2019. Our CSAT scores continue to be exceptionally high - 4.9 out of 5, testifying our quality delivery and customer satisfaction among the Salesforce community members. We also have an extremely high score on Salesforce AppExchange.
Skilled talent is the most prominent challenge organizations face today. Over the last 12 months, we have retained and attracted high-quality talent, growing our employee base from 15 to 40. This talent base complements our business goals and growth strategy, resulting in increased market penetration and customer base from 30 in 2018 and 42 in 2019 to 50 in 2020.
TechForce's Business Model
Our growth story so far has been possible with our strategic business development model based on McKinsey's "Three Horizon Theory."
Market penetration – Developing a solid understanding of the market before entry through competitive and market analysis to ensure that we have the required capabilities to succeed.
Diversification – Making the right and disruptive changes to the company's position for market diversification, for instance, pivoting to manufacturing and other industries from the core BFSI industry base.
Acquisition – Implementing diversified tactics such as networking to get new clients; securing a trusted advisor status to elicit referral clients; building a knowledge base of content and thought leadership through SEO, social channels, and blogs; outbound and inbound marketing; sponsorships and advertising; development mentoring; and community outreach.
We take pride in our excellence in execution, which rests on three solid planning pillars.
Operational Planning: It outlines our activities and targets for achieving the aims and objectives set out in the strategic plan – essentially, the framework for our daily operations. Our operational plan covers one year and supports and informs the strategic plan over a three-to-five-year period. The senior leadership team reviews the progress periodically based on the reports and adjusts budgeting to ensure that the ISO and related procedural and accreditation works can be performed promptly.
Strategic Planning: We have adopted McKinsey's "Three Horizon Model" for strategic planning to understand short-, medium-, and long-term goals. The leadership team sets goals and holds regular review sessions to understand and appraise the targets of the business. Based on the three Ps (Projects, Products, and People), a core strategic plan is formed for each, which rolls up into the corporate strategy. This strategic plan is broken down into short-, medium-, and long-term targets. For instance, developing a Federal Secure Agency approach may be the long-term target. Still, a path to a specific Defence Department Panel for STA Augmentation, which will fuel the "project" and "people" aspects of our business, would be the target area.
Tactical Planning: This core activity breaks the strategic plan into smaller, more viable components. It also creates action plans and activities to achieve tactical excellence to deliver on the outcomes required by the strategic plan. The critical elements of our tactical plan include:
● Sticking and delivering on the company mission
● Setting realistic objectives
● Assigning action items to dreams with timelines
● Creating real key performance indicators (KPIs)
● Allocating resources to achieve the objectives
● Determining the responsible/authorized party - (RACI)
Present and Future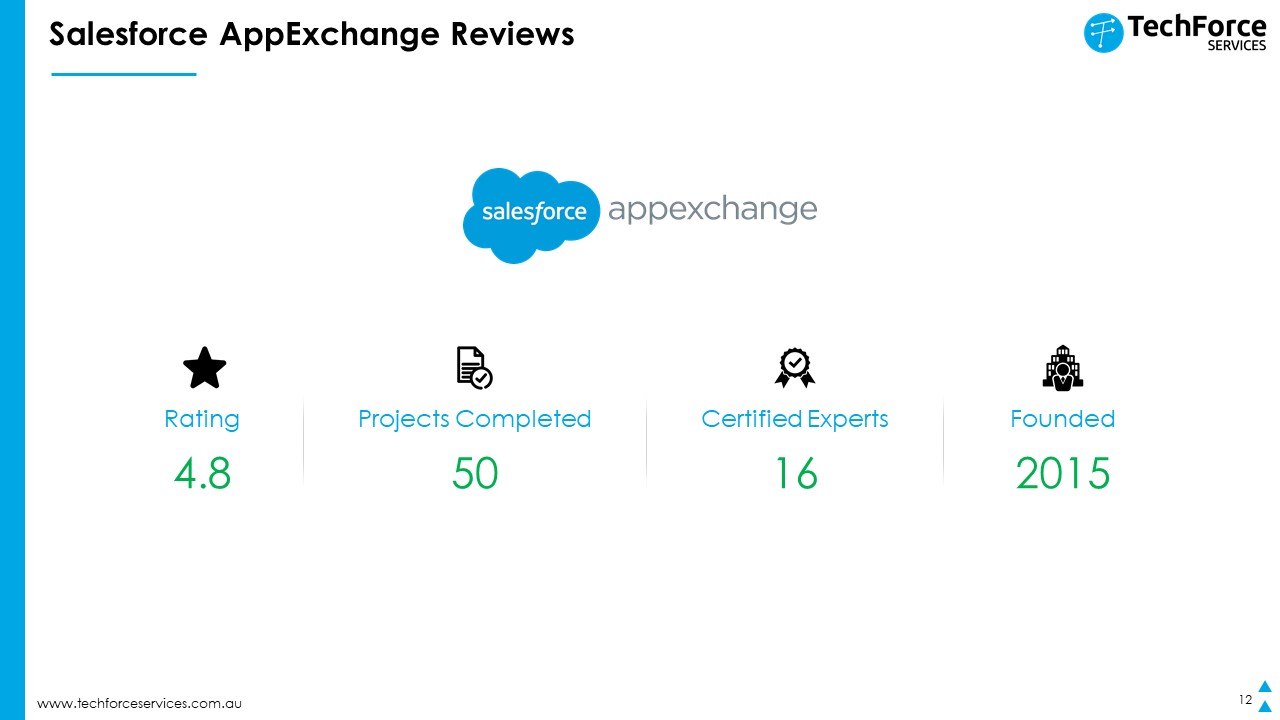 Our approach has served us well in the six years of our journey. FT500 has listed us among APAC's high-growth companies in 2021. We are also a known entity in the public sector, both at State and Federal levels, with customers including ServiceNSW, iNSW, TfNSW, Vic Treasury & Finance, DFAT, Services Australia, and more.
Get in touch with TechForce Services today.