As you can tell, social media is a powerful tool that doesn't often get the credit it deserves. With the right strategy and content, you can generate enough leads to grow your Salesforce consulting business, improve your company's reputation, and increase revenue. And guess what? You don't even have to be a social media marketing expert to do so. This article will show you how to leverage B2B marketing to find new clients for your Salesforce services.
B2B social media marketing is a fast-growing field. Nearly every business has a social presence now, and almost every business needs to grow. Staying ahead of the curve will involve embracing B2B social media techniques to build relationships with potential leads and strengthen relationships with existing clients.
Audience prioritization is one of the critical success factors for B2B social media because a large part of social media marketing is segmentation. In digital marketing (online ads, landing page optimization, etc.), it's easy to think that people segment themselves — that is, they come to websites or download apps and sign up for emails depending on their interests or demographics. The truth is that skilled marketers can use market research to build specific landing pages or offer ads that target specific user segments. The same goes for social media. Rather than using social media channels in a "spray and pray" manner, you must carefully craft your messaging for specific audiences.
Messages sent by any organization need to be coherent, consistent, and, most importantly, consumer-centric. Whether through internal communications efforts or external ones conducted through social channels, every campaign must maintain common objectives and messaging points.
When it comes to social media success stories in B2B, one theme emerges: You'll only be successful if you make a committed effort. To set realistic, actionable, and achievable goals, you have to dedicate not just time but also money.
Measurement, goals, and KPIs should be defined upfront to inform the planning and execution. In addition to that, it is essential to measure and benchmark the metrics over time.
When it comes to B2B social media adoption and success, technology is the dominant force. To meet your objectives, you must define your goals and KPIs, evaluate current tools and technology for reporting capabilities and identify gaps in execution.
Keyword strategy is a critical success factor in B2B social media marketing. While it seems unlikely that a keyword could have much impact in the non-transactional, relationship-oriented world of B2B marketing – social, search, and content marketing activities are all strongly influenced by the keywords we choose to use.
Social media is an extension of a company's brand. Social media should reflect the organization's values, mission, and objectives to be effective. Running an effective social media program is crucial to reaching your organization's customers and achieving your business goals.
1.LinkedIn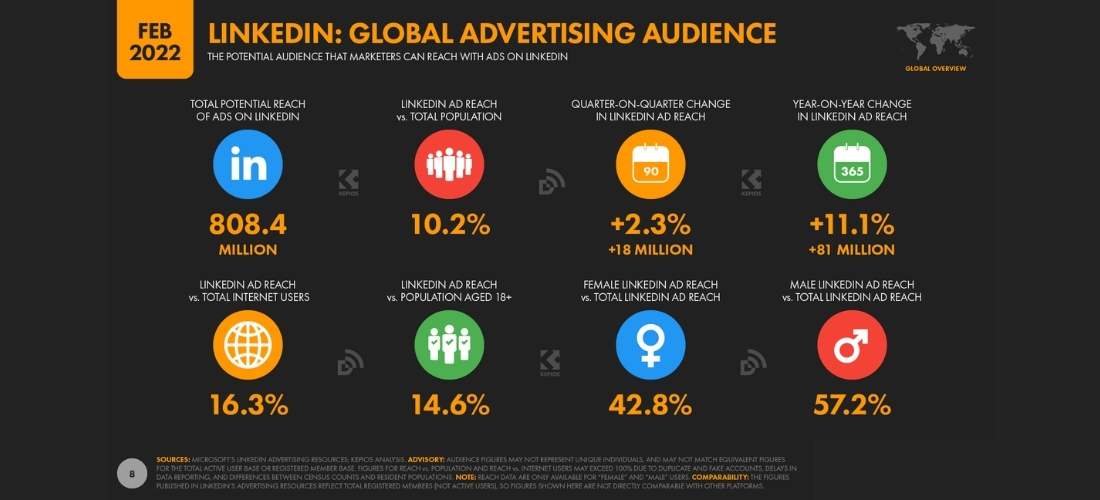 There are many social media platforms for B2B marketers to use, but which ones should you focus on? Which ones provide the best ROI for your business?
With more than 675 million professionals using LinkedIn, it's no wonder it's the number one social media platform for B2B lead generation. 80% of B2B leads from social media come from LinkedIn. And if you're looking to educate prospects on the value of Salesforce and your consulting services, LinkedIn drives more traffic to B2B blogs and websites than Facebook and Twitter combined.
LinkedIn marketing, especially for your B2B company, can be easier and more effective than you think. There are many ways to create engaging content, build a meaningful connection with your audience, and convert visitors into leads. Improving your marketing on LinkedIn is about making more innovative content and using the right kind of storytelling for your business that resonates with potential clients.
Here's what you need to know to drive results on Linkedin. Focus on content marketing, social selling, and supported by paid ads. You'll get more leads and close more deals. I've seen these strategies work in my own business. Give them a try!
Read How to Find Your Next Client on LinkedIn Guide for Salesforce Partners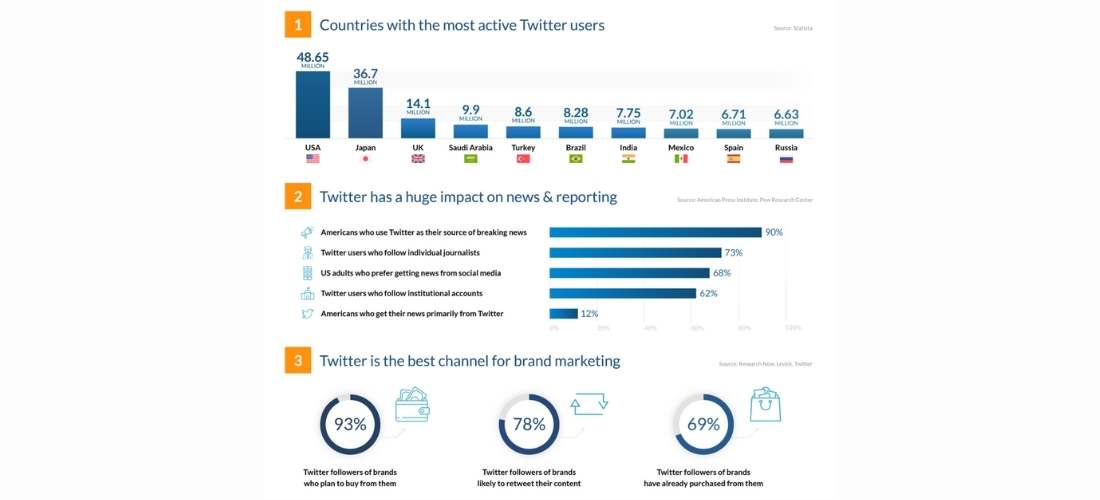 Twitter is the second most popular social media platform. 77% of B2B marketing professionals use Twitter, and over 288,000 CEOs use Twitter to connect with customers and develop influence. It's fair to say that there's a lot you can learn from these influential leaders. Contrary to popular belief, you can't just tweet and hope for leads rolling in. A Twitter strategy needs to be integrated into an overall content strategy that addresses your target audience's needs. It's not as simple as signing up for a Twitter account and tweeting away like a one-way street. Your company has a brand, customers, an audience, and a goal.
Twitter's advertising options allow you to build a tailored audience by importing your custom prospects from Salesforce or your Marketing Cloud database.
What are tailored audiences and re-marketing? A tailored audience is a way to target your ads with more precision. It is an easy way to connect with your prospects on Twitter and strengthen your B2B marketing results. Re-marketing (or retargeting) is an ad feature that shows ads to web users who have previously visited your site. By extending the online experience beyond a single visit, re-marketing allows you to show prospects that you're still around. Put these tactics together, and you'll better reach prospects who have already shown interest in your company.
3. YouTube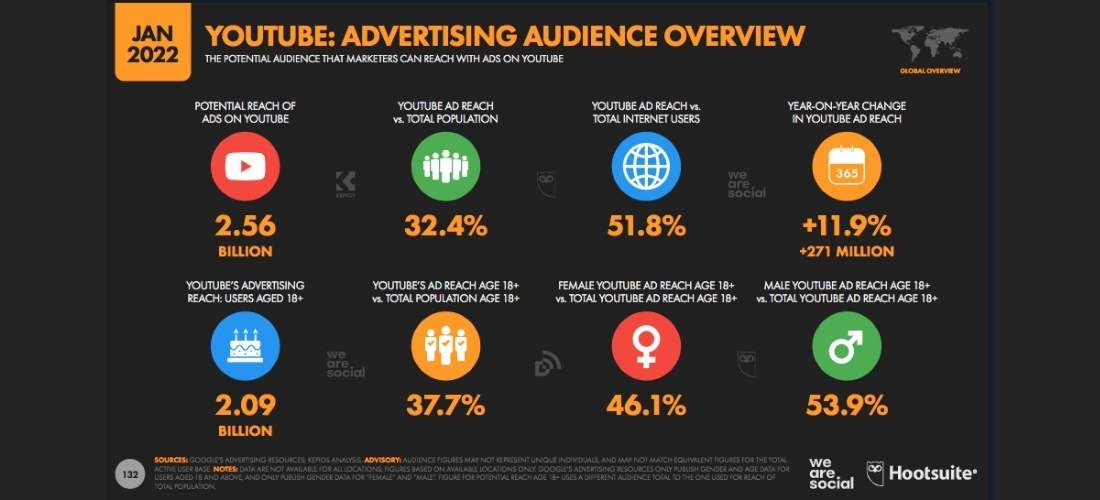 Given the enormous role that video marketing has come to play in modern digital marketing, intelligent B2B marketers should be paying close attention to how to best leverage YouTube.
YouTube can play a significant role in your PPC advertising and overall marketing strategy by helping you to bring in targeted traffic, establish yourself as the go-to expert in Salesforce implementation, and influence people to take action on your website. To ensure your videos are properly optimized and drawing in more traffic, first focus on educational or how-to videos that teach businesses about how Salesforce can help them achieve their goals and why they should choose to work with you. Next, make sure the videos reflect your business's unique value proposition — instead of showing a corporate sales message, try to use content that delights and surprises viewers.
4. SlideShare
You're in a very competitive field and need to market yourself with every tool available. This sales funnel will help you grow your consulting business by leveraging one of the most underutilized resources: presentations on SlideShare!
According to B2B Marketing, SlideShare receives 500 percent more traffic from business owners than Facebook, Twitter, YouTube, and LinkedIn. SlideShare is best known to content creators and marketers for hosting presentations about various topics. Every CEO, marketer, entrepreneur, and business owner in almost every industry uses SlideShare to share ideas, expertise, and knowledge to educate their audiences. But did you know that B2B marketers also use SlideShare to drive success in their marketing campaigns?
Thousands of companies use SlideShare to present their products and services, satisfy customer demand, attract leads, promote brand identity, build brand awareness and nurture leads. You can do it too by showing potential clients that you understand their needs and that you can provide unique solutions!
How often should B2B post on social media?
There are best days and worst days, but generally, Mondays are not ideal. This is the day when most people return to work after a long weekend. The last thing anyone wants to deal with is more work and email. Remember that you're trying to get people's attention, but also keep in mind that you're likely fighting for it.
Working out how often to post on your social media pages can be tricky. A study has found that the best posting days are Tuesday, Wednesday, and Friday between 10 a.m. and 4 p.m. It is recommended to post in the morning and around 9 p.m. for "playful" platforms such as TikTok and Instagram.
If you're a Salesforce consulting company with a global customer/client base, you'll need to work around varied time zones.
Keeping your blog updated with new posts is one of the key ways to use social media for your business. Business social media posts can be about exciting news related to the CRM industry, anything you're working on, or educational content that you want to share. You can also post blog articles from other sites — especially from respected sources — which helps get their content in front of a new audience. It's good to schedule these posts ahead of time so they don't disappear over weekends or holidays when there's less engagement on social media platforms. And you don't want your great post going unnoticed because it doesn't get views and shares when it first appears!
While there are many factors to consider when determining the best frequency of B2B marketing posts, the basic rule is: that if you aren't posting often enough to get results, you need to try something else. This is easier said than done, however. For instance, if you're using less-than-ideal content but are still disappointed with your limited engagement levels, it may seem like you have a perfect opportunity for more posts. However, the only thing that should change is your content strategy. It's unlikely that increasing the number of posts will improve overall results without changing the type of content you share.
10 B2B Marketing Tips for Salesforce Implementation Partners
1. Content Marketing
Since you're reading this post, you're probably a Salesforce partner, and you have an idea of what content marketing is. Studies show that content marketing drives lead three times better than outbound marketing approaches. Your online presence is critical to driving prospects to you instead of your competitors. However, creating valuable, original content is a tricky business, and you often need to juggle your responsibilities with client work. But don't be fooled into making excuses. Not only is content marketing cost-effective, but the right kind of content can increase the productivity of your whole team. Content marketing is one of the best ways to ensure you're not seen as just another sales pitch and can be viewed as a helpful resource.
CRM Consulting Recommendation
Creating helpful content around the Salesforce ecosystem and solutions will make it easier for people to find you online. Content marketing comes in many shapes and sizes, from videos and podcasts to ebooks and blogs. It's all about being original, genuine, and addressing pain points to solve real-world problems.
Salesforce has the potential to completely transform an organization and how it interacts with its customers, but getting the right message to the right audience is critical. If you're looking to promote Salesforce solutions to a very niche customer base, knowing your audience and employing the right digital marketing strategy is essential. Sophisticated features, data, and targeting options on social media platforms like Facebook, Google Ads, and LinkedIn make paid social a potentially powerful tool in the hands of marketers. But choosing your strategy carefully can be vital because you're investing your ad dollars to reach a carefully-chosen audience.
CRM Consulting Recommendation
To convince top companies to purchase your product, you need to know your audience and use the most effective advertising strategy. For example, suppose you're targeting niche markets like high-end agencies. In that case, LinkedIn is a great way to advertise because the people reading posts are more likely to be interested in your product. However, if you target more giant corporations with extensive knowledge of your product, it would be better to run Google Ads because people reading Google search results are more likely to be interested in your product.
3. Polls and Survey
Asking your customers direct questions is the simplest way to find out what they want. Be creative with your questions, and you will find the answers much more rewarding.
If you want to get the most out of your audience, polls and surveys are necessary. They're simple to create and can be used to collect valuable information. You'll see what your customers say about your products, services, content, and customer service. Plus, you'll learn more about audience insights and profiling like demographics and interests. The best way to get people to take a survey is by offering something in return, such as a prize draw or similar.
CRM Consulting Recommendation
Remember to start with a short introduction and a clear call to action to encourage participation. Include pre-filled out fields whenever possible to make the process smoother. It will make you sound more helpful and relatable. After the survey, make sure you analyze your survey results and review any feedback or comments made by your audience.
4. Influencer Marketing
As software and technology become a more integral part of the business world, companies are scrambling to create new features and update their user experiences – in essence, to keep up with tech. If you're looking for a way to add sizzle to your content marketing strategy, influencer marketing could be your answer.
Software companies can reach a new audience, inspire confidence in their product, and potentially increase sales by partnering with social media influencers. Influencer marketing works for products and services in any industry, but it's one of the most influential technologies or software companies' strategies.
Before purchasing a new product, customers will often seek the advice of an industry expert to help them make a decision. By partnering with those industry experts, you'll get your product or solution in front of the right audience – you'll also benefit from the loyalty, credibility, and influence that person has built with their audience over time.
5. Chatbot
Providing a better customer experience is a crucial objective for any business. It's what your customers are looking for. If communication is the key to success in sales, it's critical to understand how essential the right tools and methodologies are for achieving this goal.
Today, there are many types of interactions between customers and businesses. Most of these interactions occur over live chat, e-mail, and social media (Facebook Messenger, WhatsApp, etc.). Sometimes, it is not easy to deal with specific customer requests. That's where chatbots come in handy, allowing companies to respond to various customer inquiries and help them find what they need. How can companies use chatbots in their business? Companies are turning to chatbots to automate the customer service experience. Chatbots provide a way to improve efficiency and provide a more human buyer experience.
Check out the Best Salesforce Chatbot Apps.
6. Animated Explainer Videos
Technology companies can utilize animated explainer videos to explain the benefit and processes of how you work. Like the best salespeople, animated explainer videos deliver a clear message and a quickly engaging manner. Animated explainers can be a part of your next lead generation or social media campaign to turn viewers into leads and leads into sales.
Animated whiteboard explainer videos quickly become the go-to method for communicating complex topics simply and memorable. They blanket your entire sales funnel - from lead generation to customer acquisition. You can use them to sell technology products, explain a new service, or pitch an idea. An animated video will transform your brand's ability to connect with customers and keep you on their minds when they're ready to buy.
7. Live Video Show Series
Many partners think that hosting webinars is an excellent way to reach prospects and customers. But maybe you don't have time. If a 60-minute webinar sounds too much for you to commit to, this format is for you. Host a live show and publish videos with transcripts so that anyone can find them in video searches.
Talking on camera is a great skill to have. It's not as scary as it seems, and it can be your secret weapon in the industry. You already do it every day, so why not continue to do it regularly and make it a show? That way, you gain more expertise in the field and become known as an expert without ever having written a blog post or book about it.
8. Virtual Topic Roundtables
Want more buzz for your Salesforce consulting company? Engage your community for insight into the hottest topics facing their industry. Group discussions are a great way to produce content and start conversations that help others in their quest for success and are an excellent tool for creating content. Invite your colleagues to discuss hot topics your customers would like to discuss. If you let them participate, people will have the opportunity to get some insight and maybe even publicity for your company.
9. Software Comparisons
Finding the best software can indeed be overwhelming. Software comparison content is one of the most popular search queries. There are a lot of CRM solutions available today. Salesforce might be the most recognizable name that comes to mind. But there are also many other options like Microsoft Dynamics, SugarCRM, Zoho, and others. Because every business is different, it's essential to help companies make a more informed decision by assisting them to understand their options, what others consider the best option, and make a side-by-side comparison.
Remarketing ads is a pretty powerful tool that I firmly believe will increase the value of a well-executed ad campaign. Remarketing allows you to show ads to visitors who have come to your site. Done right, you can even target visitors that have completed or not completed specific actions on your website. You can display remarketing ads on Google Display, Youtube, Facebook, LinkedIn, and other platforms by adding a tracking code and configuring your ads. If you choose the right pages or actions to target your visitors with remarketing ads, it can help drive lead generation and reinforce your brand during sales. Often remarketing is an intelligent tactic when joined with other campaigns to bring people back or remind them of your brand.
Conclusion
Social media has broken down the barriers between companies and their customers. Because of that, it has transformed the way business must be done to engage with audiences. This is probably the biggest reason B2B businesses are so successful on social media. If you're a B2B company, always keep it in mind: you're talking to real people interested in hearing about your services and what you do as a business – not just sales pitches or promotions. You have an opportunity to build lasting relationships that will lead to solid business partnerships.
Get Listed at CRM Consulting
We make it easy for your business to be found online through our professional website. We bring you top traffic and leads by listing your Salesforce consulting company on our Top Consulting Listing pages. We take care of sales for you, so all you have to do is do what you do best, serve your customers! Get listed today in one of our featured plans, and we will help your business grow and get more online recognition.
Listing on our website is FREE, but we recommend you to opt for our Professional Plan ($75/month) and Enterprise Plan ($175/month). Your Best Choice is with us! To learn more about our Membership and Advertising Solutions, say hello to us via email at hello@crm.consulting.