Trusted Salesforce Consulting & ISV Partner
Veri Cloud is a professional Salesforce consulting company, doing Salesforce business in Europe, Middle East & US. Founded in 2012, our team has deep expertise in Salesforce products, salesforce implementation and integration.
Our ultimate goal is to help our customers success & get the most benefit from sales, service and marketing efforts with their clients by leveraging Salesforce products & platform.
We offer a full range of end-to-end Salesforce consulting services, product development, salesforce development, implementation and integration services.
Industrial Cloud Solutions
Having a vast variety of industry expertise, our talented team can design & develop tailored solutions for your business.
Salesforce Development Support
With our experienced team of Salesforce developers & admins, we can fulfill your custom development & support needs.
Systems Integration
Creating "Hybrid Apps" or connecting Salesforce with an external system, requires integration services. We are here to help you for a successful integration.
# Focus
# Service lines
# Salesforce Expertise
#25% Preconfigured Solutions
# Certifications (2)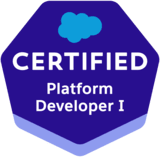 2 x Platform Developer 1 Certifications
# Portfolio
Key clients:
# Geographic Focus
Languages: English
International: turkey, India
# You will also like these Salesforce partners