E-Signature Apps Introduction
Salesforce is an extremely popular, powerful CRM that some of its biggest companies run their businesses on. With such great popularity comes many people trying to find workarounds to its most popular features. This has led to Salesforce implementing e-signatures into its core features like accounts, opportunities, etc. E-signatures are the most convenient, safe, and cost-effective way to verify legal documents. Using an app can save up to 100% of your time and money by saving you trips to the notary and mailing costs.
Below we've highlighted some of the best-selling Salesforce e-signature apps so you can get involved in this innovative way to manage every step of a customer's journey.
Quick Tips when choosing an E-signature App
When choosing a Salesforce e-signature app, consider several things. For instance, the following factors will help you choose the right e-signature app for your company:
Ease of use: The e-signature app must be easy to use and understand by everyone in the organization. The app needs to avoid errors and confusion when signing agreements.
Security: Security is always an essential factor when choosing any software application. You should select an e-signature app that ensures security by encrypting all data before sending it out for signatures.
Flexibility: A good salesforce e-signature app should allow you to customize it according to your needs. You can add new fields or remove unnecessary ones from the document. It should also support various formats such as PDFs, Word files, and HTML documents.
Integration: You need to ensure that the e-signature app integrates with other applications such as Salesforce, QuickBooks, etc. You can store all relevant information in one place.
Salesforce App 1: Adobe Sign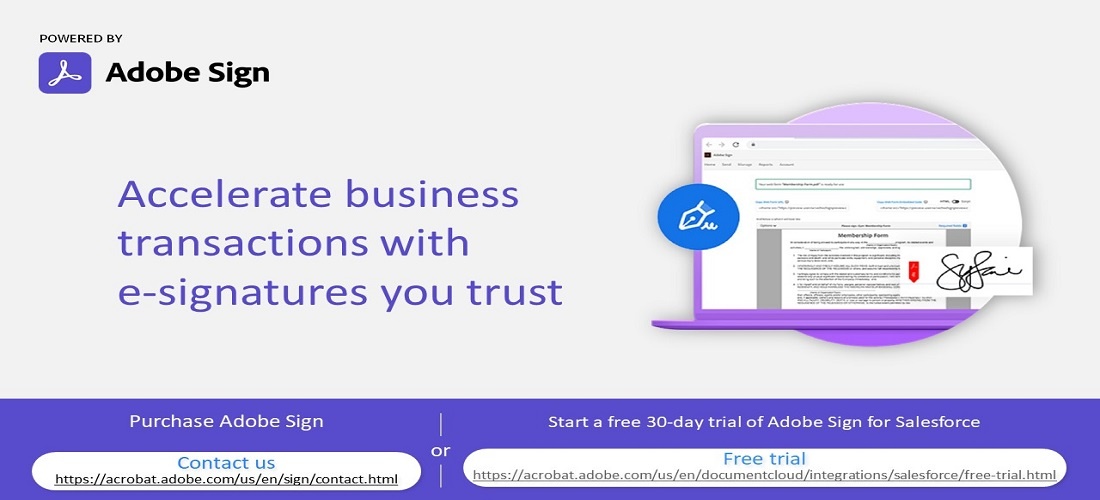 With Adobe Sign, the deal works for you. Your entire approval history is at your fingertips. You can use it to track performance, build an approval process, and increase productivity by changing how you create and manage your contracts. You can automate the entire sales process to close deals faster. This complete e-signature solution lets you create personalized documents for each signer and merge Salesforce data into documents. You'll be able to track contracts in real-time and get Chatter updates when your deals are viewed and signed. Once the contract is signed, Adobe Sign automatically stores and files the signed document directly in Salesforce.
Supported in Salesforce
Adobe Sign works across Salesforce clouds (Sales, Salesforce CPQ, etc.)
Lightning
Salesforce1 mobile
Community Cloud Portals
Health Cloud
Financial Service Cloud
Salesforce AppExchange Rating
4.9 out of 5 stars
Features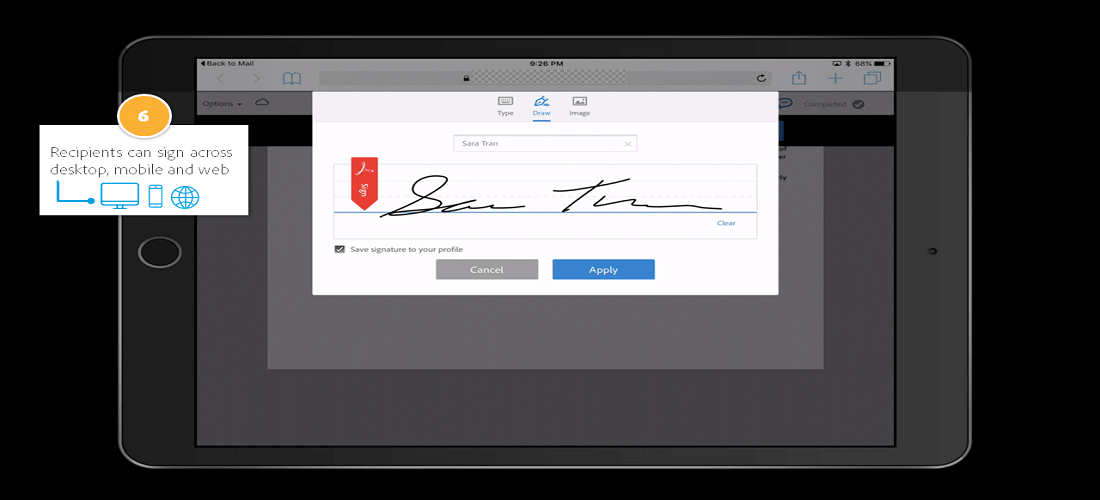 Merge Salesforce data into documents, map signer data back to Salesforce in the office or remotely with an Adobe Sign cloud app.
Track contracts in real-time and Chatter users get notifications when deals go live.
Automatically stores and files signed documents directly in Salesforce to create a seamless workflow.
Easily configure Adobe Sign workflows with Process Builder to automate document transactions.
Work and close deals anywhere in the world, in any language supported by Salesforce.
Smoothly integrate with your existing CPQ, CLM, and document generation applications.
Key Benefits
Automation will ensure data accuracy, reduce errors, and enhance the ability to audit contracts and agreements via merge mapping and data mapping. It will also improve compliance, reduce risk, and save money.
Sign and track deals in Salesforce without leaving the app with the Customer 360 platform's Salesforce integration. It works with Sales Cloud, Community Cloud, Service Cloud, and more.
Make digital workflows a reality. Deliver a great signing experience for customers, partners, Salesforce admins, and employees who send in documents for signing or approval. It's quick to set up and easy to use.
Available on Financial Services Cloud and Health Cloud
Available in multiple languages, few other apps are not available
Any Salesforce Admin can do the setup quickly using excellent documentation
Pricing
The app price starts at $34 per user per month. Still, you can also avail a 30-day free trial.
Conclusion
This is an older app available on AppExchange since 2006. It has amassed more than 3100 reviews. This is recommended for companies because it is easy to configure. The 30-day free trial is a must if you want to understand if it fulfills your need.
Salesforce App 2: Docusign
DocuSign, an electronic signature and digital transaction management service, collects signatures on contracts. With DocuSign, you can send, sign and track agreements and approvals anytime, anywhere, and from any device.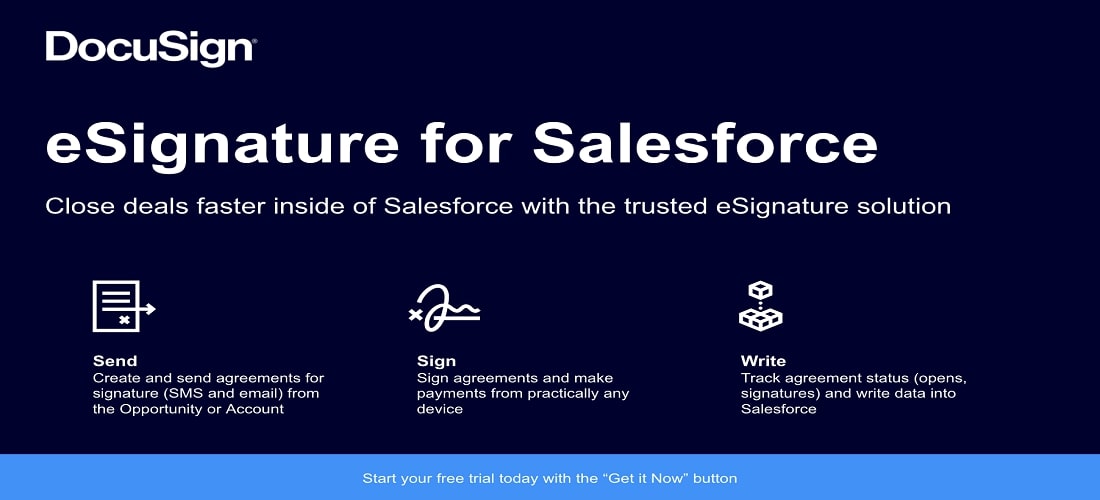 Arrangements can be quickly transmitted from Salesforce. You can track status can be tracked directly on Opportunity or Account. The signed contract would be auto-stored on the record with the integration available. Customers can use DocuSign to sign anytime, anywhere from any device.
DocuSign is the market leader in electronic signatures. It has around 700,000 customers. Salesforce is also a DocuSign customer and uses its technology across Sales, HR, Purchasing/Procurement, and other departments.
Supported in Salesforce
Sales /Salesforce CPQ
Service Cloud
Financial Services Cloud
Experience/Community Cloud
Government Cloud
Lightning
Salesforce1 mobile
Salesforce AppExchange Rating
4.9 out of 5 stars
Features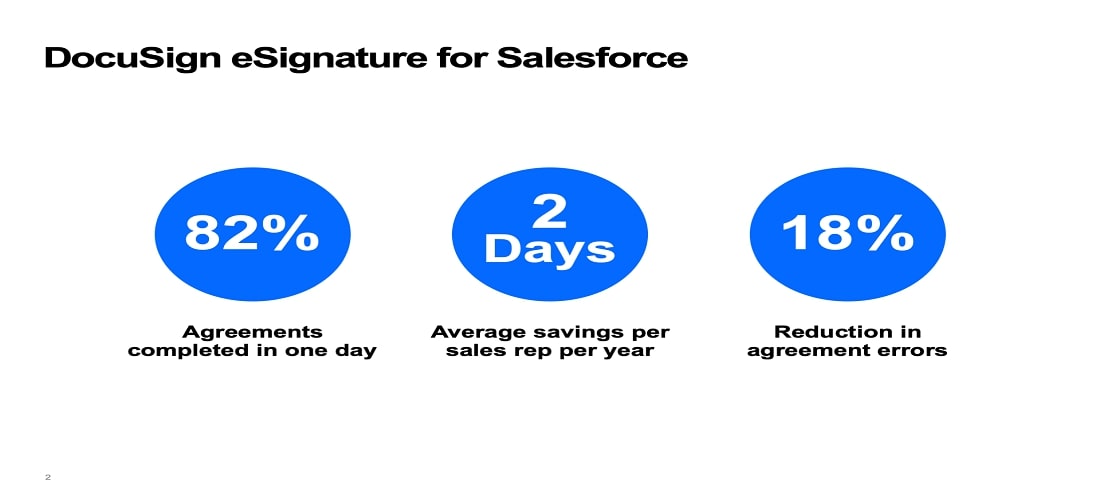 Agreements can be easily tracked. It can be embedded in your email client and integrated into Salesforce CPQ.
Salesforce Write-back: Signed documents and the information provided by the signer are written back to the original salesforce record.
Responsive Signing: Signers can use any device to sign. It automatically adapts to the device size, formatting, and orientation.
It can be combined quickly with CPQ to send contracts for e-signature to internal and external teams.
Multi-lingual: This is available in various languages.
Clicks-not-code configuration: Quickly configurable on various salesforce clouds. No code is required.
Key Benefits
The primary differentiator of this app from its peers is that this is also supported on Government Cloud.
DocuSign eSignature also meets compliance standards - including ISO 27001-certified, HIPAA, 21 CFR Part 11,etc. It also provides a SOC-audited data center and full encryption for all archived documents.
Available on Financial Services Cloud, Health Cloud, and Government Cloud.
This is the only app that supports the Government Cloud.
Excellent experience with this app, as it is lightning ready, available on mobile, and has a great user experience.
They have a web version too.
Pricing
The price starts at $30 per user per month, but you can also avail a 30-day free trial. Various discounts are available for nonprofits.
Conclusion
This app can grow your business: Docusign has more than 4,600 reviews with an average rating of 4.6 out of 5 stars. It is highly recommended since you can quickly configure it without code changes. Also, at least two days per rep can be saved, which will lead to annual revenue growth.
Also, get a 30-day free trial before purchasing it to install and use it before making a purchase decision.
Salesforce App 3: signNow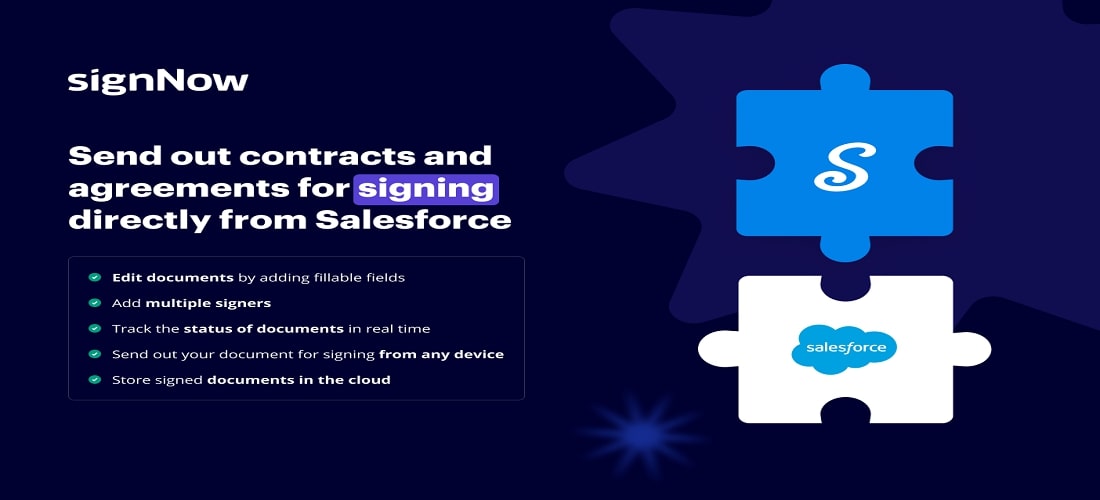 signNow makes it easy to prepare contracts and agreements. The docs can be easily created and thus available for signing. Signature completion can be tracked in real-time. The app takes care of storing the signed documents back in Salesforce automatically. This provides simple and basic required features. If you are looking for not-so-fancy parts and all you need is basic eSign, with a few merge fields and updates back to SF after signing, use this app.
Templates can generate documents and auto-fill a few data from Salesforce in the document. Multiple signers can be added to the document in the specified order. Add people in CC while sending documents to Signers. We can set an expiration date on the record. We can automate the process to send reminders to the signers.
Supported in Salesforce
Sales/Salesforce CPQ
Lightning
Mobile App
Salesforce AppExchange Rating
4.2 out of 5 stars
Features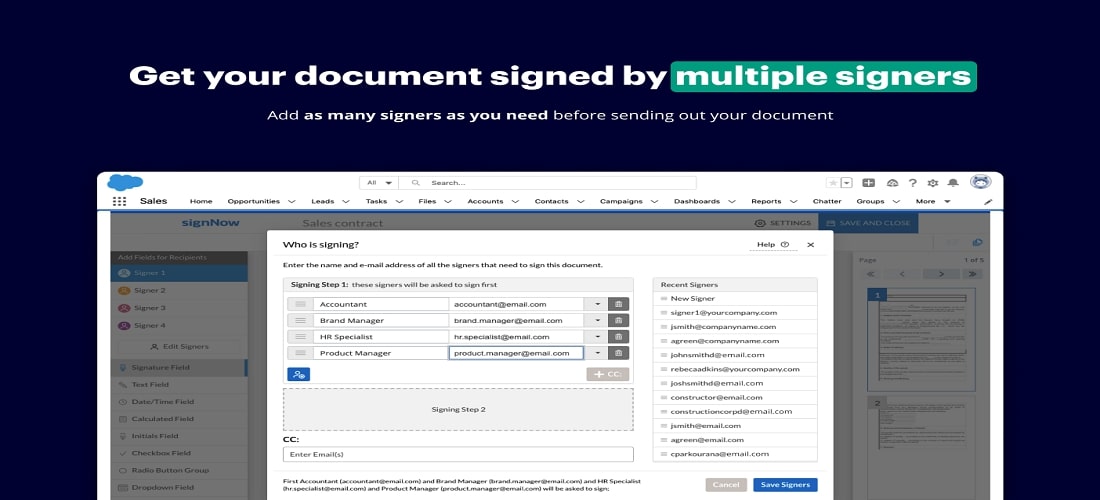 Can be used to initiate document generation from Salesforce Objects such as Opportunities, quotes, accounts, etc. The documents can be easily tracked. The information captured can be captured back to salesforce.
Requesting signatures from multiple contacts at one time is possible by sending templates to multiple contacts at once by specifying the role-based order.
Sending password-protected documents to the Signers using this app easily.
It also allows 2-factor Authentication.
Pre-fills Salesforce data in the document. Automatically sync the data back to Salesforce from the filled-out forms.
Key Benefits
This app enables a recipient to forward the document for reviewing or signing to other signers by one.
Track of the signature in real-time is feasible using this app.
It allows multiple signers to sign the document. Requests can be quickly sent to multiple contacts at once.
Useful if you are looking for only a signature app and not other special fancy features
Useful if you are looking for an app for English audiences. As multilingual is not supported.
Offer options such as Password protection and two-factor authentication for the documents.
Pricing
The app pricing starts at $30 per user per month. It offers a 30-day free trial. Various discounts are available for nonprofits.
Conclusion
This is an excellent app if you are only looking for a simple e-Signature app. This can be used in real-time and is supported over all devices like desktops, mobiles, etc. Multiple signers can sign the document. Can easily configure the order of signers. It also allows us to send password-protected documents. This app is easy to configure and easy to learn for the internal team. The Support team is fantastic. The only cons. with this app is that it is not multilingual and is only available in English.
Salesforce App 4: Sertifi Electronic Signatures (eSignatures)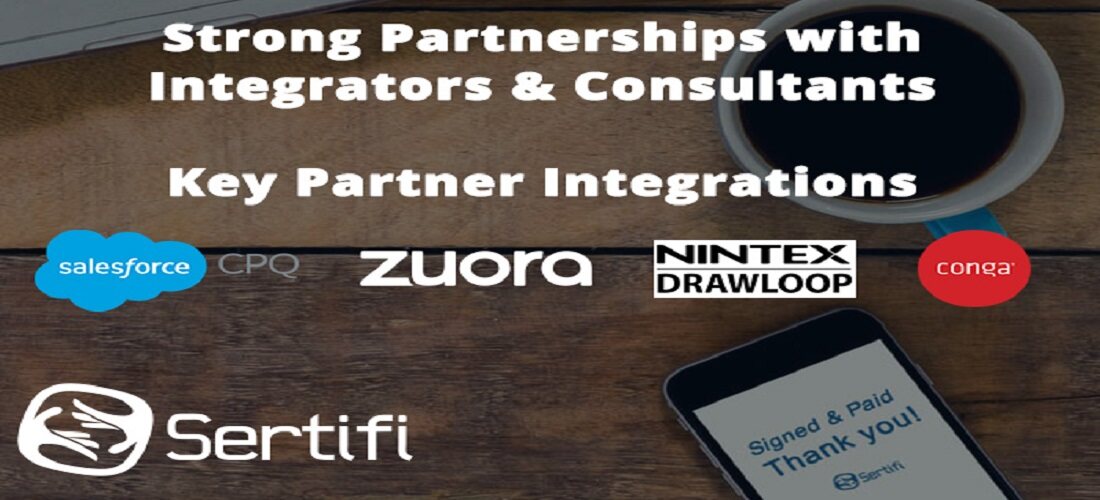 Sertifi Electronic Signature is a great app to get your contracts signed 90% Faster. It helps to automate Business Processes quickly. As the app is quickly configurable and easy to set up, any salesforce admin can do this. Get the contracts signed quickly and get your revenue increased faster with this. This app has a strong partnership with various Vendors such as Zuora, Drawloop, and Conga, which offers products that are also useful in the Sales process, and multiple clients already use those. This app also can capture Payments.
Supported in Salesforce
Salesforce CPQ
Salesforce Lightning
Mobile
Salesforce AppExchange Rating
4.9 out of 5 stars
Features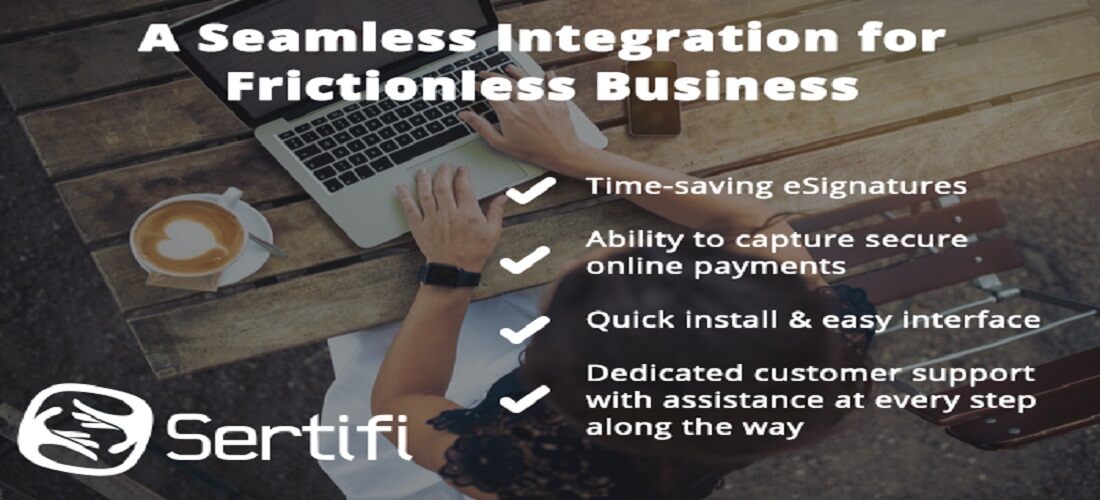 Easy to configure and set up; the interface is easy to learn for the internal users. This will save a lot of their time, thus providing an excellent experience to approvers, which will lead to better ROI, as they will focus on other essential things.
Templates are available. Also, you can set up different templates. Salesforce record information would be captured on the templates. Also, this will auto- store the data back to Salesforce.
The app also allows Single and Multiple Signers both. It can be set up as per the business need.
Key Benefits
It will enable multiple signers to sign the document. Requests can be quickly sent to multiple contacts at once. Key Benefits
This is super easy to set up. Any Salesforce admin can promptly set it up with support from Sertifi. The support team is fantastic.
The app is super easy to use for internal users. They don't need any special training. Once the reps start using it, that will increase their performance.
It can also securely capture the Payments and store that in salesforce. Documents can also be securely stored.
It supports both Single as well Multiple Signers on the contracts or agreements.
Pricing is transparent as it does not charge extra for ongoing support, training, or setup.
This is only available in the Contract Management domain. Not available for other clouds such as Financial service and Health clouds.
This is available in multiple languages.
It also offers options for one and numerous signers to be set up for approvals and Signing the docs or agreements.
Pricing
Available at a pricing of $30 per user per month. Like other peers, it also offers a 30-day free trial. Also, various discounts are available for nonprofits. Sertifi does not charge additional for setup, training, or ongoing support. Transparent pricing makes it easy for everyone.
Conclusion
This app is being used by various organizations for Salesforce CPQ, Zuora, Conga, Sales App. To create contracts and get those signed. We would recommend this app if you are only targeting Contracts or Agreements. Like other peers, it is easy to configure.
Something unique is the service of the App. They do not charge any extra for ongoing support, and the support services are superb. Clients have given fantastic feedback over appExchange.
Summary
Once you have got the hang of the Salesforce E-signature apps, there are many ways its functionality can be used. Adopting one for your company can give access to various features that can help in multiple ways. Choosing one of the apps will add revenue to your organization. Increase rep productivity. Provide an excellent experience to internal as well external users.
Comparing the four most used Apps, Docusign is superb with many features. It is available in multiple languages. Available for mobile and is lightning ready. A team can quickly get it set up and start using it. Also, it has a vast customer base; the DocuSign support team is also great.
| | | | | |
| --- | --- | --- | --- | --- |
| App Name | Adobe Sign | DocuSign | SignNow | Sertifi Electronic Signature |
| AppExchange Rating | 4.9/5 stars | 4.9/5 stars | 4.2/5 stars | 4.9/5 stars |
| Configurable with Flow Process builder Salesforce | Yes | Yes | Yes | Yes |
| Salesforce Data WriteBack | Yes | Yes | Yes | Yes |
| Quickly configurable and track contract real-time | Yes | Yes | Yes | Yes |
| Multi-lingual | No | Yes | No | Yes |
| Which Salesforce Cloud Supported | Sales Cloud, Salesforce CPQ, Community Cloud, Health Cloud, Financial Service Cloud, and Service Cloud | Sales Cloud, Salesforce CPQ, Community Cloud, Health Cloud, Financial Service Cloud, and Government Cloud | Sales Cloud and Salesforce CPQ | Sales Cloud, Salesforce CPQ and Billing |
| Salesforce 1Mobile App Supported | Yes | Yes | Yes | Yes |
| Free Trial and Support | Yes | Yes | Yes | Yes |
| Pricing | $34 per user/month | $30 per user/month | $30 per company/month | $30 per user/month |