Summary
Highlights Tieto is one stop shop for experienced global Salesforce competence and integration expertise. Our user enablement services will help you get up to speed with Salesforce. We offer WalkMe platform for fast and efficient onboarding with zero training user enablement. With our pre-configured solutions based on Tieto's own IPRs, you are able to do much more with Salesforce. For example, with our Paperforce solution, your Salesforce experience is instantly tailored for the paper industry. Description Salesforce consulting services:Tieto's expert & certified Salesforce consultants specialized in SalesCloud, ServiceCloud, MarketingCloud and Force.com platform can help in generating more business value from your Salesforce implementations, help you decide on the right Salesforce solutions, plan your future roadmaps and drive user adoptions!Salesforce implementation & ALM Services:Tieto's Salesforce implementation is aligned with Salesforce standard implementation model. We use the mix of delivery locations to provide you the most cost effective services. Our Salesforce ALM services are ITIL aligned.Pre-integrated & pre-configured Salesforce solutions with Tieto's own products:We offer pre-integrated and pre-configured Salesforce solution for TIPS & SAP for Forest Industry.Salesforce competence:Tieto recruits only certified and highly experienced Salesforce competency. Our consultants, developers, admins are all carrying global salesforce experience from various industries. So you can learn and get the advantage of best practices that other customers are doing worldwide. We have Salesforce competencies in Finland, Sweden, and India.
# Focus
# Service lines
#25% Field Service Lightning
#25% Lightning Experience
# Salesforce Expertise
#25% Preconfigured Solutions
# Certifications (242)
# Portfolio
Key clients:
# Geographic Focus
Languages: English, Finnish, German, Danish, Swedish
International: Finland, India, Norway, Sweden
# You will also like these agencies
---
Reinvent Digital
Technology moves fast. Luckily so do we. Because technology is what we do. And we're here to help. Help to reinvent and accelerate your business in the new digital reality. Help to create experiences that people want and your business needs.
Certified Professionals: 37
AppExhange Reviews: 14
AppExhange Rating: n/a
International: 8 States
---
Nortal, your partner on the journey to a seamless customer experience
We have a vision of a data-driven customer experience. We are entering a world where your customers want personalized, seamless experiences. A global alliance with Salesforce helps Nortal transform our customers' processes to make this happen.
Certified Professionals: 13
AppExhange Reviews: 0
AppExhange Rating: n/a
International: 5 States
---
Implementation. Strategic Consulting. Innovation.
ITC Infotech specialises in providing domain, data and digital technology solutions to enterprise across industries globally. We help companies deliver more value to customers and drive business excellence by combining new and traditional business models.
Certified Professionals: 63
AppExhange Reviews: 1
AppExhange Rating: n/a
International: 6 States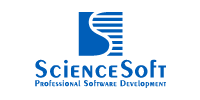 ---
Salesforce consulting and development for your digital success
ScienceSoft is a US-based IT consulting and software development company founded in 1989. We are a team of 700 employees, including technical experts and BAs.
Certified Professionals:
AppExhange Reviews: n/a
AppExhange Rating: n/a
International: 11 States
---
Infosys provides end-to-end Salesforce® Consulting and Solutions
Digitally transform your enterprise and lead your industry with the help of the global team of experts of Infosys so you can change the customer experience you offer and succeed in the new normal. Infosys Salesforce service offerings can help ensure a superior experience to your customers, employees, and partners. They have reinforced our capabilities and offerings in driving outstanding customer experiences by acquiring Fluido and Simplus.
Client feedback from AppexChange:
"Infosys provided domain and industry expertise to craft scalable solutions for our new Salesforce implementation. The team was extremely knowledgeable on Salesforce products and solutions but also learned and recommended to pivot to new capabilities as they were released during our initiative."
Certified Professionals: 3017
AppExhange Reviews: 378
AppExhange Rating: n/a
International: 17 States